Sultan put out requests for help in shifting topsoil from Croftway, outside the club, firstly to inside the gate, then up near the shed, on Saturday 10th October. About a dozen able-bodied helpers of all ages and both sexes responded with assistance.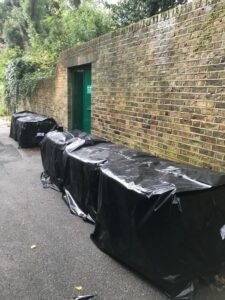 Here is the final result. Six tonnes of topsoil in 240 bags of 25kg each!
Many thanks to all who helped. If anyone took any photos of the helpers please WhatsApp me with them. Everyone who was there knows who you were! Sultan shouldn't get all the photo credits.