The three scheduled matches were played this evening.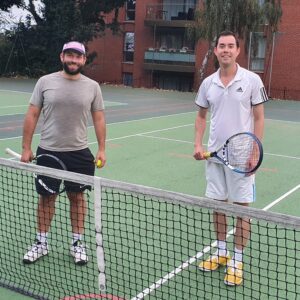 On hard court 5 was the men's singles quarter final between Tim Simpson and Greg Lim, sixth and third seeds respectively. Greg has a very fast serve and accurate groundstrokes based mainly on timing, wrist and follow through and would be expected to get the better of Tim in a baseline to baseline rally. And there were indeed some quite lengthy rallies. So Tim at various points was serving and volleying – not that easy on the slow hard court, but well executed, though Greg was typically able to pass down the line. On various points, Tim attempted to drive Greg back, then drop shot. But Greg is not only pretty fast around the court, but also anticipates well, so any drop shot had to be perfect, or Tim would get passed. There was one brilliant rally where it looked almost as if Greg from the back was just giving Tim smash practice, but Tim was forced to smash from far enough back for Greg to scramble and retrieve to stick in a reasonably deep lob. This went on for a good few smashes before Tim blinked first. The match also took some time to resolve – the other men's semi had more or less completed the first set in the time it took Tim and Greg to play the first four games, despite starting around the same time.
But Greg always had the statistical upper hand and although Tim won many points, he could only muster one game in each set, ultimately to give Greg a 6-1 6-1 victory and a place in the semi-final.
---
On hard court 4 was another men's singles semi final between Geoff Isaacs and Stephen Cooke, the fifth and fourth seeds respectively. Both are pretty consistent players, though Stephen has stronger strokes tends to use more lower-risk topspin that Geoff, and has more accurate placement. There were a number of lengthy rallies. Stephen was often able to manoeuvre Geoff out of position to make space for a winner, although the majority of points were probably decided on errors. Again Geoff won quite a few points but, in the end, they only added up to one game in each set, for a 6-1 6-1 win for Stephen.
---
The ladies doubles semi-final was played on the grass between the third seeds, Elena Valarche & Emily, and the top seeds and title holders, Marjan Denis & Sue Ehr. Both Emily and Sue are lefties. This game can best be described as a see saw. In the first set the stand out feature was how well Emily was playing. The watching Logan was speculating that her service action and pace would stand up against those of some of the men's first team players. She later attributed this to having played three days in a row. All I can say is watch out if she ever gets to play four or five days in a row! Elena did her best to get to the net as soon as possible, as usual. Both Marjan and Sue were not quite at their best in the first set, and this was amplified by the number of poor bounces that made it difficult to hit accurate shots against a pair of players at the net. Elena and Emily took the first set 6-2.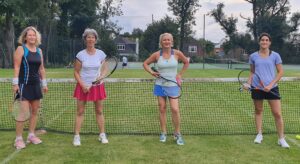 At the start of the second set, it was clear that Marjan and Sue had to raise their game to stay in the match, and indeed there were early signs of this. This forced more errors from their opponents, and led to Marjan and Sue taking the set 6-2, the reverse of the first set.
In the resulting champions tie break the see saw swung again. Marjan and Sue just could not sustain the impetus from the second set, and made a few key errors. Elena and Emily stayed solid as the points accumulated, and ended up with a 6-2 2-6 [10-3] win and a place in the final.