First, some non-tournament news. The grass court 3 net post with the winder has been replaced, so the net can now be raised to the correct height all along the tape. Further, Sultan Gangji says that the grass courts will be rolled on either Monday (tomorrow) or Tuesday to eliminate most of the bad bounces.
There were four matches played today.
---
In the ladies singles, Julia Abbot played Emily. Emily played well, though, Julia says, in struggling to return Emily's deep shots, Julia occasionally managed to scrape a shot just over the net, where Emily failed to reach it. The West Heath non-bounces were equally distributed and there were a few good rallies as well. Julia served fairly consistently, but reckons she was out-classed by Emily, who won 6-0, 6-3.
---
In the men's singles Steve Yoo played Marcio Sugui, the top seed. Steve's plan seemed to be to serve and volley. The serves generally went in, and he generally got to the volley fine, but Marcio didn't make it easy for him, and, in the first set, Steve's volleys went out or in the net more often than not. Then there is the matter of Marcio's lefty serve to contend with, and Steve struggled to win enough points against that to break Marcio. Marcio took the first set 6-0.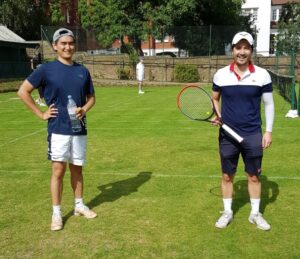 In the second set, Steve's serve and volley strategy bore more fruit. He succeeded in holding serve in three games, but still could not break Marcio, who took the match 6-0 6-3.
---
In another men's singles, Jeff Fine took on the second seed, Logan Mair. Jeff hit some good shots and won a number of rallies (not necessarily because of the West Heath bounce), but Logan does have a variety of serves and shots at his disposal, and knows where to put the ball just out of Jeff's reach. Jeff could not consistently put pressure on Logan, and Logan induced a number of errors from Jeff. Logan won the match convincingly 6-0 6-1.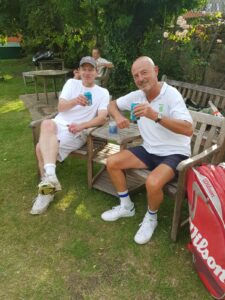 ---
The last tournament match of the day was a men's doubles semi final between Brian Coffey & Gideon Stone, the surprise victors over the third seeds, and Tim Simpson & Logan Mair, the second seeds. Brian and Gideon plays some good rallies, and created some good points, but could not guarantee to hold their serves, and could not break Tim or Logan. In fact, in the match, the challengers won two games on Brian's serve, and two games on Gideons, resulting in a 6-2 6-2 for the Tim and Logan, who now become finalists.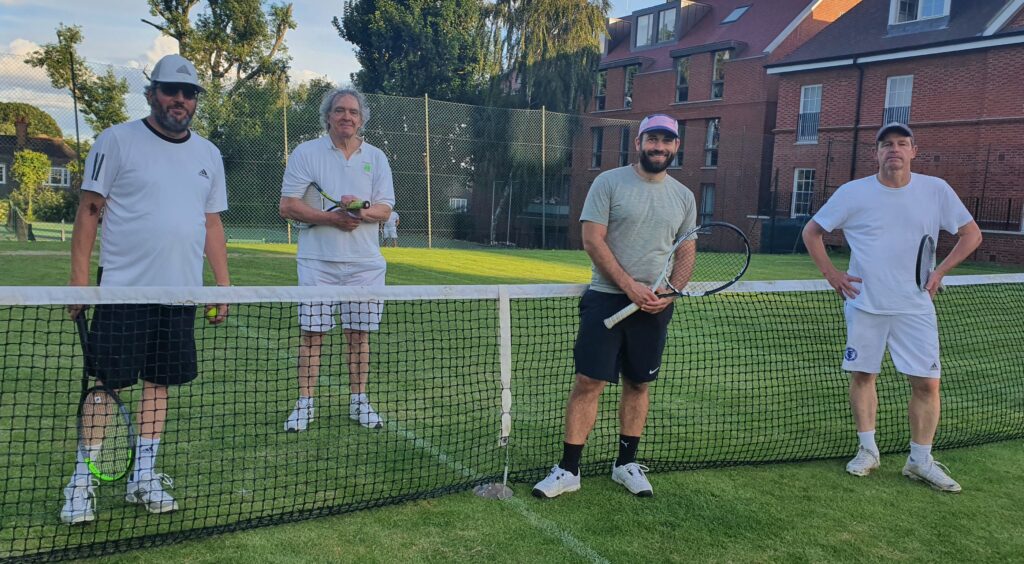 ---
We have at matches scheduled each evening through Thursday, when the Mixed Doubles Final will follow the men's singles semi-finals (see post below), but no Gourmet Dinners, alas, as it is too risky. But bring your own food and drink if you want.