Although the forecast was for more than a 50% chance of rain, the weather held off from 5 pm onwards. There were a set of determined and socially distanced (where necessary), if often freezing cold spectators watching.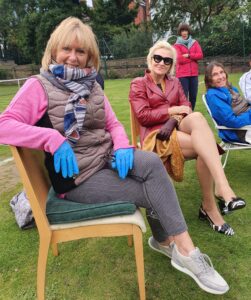 ---
The men's singles semi final match between Logan Mair and Greg Lim was always going to be a humdinger. Matters kicked off at 5 pm when the tournament referee declared the grass court officially 'playable' even though the baselines were damp enough to cause a slip if a player tried to accelerate too fast off them. The matter was of some importance, because Greg's play is based on accurate timing to generate pace on flat shots, and this isn't so easy if the ball keeps low and frequent suspect bounces don't position the ball where you are expecting it to be. Whereas you would expect Logan to be able to keep the ball low on grass to give Greg less to hit with his devastating flat forehand pace. After a short discussion Logan accepted the inevitable, which is that the semi was always going to be played on the hard courts.
On hard courts, Logan had to play a more tactical game. Because Greg was always going to get good bounces, and can return a pacy ball on the forehand with interest, Logan rarely used pace, though his shots weren't moon balls. The disadvantage was he didn't have his eye in to hit with pace if there was an opening to hit a winner. In any case, Greg is very fast about the court, with good anticipation, and it is difficult to put the ball out of his reach on the slower hard courts. Logan also mainly kept the ball on Greg's weaker, though consistent, backhand. At first, Greg tried to circumvent this by running round a natural backhand to hit the ball on his forehand, but his error rate was much higher when he tried this, and he used it less as time went on. Logan's errors came when Greg forced him to hit shots requiring pinpoint accuracy when on the run and under pressure.
The match thus turned into a war of attrition, with long rallies, since both players generally made few unforced errors and could often put the ball very close to the opponent's baseline. A number of Greg's points were from forehand, smash or volley winners, but he also made more errors, while Logan hit fewer winners while also making fewer errors. Generally he was trying to sap Greg's patience and force Greg to take risks leading to errors.
Logan won the first set 7-5. In a very tight second set Logan fell behind, but had chances to break back. On fine margins Greg won it 6-4. The third set was more difficult, as the light was going, and matters were getting more tense. Greg's pace on the forehand dropped off as it got more gloomy, and Logan eventually made a few mistakes in long rallies to allow Greg a 5-7 6-4 6-4 victory. The match lasted for 2 hours 30 minutes.
---
On court 5 there was a men's singles semi final between Stephen Cooke and Marcio Sugui. We were all hoping for a very interesting confrontation. Marcio's swinging leftie serve and heavy spin shots were to be matched against Stephen's height, reach, booming serves and forehands, and his generally crisp volleying.
Marcio won the first game on his serve. In the second game, at one point, it was clear to the onlookers that Stephen had pulled a muscle in his left leg. Although he carried on, this changed the strategy for the match quite considerably. Instead of running round the court at speed, as he had done in the mixed doubles semi final, Stephen now needed to shorten the points by hitting harder and hitting winners, while Marcio aimed to hit drop shots and get him to run wide. Stephen's strategy worked to some extent. He won 3 games in the first set, but Marcio took it 6-3. Stephen then broke Marcio in the second game of the second set to establish a 3-0 lead, including some fine serving. But, with the injury, he often made errors on otherwise routine balls, while, sometimes deciding it wasn't worth running for other balls he could normally have reached. Marcio not only played well, but also took advantage to take the next six games in a row for a 6-3 6-3 victory.
---
The last ladies single semi final between Mihika Joshi and Jen Ehr (top seed) was also started on the hard courts, but abandoned due to poor light after Mihika won the first set 6-4. More on this when it is completed as a preliminary game to the Finals.