There were six matches played on the Saturday, with three of them scheduled for high noon.
---
In the first men's singles match, Darius Seir played Greg Lim, the third seed on a hard court. Darius kicked off well with a game in the first set, but couldn't replicate this in the second set, for a 6-1 6-0 victory to Greg.
---
In another Men's singles match, Alex Shemie played Jeff Fine. Jeff is a wily player, with plenty of experience on grass. As in the parallel men's singles match, Alex got a game in the first set, but that was it. Jeff won 6-1 6-0.
---
In the mixed, Richard Nightingale & Sally Tornow played the second seeds, Sultan Gangji & Jen Ehr. Richard and Sally reached quite a few game points, but the seeds dug in to prevent a conversion to games. There were plenty of entertaining exchanges between Sultan and Richard but Sultan usually got the better of these. The net was a 6-0 6-0 victory for the second seeds.
---
In another mixed, Barry Adamson & Julia Abbot took on Stephen Cooke & Elena Valarche, the fourth seeds, on grass. Elena hit some nice backhand returns. Barry has a decent enough serve, when it goes in, and it is difficult to read where it is going (perhaps he also doesn't know). He held his first two service games, to be 2-3 down, at which point the match looked like it might have been a tight affair. But Steve's serves proved too strong for the opposition, aided at times by the famous "West Heath bounce". The second set was marred by an unfortunate ball which caught Barry, whom Julia claims may never now have children, although he was supplied with arnica. There were some good rallies, and the match was enjoyed by all. The seeds won a convincing 6-2 6-0 victory.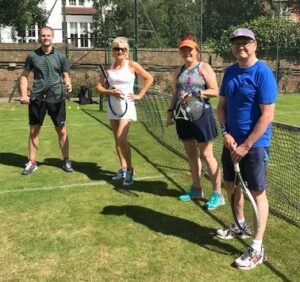 ---
In the mens' doubles, Barry Adamson & Darius Seir played Stephen Cooke & Steve Yoo, the fourth seeds. Darius is sometimes known as Didi. Stephen is one half of the current title holding pair, the other being Tom Tapper, who is away for the tournament. Barry often has a decent serve and some good pace on the groundstrokes, but is somewhat erratic. On the grass, Darius served and volleyed. The first game went to deuce, and the first set was more contested than the second. Darius attempted some interceptions at the net and, at some point was asked by Barry if he had been drinking, though we don't know what the answer was. Stephen and Steve won 6-0 6-0.
---
In a ladies doubles, Julia Abbot & Sally Tornow played Elena Valarche & Emily. Sally and Julia didn't get much of a look-in against Emily and Elena. Emily's ground strokes have pace and depth, although she did serve a few double faults. Elena and Emily won 6-2 6-3.