Finals Day was a little cooler than of late. Although the rain held off and the courts were dry, there was a gusting wind which changed direction frequently, to add variety to the only occasional bad West Heath bounce.
Men's singles final
This year the men's singles final was contested by Marcio Sugui, the third seed, and Cedric de la Chaise, the top seed and 2017 champion, who had previously won the men's singles nine times. The chair umpire was Kevin Ryan. Marcio has a good variety of serves, including a leftie slice and a flat serve, and some useful topspin shots off both wings. Cedric is very consistent with good groundstrokes (mainly topspin) and serve, but one of his significant strengths is a combination of anticipation, speed about court, and the ability to hit with good placement even when stretched. This makes it very difficult to win points off him by hitting topspin winners. Further, Cedric does play some singles at the Cumberland, whereas Marcio rarely does.
Marcio kicked off and both players held their first two service games. On his third game, Marcio was 40-0 up, but could not convert it to a game, as Cedric chipped away point by point. From Marcio's viewpoint this was a real problem, as he hit shots which would have been winners against anyone else, but Cedric typically could chase them down and place a winner to earn the point. Not only this, but Marcio was starting to tire, while Cedric was just warming up. Possibly this might be the doing of Paul, Cedric's personal trainer at the Cumberland. The net of all this was that, although Marcio stayed competitive in the points, tried his hardest and won points, he could not make them add up to games, and Cedric won 6-2 6-0 to emerge as the Champion.
Sultan Gangji had been rather hoping that Marcio would win. According to Sultan, this was because he thought Cedric, Mark Stapleton and Sultan himself were all on 9 singles tournament wins prior to the match. However, a closer examination of the Champions table showed that Mark won in 93, 96-99, 01-03, 10 and 12, for a total of ten, whereas Sultan had won in 76, 78-81, 83-84, 87 and 90 for a total of nine. Cedric is now also on ten with 04-09, 11, 15 and 17-18. No-one else has more than seven. Thus Sultan's tally has moved from second, jointly with Cedric and behind Mark, to third on his own, behind Mark and Cedric jointly. Perhaps Sultan's PhD in chemistry doesn't necessarily imply an ability to add up accurately. And maybe someone should tell Mark of the threat to his West Heath record to see if he feels compelled to try to restore his advantage in 2019.
Ladies singles final
Elena Valarche, the second seed and 2017 champion, played Andra Marinescu, the third seed, to vie for the title under the watchful eye of Greg Lim. Elena has the capability of mixing it up, but prefers to do her playing from the net if at all possible. Andra has excellent technique and can hit the ball with accuracy and pace. Although she played for the West Heath Ladies I team for a few seasons, this year she has stepped up to play for Cumberland Ladies II, while still playing in matches for West Heath over winter.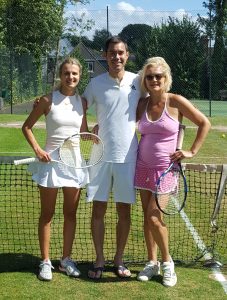 Elena did her best to hit deep, flat approach shots and come in, but Andra usually had plenty of time to line up her shot and pass Elena on the side of Andra's choosing. Sultan had a small bet with me on whether Elena would get a game, and Elena gave him hope a few times by getting 30-0 or 0-30 up, but struggled to convert, often with Andra winnng the next four points outright. Sultan lost his bet, Andra won the match 6-0 6-0, Antoine had to purchase 12 bottles of Rose (see Thursday's tournament report), and Andra won the tournament without dropping a single game in three matches.

Men's doubles final
This was contested between third seeds, Greg Lim & Marcio Sugui and Cedric de la Chaise & Lajos Szucs, and umpired by James McKenzie. Lajos used to be a tennis coach, and is Mr Consistency, though he does not have as powerful strokes as Cedric. Also he is not as fast around court, not that this is saying very much, as few are. The first set was well contested and very entertaining, though Greg seemed to think he did not play well. Cedric and Lajos had the edge to take it 6-4. In the second set Marcio and Greg put up a good fight. When at the net, Cedric took to feinting towards the middle of the net to cast doubt in the opponents' minds as to whether he would try to intercept or not. On the deuce side Greg put at least one past him down the line, but on the ad side Marcio preferred to always go crosscourt, even though Cedric left himself exposed and the pass down the line would have been on Marcio's leftie forehand. Cedric and Lajos won the second set 6-3. and thus the title 6-4 6-3.
Perhaps one day someone will find a way to get Cedric to smile in the photo when he wins!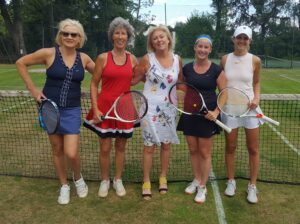 Ladies doubles final
Andra Marinescu & Ana, the second seeds, played Elena Valarche & Marjan Denis, the top seeds and 2017 champions under the watchful eye of the umpire Barbara Thomas. Although Elena and Marjan both played well, Ana and Andra were too strong. Ana and Andra won the title 6-2 6-1.
Finals Day tea, prizegiving and BBQ
The sumpuous 2018 spread stretched over the full length of two tables. By the end of the afternoon most of it had gone too.
As retiring men's team captain, James McKenzie was invited to present the trophies this year.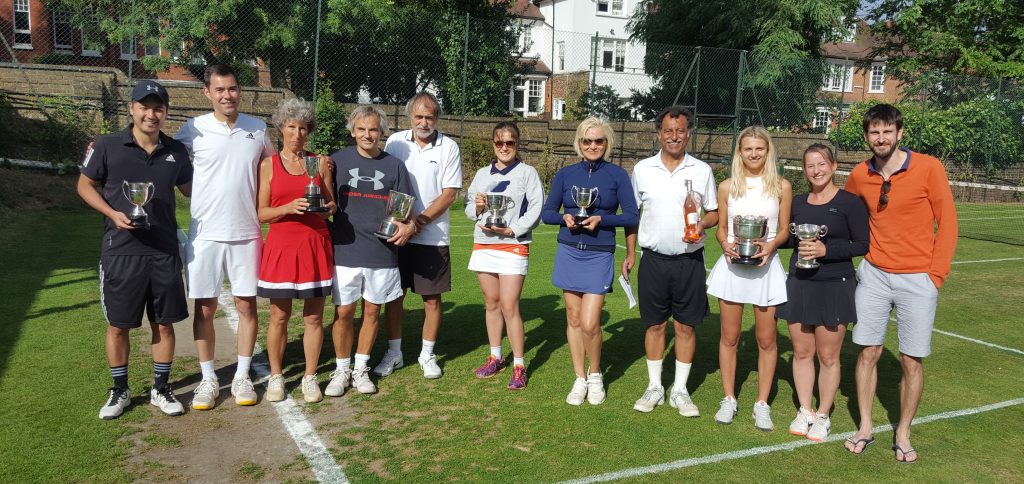 In the evening there was the traditional West Heath Finals Day BBQ.
Thank you to everyone who contributed to the success of the tournament this year, particularly to Sultan and Marjan, the referees.
Pictures
Here's a link to all the West Heath 2018 tournament pictures on my Dropbox.