The day kicked off with a mixed doubles match around noon between Barbara Thomas & Peter Davies, and the third seeds Andra Marinescu & Marcio Sugui. In the first set the seeds made a few unforced errors, and Barbara and Peter had opportunities to win somepoints, but were not able to capitalise on most of them, allowing Andra and Marcio to take the first set 6-0. Barbara kicked off the second set by holding her serve, but, unlike their previous round match, her partner and her were not able to up their game enough to make a dent in the dominance of Marcio and Andra, who took the match 6-0 6-1.
Early afternoon, in the men's doubles, Paul O'Flynn & Jasper Tressider played the top seeds Cedric de la Chaise & Lajos Scuzs. Paul and Jasper put up strong resistance in the first set, but lost it 6-4. In the second set the top seeds came more into their own and won the match 6-4 6-2.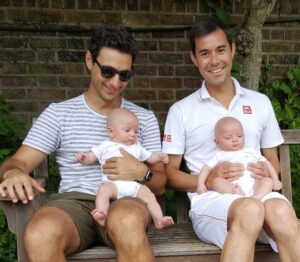 In the mixed, Sultan Gangji & Moira Duncan played Tim Simpson & Ana, the top seeds. The match went the way of the men's doubles above, with a competitive first set won by the top seeds 6-4, and a less even second set giving the top seeds a 6-4 6-2 victory. However, maybe Greg Lim has finally found his true vocation sharing duties with Ana's husband – encouraging the next generation of tennis players. Though currently only 4 months, the twins are clearly taking in the finer points of mixed doubles play.