This evening's Gourmet Dinner was a tasty Mousaka, cooked by Julia Abbot, followed by creme caramel accompanied by cherries from Jill Elek.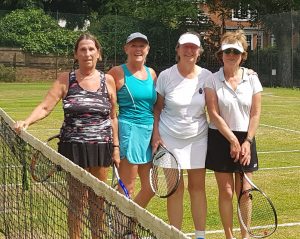 There was an early ladies' doubles match, kindly rearranged from Sunday lunchtime to allow the mixed doubles draw to proceed smoothly to the Thursday final. Sally Tornow and Lesley South took on the third seeds, Barbara Thomas & Jane Boyle. The match was very tight. There were errors on both sides, though Sally's superb volleys and Lesley's legendary placement may have affected the results, as might Barbara's extended lunch the previous day. The first set went 6-3 to Lesley and Sally, but the third seeds came back into their own to take the second set 7-5. Everything rested on the champions tie break. Jane and Barbara did not get going in this, allowing Lesley and Sally to run away with it, Lesley and Sally emerging victorious with a 6-3 5-7 [10-4] win.
In the evening mixed, Vandana & Dhananjay Talwar played the second seeds, Marjan Denis & Greg Lim (not on babysitting duty this time). From afar it looked like Dhananjay was hitting winners, but with some errors all around. However, appearances must have been deceptive as Marjan and Greg took the first set 6-1. In the second set the seeds were even more in control, registering a 6-1 6-0 win.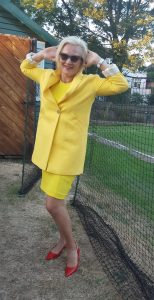 The second close match of the day was in the ladies' singles between Lesley South and the top seed Elena Valarche. Both contestants were keen to promote the sartorial aspects of the match. Lesley made sure it was common knowledge that she had changed her outfit between the midday match and the evening, a period which also included a visit to Costco with Moira Duncan to stock up with ingredients for Tuesday's and Wednesday's Gourmet Dinners. Perhaps one can infer that Elena was feeling confident she would win the match in two sets, because she had brought with her only tennis two outfits – one for the first set and one for the second set. However the first set outfit was not captured on camera, so Elena insisted on a replacement photo of the very yellow dress and coat brought for dinner.
Oh, I nearly forgot, they also played a tennis match. This was a very competitive battle betweens Elena's aggressive approach and volley play and Lesley's ability to spot gaps and hit the ball into the angles. Since neither player has a very hard serve, there were a large number of breaks exchanged. Point on Elena's serve included the occasional ace, but mostly there would be an awkwardly placed return from Lesley causing Elena to come in on a weak approach, often immediately in front of Lesley, followed by Lesley putting the ball into the gap either to the left or the right of Elena to win the point, and usually the game. On Lesley's serve Elena often found a strong return which gave Lesley little time to line up an accurate placement before Elena was on to it, with Elena managing to hit the winner on her second shot. Elena won the first set 6-4, but in the second set matters got to 5 all before Lesley made one or two uncharacteristic unforced errors in the last two games, allowing Elena to win 6-4 7-5.