The Gourmet Dinner last night was a comprehensive, eclectic and delicious Spanish meal prepared by Lesley. See the menu in the post below.
There were two men's doubles and a ladies singles match played.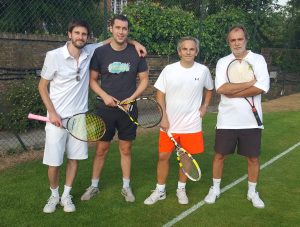 On grass court 1 the unseeded Ed Fitzgerald & James McKenzie played against the top seeds Cedric de la Chaise & Lajos Szucs. Although Ed can send down booming serves, and James can swing out his leftie serve, they struggled to hold serve. The rest of Ed's game relies more on power than consistency, but the top seeds are used to dealing with thhis.
Cedric and Lajos had too much consistency and power and they were able to turn this into pressure. Cedric in particular is very fast around the court and Lajos made few unforced errors to back him up. The top seeds won 6-1 6-2.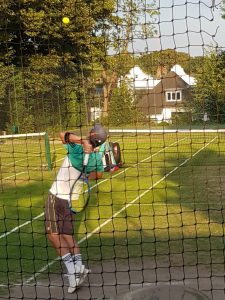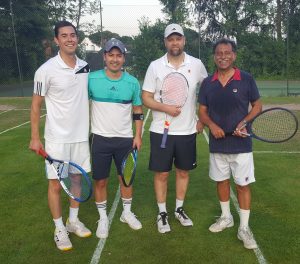 On the centre grass court the spectators were expecting the second seeds Dan Oakley & Sultan Gangji to force an eventual win over the second seeds Greg Lim & Marcio Sugui. However, after his defeat at the hands of the unseeded Ed Fitzgerald in the men's singles quarter fina, Greg had a point to prove, and Marcio is a strong leftie with enough service variety to make it difficult for the returner (see super back-scatch position in photo on right from Susan Grossman), so they were both up for it. By contrast, Sultan and Dan didn't seem to be playing at their best – possibly two nights of Gourmet Dinners taking a little more of a toll on the older contingent?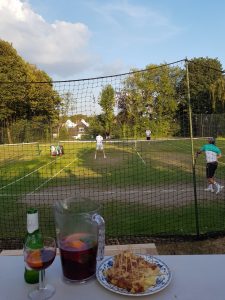 However, there was some good tennis played all round, and a number of very entertaining points to divert the crowd's attention away from the Sangria and nibbles (photo courtesy of Susan Grossman). The first set didn't go according to plan, with Greg and Marcio breaking and take it 6-3. The second set was even less of a success for Dan and Sultan, enabling Greg and Marcio to take the match 6-3 6-2. Greg and Marcio thus face Cedric and Lajos in the final on Saturday.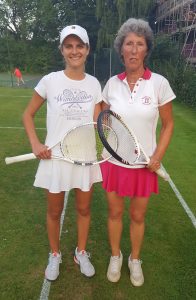 On grass court 3, Marjan Denis and Andra Marinescu faced each other for a place in the ladies' singles final. Although Andra was playing for West Heath ladies' first team last year, this year she is in the Cumberland ladies second team, so is obviously a strong player, but Marjan was not playing particularly well, particularly on the low balls which perhaps resulted from the greener (and less bouncy) grass coverage on court three compared with courts one and two. Andra won 6-0 6-0.