Mixed Doubles Final
This was between the fourth seeds, Cedric de la Chaise & Carine Valarche and the second seeds Greg Lim & Marjan Denis. Cedric and Carine had knocked out the top seeds Tim Simpson & Ana in the previous round. The match was expected to be tight.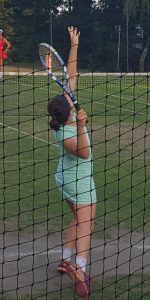 Cedric's strategy was to rely on Carine not to make unforced errors, but not to play aggressively, while he expected to cover the rest of the court and either hit winners outright or set them up for his or Carine's next shot. However, in the first set there were possibly signs of fatigue from Cedric after his previous singles semi-final. He made a few unforced errors when there was a possibility of hitting a winner. Carine did not have her eye in fully, and Cedric and Carine never got fully going. Carine struggled throughout to get her first serves in and to hold on to her serve. By contrast, Greg and Marjan were much more solid. Greg and Marjan won the set 6-2.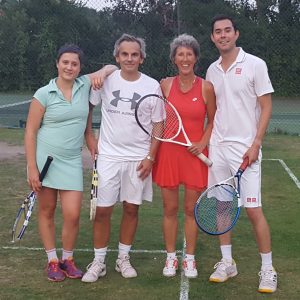 In the second set Cedric was able to to step up his game, but not to eliminate the errors completely. The pair equalised at 3 all, but found themselves losing 3-5 until Greg lost his serve to give them 5 all. Then came Marjan's serve, and Greg, in particular, having mostly played well throughout, started to feel the pressure and dumped two volleys into the net from the left hand side of the court, the second of which should have been relatively straightforward. This eventually resulted in Marjan being broken. Unfortunately, in the next game, Carine could not get her first serves in or deliver a good enough second serve to get into the point properly. Thus, at 6 all, matters rested on the set tie break. Cedric and Carine had the mini-break until Carine had to serve, but she could not take either point. On Greg's serve Cedric had a shot for a winner to even matters up, but could not get it right, and Greg and Marjan were then able to take the tie-break 7-4 for a 6-2 7-67-4 victory.
Had Cedric not had to play the previous singles semi-final, and thus been more likely to play at his best, the pair could have won. Greg and, particularly, Marjan generally played solidly. Carine generally held her own, except, perhaps, on the serve. She also hit some great winners at the net and some great service returns, although Greg managed to ace her a few times on the forehand side. She also surprised Cedric on a few occasions. On one point he was at the net with Carine at the back and the opponents lobbed over him three times, to opposite corners of the court. Carine chased down all three and won the point for her side. You should have seen the look on Cedric's face. After the match, to mark Cedric's acceptance of Carine's invitation to join her in the mixed, Carine presented him with a specially baked thank-you cake!
Gourmet dinner
Rachael Gangji provided the traditional delicious Thursday fish pie Gourmet Dinner, and Lara provided a selection of tempting puddings.
Other matches
In addition to the mixed final the two men's singles semi-finals were played.
On grass court 1, Ed Fitzgerald, fresh from playing out of his skin to beat the second seed Greg Lim, had to contend with the third seed Marcio Sugui. Ed continued with his power game and hit a number of winners on both services and groundstrokes. Although Marco denied it, Ed felt that Marcio made only two unforced errors, though Ed himself made rather more. However Marcio does have excellent placement and control of spins, and this did induce a significant number of errors from Ed. As a result, Marcio won the first set 6-1 and the second 6-2.
On centre court, the fifth seed, Philip Reid's previously smooth progress towards the final was somewhat disrupted by having to play an actual match against the top seed Cedric de la Chaise. Previously Philip had had a bye in the first round and two walk-overs in the next two rounds. As Philip is very tall, he has a penetrating serve which can set him up for a volley, and can also hit some powerful ground strokes. Cedric can play very consistently. Rather than going for it, Philip played well within himself in the first set, which to a large extent played to Cedric's strengths. This did not look like the right game plan and Cedric won the first set 6-1. However, in the second set, after going two down, Philip took his power game to Cedric. This did work better, as Philip hit winners and was able to induce errors and short balls from Cedric, but because Philip started late and was not able to apply this game plan consistently, Cedric took the match 6-1 6-3.
There was a big discussion about Elena Valarche's chances against Andra Marinescu in Saturday's ladies' singles final. Andra was playing for West Heath over the winter season, but in the summer season has been playing in the Cumberland ladies second team, which is a higher standard. When asked about the match, Elena herself drew a pair of goggles around her eyes with her hands (implying a double bagel). Tim Simpson tackled Antoine Valarche about it, which resulted in the bet pictured, drawn up on a serviette. The concensus was that Antoine had got the worst of the bet.