Tuesday 17 July

Today was a little cooler then of late, and a couple of matches were played in front of a small band of spectators.
In the Mixed Julia Abbot & Eugene Berlin played Barbara Thomson & Peter Davies. Julia and Eugene started strongly, breaking Barbara twice, reaching 5-2 and threatening to take the first set. However, at this point Barbara started going for it, leading the charge during which the pair broke Julia and proceeded to win five games in a row to take the set. The second set got to 4 all via a couple of service breaks. Peter then held, and Eugene was broken to give Barbara and Peter a 7-5 6-5 victory.
Cedric and Lajos warmed up the adjacent court for the Men's Singles match between James McKenzie and Logan Mair. James might like to comment on this. James reports that conditions started favourably for both players on Court 1 with plenty of longish rallies, a few drop shots from James and some lovely net play from Logan. As the sun swung round, the sunny end became increasingly unplayable which somewhat made the game harder. In general, it was Logan's pure class that ensured he came out on the better side of the 6-3 6-4 scoreline.
Monday 16 July
Despite the temperature reaching a high somewhere in London of over 30 degrees, the match tempo picked up, at least in the Men's Singles.
Paul O'Flynn was hoping to neuter Walter Reid's wide wingspan in their singles encounter. It looks like Paul's ability to hit with pace coincided with a modicum of placement to give him victory over Walter by 6-1 6-3.
Jasper Tresidder took on James McKenzie. Although Jasper has some strong shots, there's no doubt than James has more match savvy about him, accumulated over the years, and probably enhanced by having to lead the second team and evaluate players for matches. The match started with two tight deuce/advantage games with break points aplenty for both players. But a match of youth versus experience helped James to keep the scoreboard ticking over, despite some excellent shots from the promising younger player. James won 6-1 6-2.
Fred Davidson entered this year and faced Eugene Berlin in the first round. It looked like a good battle. Eugene took the first set 6-2, but Fred must have warmed himself up during that time, and went on to the attack during the second set, which he won 6-4. Eugene won the last set, but the writing on the draw sheet was not very readable. My guess was 6-1.
Eugene faces Philippe Mouly in the second round. Philippe was a keen last-minute entry and replaced Stan Vasiliev in the draw. Stan has been asked at very short notice to fill in for collegues abroad, nominally for three months, but we will have to see. If you think it is hot here, the temperature during Stan's first day (Monday) working in Dubai was 38 degrees C.
Sunday 15 July
There was a slow start to the Tournament over the weekend – just a couple of matches played on the Sunday. Whether this was due to the exceptionally hot weather or the alternative pull of the Wimbledon Men's semi finish plus Ladies' Singles final on the Saturday, and of the Djokavic vs Anderson final on the Sunday.
It's a shame there aren't more in this year's Ladies' Single draw. Charles Rubinstein wanted to know why Andra Marinescu was not seeded higher than three. The reason is that she didn't play in the event last year. Her first opponent in this year's draw was Soo Teng Lee, and on Sunday Andra proved too strong for Soo Teng, as Charles would have predicted.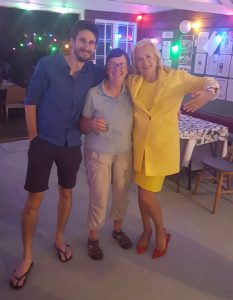 There was also a Mixed Doubles match between Elena Valarche & Ed Fitzgerald and Lesley South & James McKenzie. James and Lesley won it 6-2 6-4. Unfortunately (?) we were at Wimbledon (!) so didn't see the match – but by some accounts it was more gripping than the men's singles finals. Ed's serve proved once again to be a shot to be reckoned with, as he managed on numerous occasions to effect a devilish swing in the deuce court which saw it hit the side fence before Lesley's racket. The first two games were service holds, before Elena was broken and Lesley held her serve. The pattern was repeated and James and Lesley took the first set 6-2. The second set started in much the same way, with the score advancing to 3-1, but soon become 4-4 with a hold by Elena and break of Lesley's serve. At 4-4 it was nicely poised but unfortunately Ed couldn't find the angles on serve and was broken, which left James to serve it out from the newly-christened Pavilion End. Duly achieved, James and Lesley progressed to the next round, winning 6-2 6-4. Whilst disappointed, Elena is looking forward to the next round where her daughter, Carine, awaits with Cedric.
OK, Ed is currently missing from the photo, but James McKenzie says he can fix that!
---
Yes, I can!