On a day where the weather forecast predicted too much rain, all finals were completed on grass, viewed by a select, and hopefully legal, band of less than 30, including the players, all seated in a suitably socially distanced manner. Thanks to Lesley South, Moira Duncan and Marjan Denis for a COVID-19-free tea consisting of individually wrapped sandwiches and cakes and a cuppa!
Completion of ladies' singles semi-final
In a ladies' singles semi final match spanning Friday evening (on a hard court) and Saturday lunchtime (on grass), Mihika Joshi played Jen Ehr, the top seed. Mihika is now 15. Last year she won convincingly in the first rounds of the ladies singles, but then had to withdraw. She has been having regular coaching, has been playing in tournaments, and is improving rapidly, as predicted.
In the first set, after a lot of hanging around on the Friday evening, in the first set, Jen played well, but Mihika served well, with penetrating ground strokes, and was usually able to hit winners whenever she forced Jen out of position. Mihika won the set 6-4. In the increasing gloom, the players asked the referee whether they should continue. Although the initial answer was in the affirmative, the crowd soon persuaded the referee to change his mind, as it was obvious that the second set would not be completed. The following day, on grass, Mihika continued the second set in a similar vein, taking the match 6-4 6-2 for a place in the final.
Ladies' singles final
This was played under the watchful eye of umpire Marjan Denis, between Mihika Joshi, unseeded (due to lack of data) and Emily, the fourth seed. In 2016 I wrote:
Mihika Joshi is a junior member with adult playing rights. She is only 11 and not that tall right now. Nevertheless she can play very good tennis as she proved against Rachel Savin, who joined West Heath this year and is playing team tennis. The match was very tight, with good rallies and net play. Mihika took the first set to 5-all but Rachel broke to take it 7-5. Mihika also forced 6-all in the second set to take it to a deserved tie break though Rachel won this for a 7-5 7-6 victory. If you would need a decent player to make up the fourth in your ladies, mixed or funny fours at social tennis then don't forget to ask Mihika. And look out for her progress (which is likely to be rapid) in future years.
After playing for 3 days on the trot Emily had played excellently in her singles and ladies doubles semis, after a two day break, she just could not get going properly against Mihika. The serves weren't going in, and the timing on the ground strokes wasn't right. Matters weren't helped much by the cold wet atmosphere in which the balls were flying slower and bouncing that bit less. By contrast, Mihika resumed where she left off an hour or so beforehand, in the completion of the semi final, hitting with both pace and consistency. Though Emily had her moments, Mihika took the match without dropping a game.
Men's singles final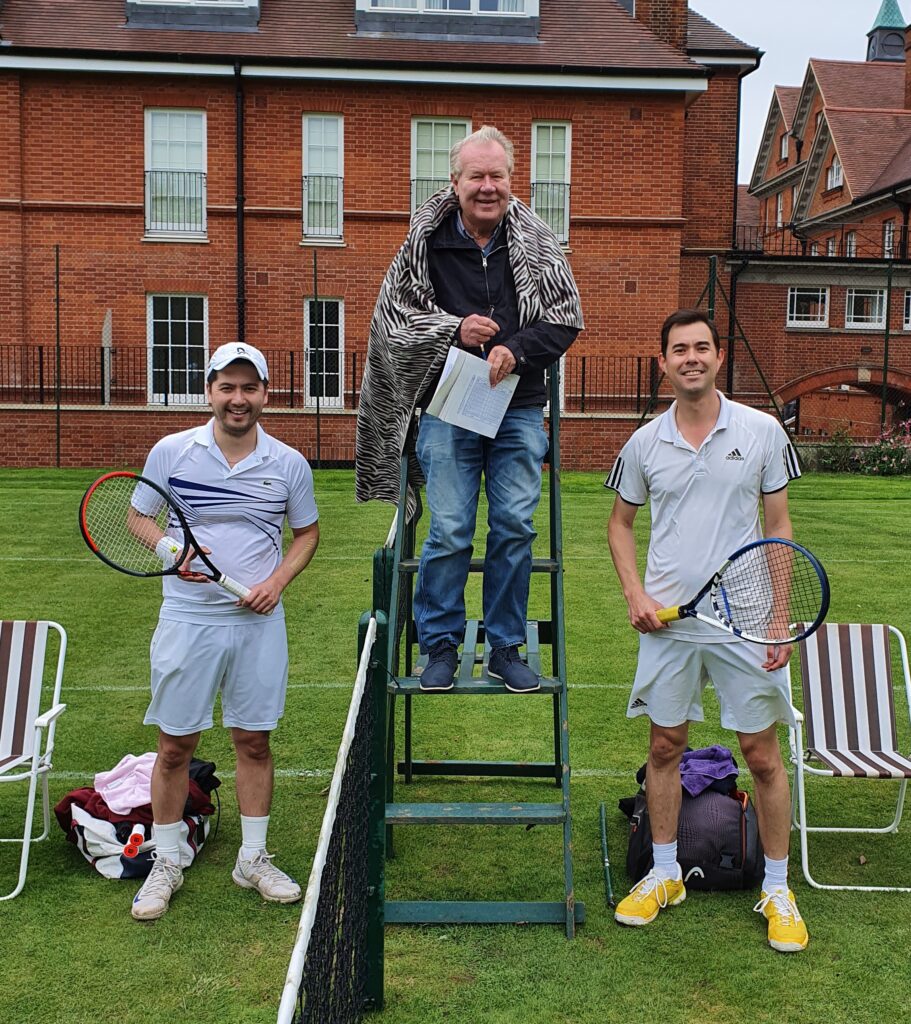 This was umpired by Kevin Ryan, keeping up a tradition over many years, and played between Greg Lim and Marcio Sugui, the third and top seeds respectively. Greg had been in fine form in a very tight three setter against Logan Mair in the semi the previous evening, though Marcio's wins were more straightforward. Greg relies on pace on serve, and forehand, from flat shots, using a lot of wrist, while Marcio is a leftie with a typical leftie swinging slice serve (when he chooses to use it), and with the ability to use a lot of topspin on forehands. Marcio slipped once or twice both on baselines lacking grass, and also on the more grassy interior of the court. Subsequent inspection of the players tennis shoes showed that the soles had significant wear, whereas the soles of Greg's very yellow shoes were in a much better state. Greg generally handled Marcio's leftie slice serve well, was very quick about the court, as usual, and seemed to pick up all the low balls. Greg tended to serve to Marcio's backhand (right hand side), and tried to manoeuver Marcio into creating a gap into which Greg could hit a forehand with pace for a winner.
The first set took quite a while, with breaks exchanged, and reached 6 all, whereupon Kevin called for the tie break. Marcio was up a mini break at one point, but Greg won it back and proceeded to take the set 7-6 7-5. In a similarly lengthy second set it appeared as if Greg had the momentum, and Marcio seemed to be playing into Greg's hands by returning the ball down the centre of the court, not always obtaining the depth he wanted, and at times seeming tentative. A few slips on the grass cost Marcio a similar number of points, but he hung in there, and took the set to a tie break. This tie break was all Marcio, for a 7-67-1 set. In the third set Marcio started to play much more positively, going for cross court and other winners whenever there was a gap, and generally making them. As the match entered its third hour Greg was unable to match the step up in form, and Marcio finally emerged as Men's Singles Champion 2020 to win 6-75-7. 7-67-1 6-1.
As Marcio put it before the match, in the unusual absence of Cedric, who was having to quarantine after a trip abroad, it is "now or never", if Marcio ever wanted to be club singles champion. Marcio said afterwards, "I felt I was very close to losing today, for another year, but lockdown helped me to remain focused". Meanwhile here's a little counting exercise Marcio recommends to keep your mind clear and focussed.
Given that this match took nearly 2 hours 30 minutes, during which both the ladies singles and doubles finals had completed, Sultan Gangji then declared it to be tea time (no need to wait for the men's doubles final to complete too).
Ladies' doubles final
This event, umpired by Barbara Thomas, featured the first of two mother and daughter finals clashes. The last minute partnership of Margaux Valarche & Jane Boyle, were taking on Elena Valarche & Emily, the top seeds. Although Margaux's serve wasn't going that well, the rest of her game is on form, and particularly the "artistic" touch volleys, where feasible, which make such extreme use of the angles that no one reaches them, not to mention the good technique on the forehand in the picture. Meanwhile, Elena rarely double faults on serve, always keeps it low – difficult to pick up on a grass court, and generally comes to the net wherever possible, and sometimes, even when it isn't! Emily was playing a little better than earlier in the day, and Jane was pretty solid on her sliced shots. Although Jane generally left most of the running to the more than fleet footed Margaux, she did do a bit of running herself – running back to cover a lob over Margaux's head being one notable instance.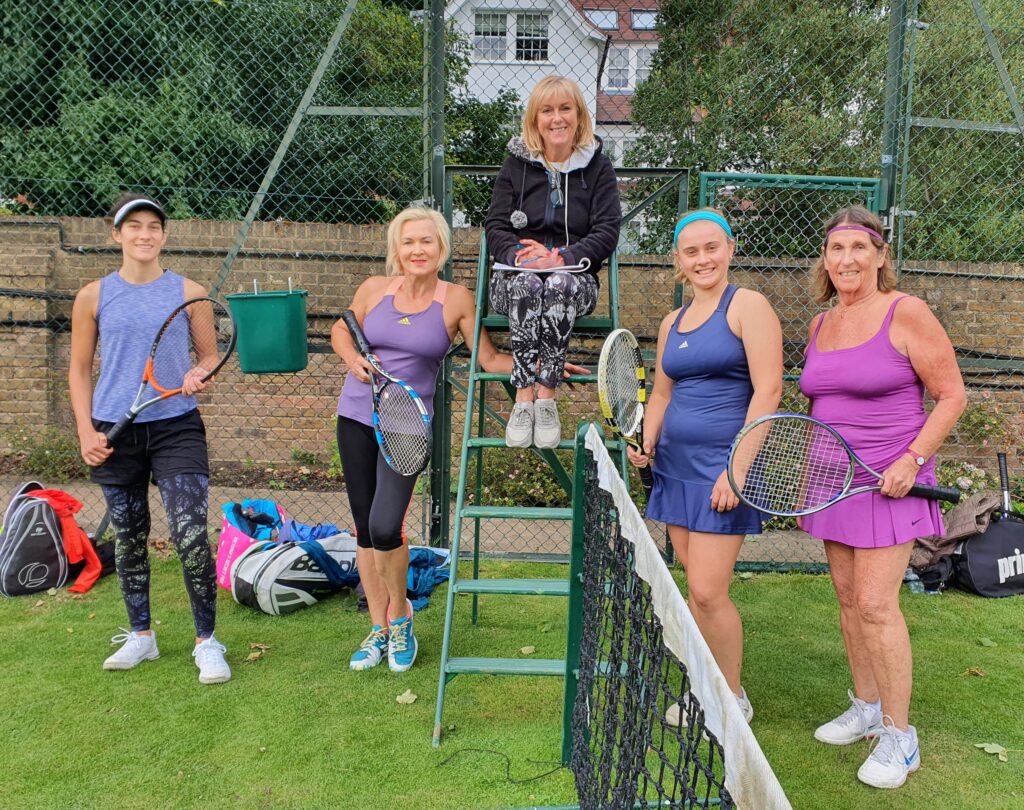 The first set was more competitive, but Jane and Margaux took it 6-4. The top seeds fared less well in the second, to give Jane and Margaux a 6-4 6-2 victory. So the daughter triumphed in the ladies' doubles. What about the mixed? You'll have to wait to see, unless you were there.
It is noteworthy that Jane Boyle has now been a tournament champion in at least one event at West Heath, in six decades – seventies (from 1974), eighties, nineties, noughties, tens and twenties (2020). See the Champions web page. And, you know what? She is not the only one!! More on that later.
Men's double final
Umpired by James McKenzie, this featured the second seed, Logan Mair & Tim Simpson, against the top seeds Greg Lim & Sultan Gangji, and, having been dumped out of the men's singles by Greg against the seedings, was an opportunity for Logan to set matters straight. However, generally Logan and Tim were making more errors that Sultan, and, in particular Greg. After one particular game in which Sultan won his serve in a straightforward way, often with returns which Greg found easy to put away at the net, Logan and Tim hatched a plot to use very wide, angled, cross court returns on his serve on both wings to force Sultan to stretch wide with little time to hit an accurate ball, allowing Logan and Tim to put away volleys. This worked well the first time, to break Sultan, but Tim and Logan didn't keep it up the next time around. Generally Sultan poached around the net and Greg hit anything in sight as hard as he could into the most inconvenient place for Tim and Logan. The match was quite tight, but the top seeds always had a slight edge, and took it 6-4 6-4.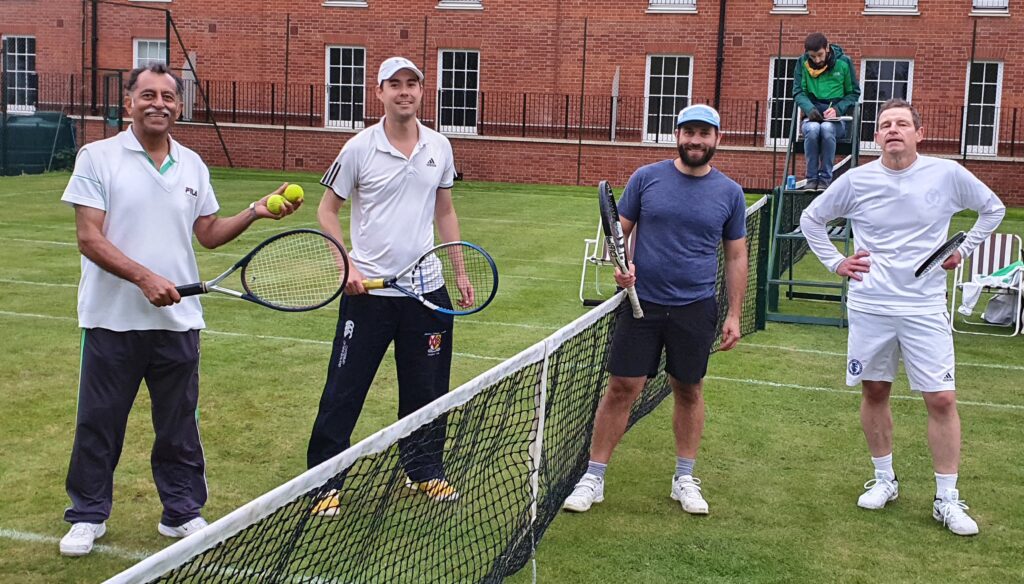 So Logan fell to Greg a second time, though Logan and Margaux Valarche did dump him and his partner out of the mixed.
Further, Sultan became the second player at West Heath, after Jane Boyle, mentioned above, to be a tournament champion at West Heath in at least one event over six decades – seventies (from 1976 – men's singles champion), eighties, nineties, noughties tens, and now twenties! Congratulations to the pair of them. See the Champions web page. The late Joris Fletcher was the one that came up with this factoid, though relating to only five decades!
Mixed doubles final
Under the umpire, Jen Ehr, this was contested between the fourth seeds, Elena Valarche & Stephen Cooke, and the third seeds, Margaux Valarche & Logan Mair. This was round two of mother versus daughter, Margaux, the daughter, getting the upper hand in the ladies' doubles. It ended up being very highly competitive and going to the wire. Sometimes the match seemed to be Stephen on one side versus Margaux and Logan on the other, though when Elena did intervene to hit the ball, she generally put it away for a winner, which helped considerably. In the first set, Margaux and Logan mainly had it all their own way, winning it 6-2. Matters weren't so straightforward thereafter. In the second set, Margaux and Logan were a break up towards the end, and serving for the match, which looked like it would be theirs (since Elena and Stephen had to break, with the set tie break, and then the Champions tie break to prevail. Elena and Stephen did indeed break back to take the set to 6 all.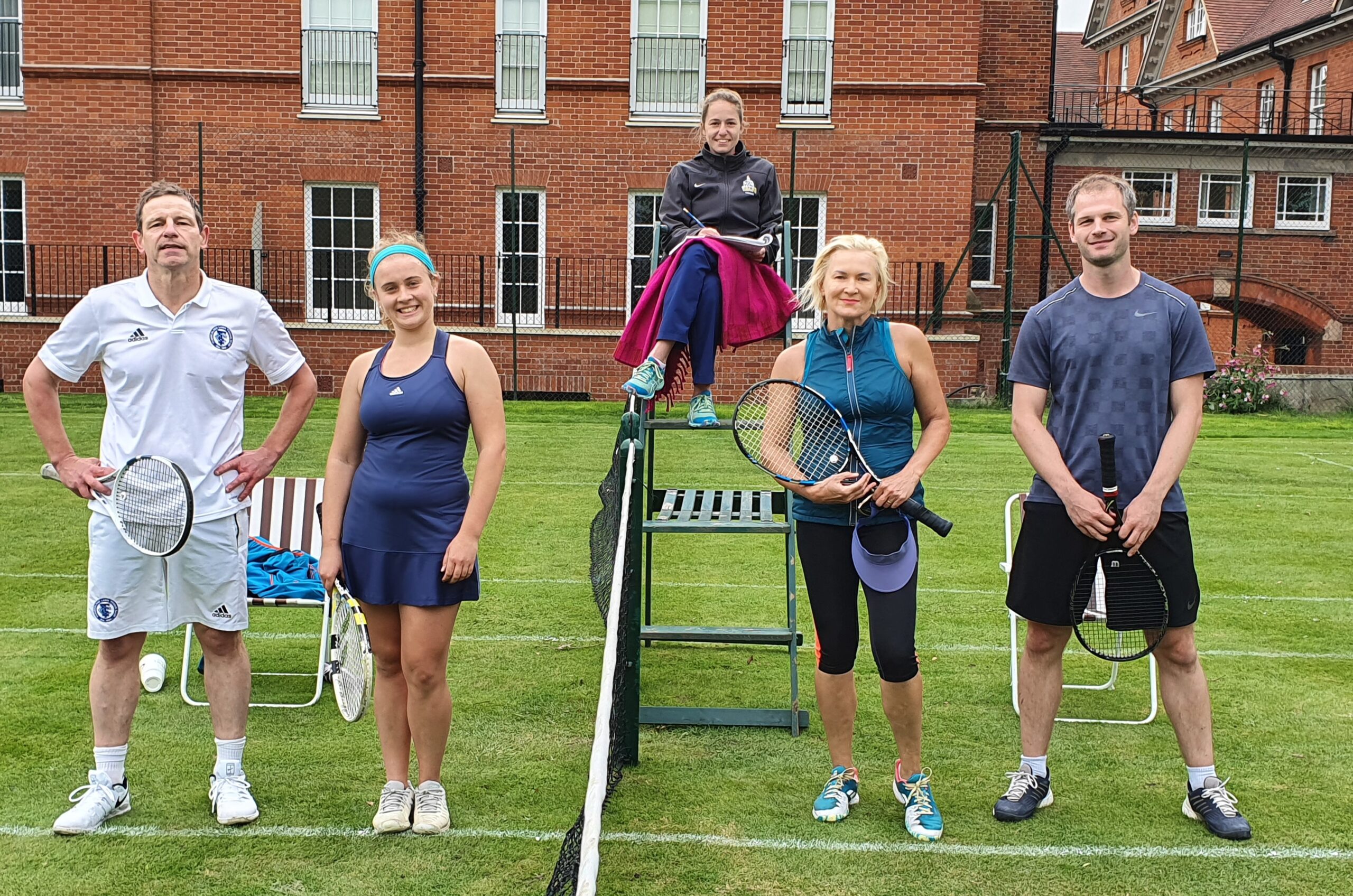 In the normal set tie break I believe Margaux and Logan had a mini break, but couldn't hold on to it. Then at 5 all, Elena and Stephen won a crucial minibreak, and held a service point to take the tie break 7-5. In the ensuing Champions Tie Break (first to ten), Logan and Margaux were 8-3 up, but Elena and Stephen pulled it back to 10 all. Elena and Stephen then took the first point on serve. Then we had the point in this video where Logan unwisely let a deep lob bounce and couldn't get his racket to the ball before it hit the back netting. Elena and Stephen won 2-6 7-67-5 [12-10], mother beating daughter to achieve "honours even" in the dual doubles finals clashes. Elena asked me to say that, when not playing tennis (seemingly most of the time), she is an NHS doctor. Hopefully she manages to fit in some time with her husband Antoine too.
Summary
We were very lucky to get a tournament at all, in this year of COVID-19. Let's hope that a successful vaccine is produced and that, next year we don't have to socially distance and the 2021 tournament can get back to normal. One aim of mine for next year will be to take at least one picture of Logan without his hands on his hips!
Thanks to Sultan for the organisation, to Sultan and Marjan for the tournament refereeing, to all those taking part (numbers were down a little, due to the timing and other factors but we still had a decent entry in each event), to the spectators (numerous, but fortunately not numerous enough to break any rules), and to Lesley, Moira and Marjan for the COVID-safe finals day tea. And, perhaps, to the weather, for holding off a few times when the forecast was predicting no tennis could be played.
Here's a link to all the full sized, cropped photos used in the tournament match reports. A few more will be added to the link and the reports by the end of the bank holiday weekend.