There was some confusion about the start time of both singles finals, and the weather forecast was far from good.  In fact it suggested a huge downpour starting at 2 pm and continuing for at least a couple of hours.
However, both singles finals and a champions tie break to complete a men's doubles match were played on the hard courts, despite the presence of light drizzle.
Men's Singles Final
Greg played solidly throughout, with his flat fast groundstrokes, but the even and slow court bounce somewhat played into the hands of Cedric who has a very good eye, solid topspin strokes and, as he warms to his task, can hit the ball very close to the lines without making too many errors.  And hit good topspin lobs too, when he has to.
Greg played well, but even his lowish error rate was too much compared with that of Cedric who not only put pressure on but also hit accurate winning shots where necessary, such as passing shots if Greg came in, or shots close to the baseline to leave Greg with little time to react and get on balance to make an effective response.  Cedric made errors too, but somehow they almost never added up to the games Greg needed to make an impact.
In the first set Greg got one game.  During the second set the drizzle became a little more pronounced and at one point Greg slipped.  But by this time he was 3 games to love down and gamely carried on but perhaps without risking a further slip by chasing almost hopeless balls.  Cedric lost no games in the second set and won 6-1 6-0 to give us the very satisfying champion's sequence over the last four years of : Graeme Pearson, Cedric de la Chaise, Graeme, Cedric!
Ladies' Singles Final
This was umpired by James McKenzie (replaced towards the end by Barbara Thomas so James could finish his men's doubles semi-final) and took place between Marjan Denis, the reigning champion, and Elena Valarche, the 3rd seed who has unsuccessfully challenged Marjan for at least two of the last four finals (the record for 2015 having gone missing temporarily!)  Marjan had been champion from 2013 through 2016.
Elena was clearly up for it, but it wasn't the best performance from Marjan, maybe because she was nervous of slipping on the slightly damp porous Macadam.  From a distant vantage point it looked as if Elena came in a lot in the first set, but not in the second.  Elena says this was because it is less of an advantage coming in on a slow hard court where your opponent has much more time to line up for a passing shot.
Elena won the match 6-2 6-2 to give her her second singles title.
Men's Doubles Semi-Final Champions Tie Break Decider
Due to late play and very poor light earlier in the week the men's doubles semi-final between Sultan Gangji & Graeme Pearson (reigning champions and top seeds) and the third seeds Greg Lim & James McKenzie had to be halted at one set all – 6-4 5-7 on Wednesday night.  The deciding champions tie break (first to 10 point) was decided on a slippery hard court in front of the enthusiastic but slightly damp set of spectators.
At first it looked like Sultan and Graeme had the upper hand, but towards the end of the breaker James and Greg tightened up their game and were able to put their opponents under pressure, forcing a win 10-7 for a 4-6 7-5 [10-7] victory overall.
Tea, Presentation of Trophies and Relocation
At this point the rain started to get heavier.  Not only would the spectators have got drenched, but there would probably have been a revolution if the players had been asked to play on the now-lethal hard courts.  So everyone retired inside to finish preparing tea.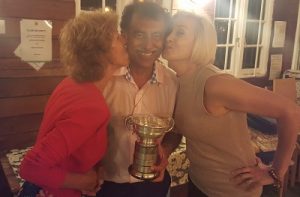 And what a tea it was!  Some expressed an opinion that it was the best Finals Day tea they had ever seen.  Decide for yourself.  Once the kettle had boiled everyone tucked in.  Once hunger and some of the dampness had been dispersed, Sultan Gangji thanked those who had given time to help run the club over the previous 12 months and called on Bill Clark (a member from 30 years ago) to present the prizes to the men's and ladies' champions.  Bill commented that very little had changed, including the bar area which he and Sultan had spent some time constructing.
With the hard courts rapidly turning into a duck pond despite their fast-draining powers, Sultan organised a couple of indoor courts at David Lloyd Finchley on which to play the outstanding doubles matches, and 15 people accompanied the finalists.  Play started at 6 pm.
Men's Doubles Final
This took place between the second seeds Cedric de la Chaise & Logan Mair and third seeds Greg Lim & James McKenzie who had earlier knocked out the title holders Sultan Gangji and Graeme Peason.  At first it seemed like it might be an easy ride as Cedric and Logan quickly accumulated a 3-0 then 4-1 lead.  But Greg and James dug in and forced various errors from their opponents.  Not only from Logan, but also from Cedric who missed one or two difficult low vollies / half volleys from around the service line.  In particular Greg was commanding the net and any loose shot that Logan played that was in reach got put away.  But after leveling at 5 all, Greg and James could not stop Cedric from winning his service game, and then James struggled with his, eventually conceding the set 7-5 to Cedric and Logan.
In the second set Cedric and Logan again got off to a fast start, only to be pegged back by Greg and James.  For a while it looked like the final might be decided by a champions tie break.  But at 4 all with Logan serving Cedric in particular seemed to be putting the ball closer and closer to the lines to make it more difficult for the opponents.  Logan held his serve and James was under pressure once more, as he had been at the end of the first set.  Three balls from Cedric and Logan seemed to hit the lines in this game making it all but impossible for James to hold, and Cedric and Logan took the title 7-5 6-4.
Ladies' Doubles Final
The second seeds Elena Valarche & Marjan Denis played the top seeds and 2016 champios Ros Norkett & Vandana Talwar indoors at David Lloyd, Finchley.  Three of the four players are members but Elena took a while to get used to the different conditions.  Perhaps as a result Ros and Vandana got off to a flying start and raced into 3-0 and 4-1 leads.  Ros's strong groundstrokes and Vandana's net play worked well and proved a tricky combination to for their opponents to break down.  But Elena and Marjan stuck at it, fought back to 5-5 and then took the first set 7-5.
Elena and Marjan made a better start to the second set and, with a break in hand, Marjan served for the match.  At 5-3, 40-30, applause broke out on the adjacent court where the men's doubles had just finished.  Elena and Marjan won the matchpoint to ensure both matches ended in perfect synchrony so that everyone could hotfoot it back to West Heath where people were already gathering in the rain outside the locked West Heath gate for the BBQ!