The weather forecast was clearly inauspicious, and a number of matches were hastily re-arranged to be played earlier.  Some of the matches reported may have been played on Friday night.
Sally Tornow & Sue Latimer played the third seeds, Jane Boyle & Barbara Thomas, in the ladies' doubles.  It looks like Jane's lefty slice and cunning combined with Barbara's aggression paid dividends as the seeds won 6-1 6-2.
There were a number of men's singles matches played.
Ben Torns kicked off his first service game against Cedric de la Chaise with an ace, but can't yet live with Cedric's pace and placement.  Cedric thought Ben had good shots but should stop relying on his father for shot selection tips.  The match was a 6-0 6-0 victory to Cedric.
Ed Fitzgerald played Philip Reid, the fourth seed, in the men's singles.  From the score it looks like a good ding-dong battle.  Ed took the first set 6-3, Philip equalised with a 6-2, and with the momentum going his way Philip took the final set 6-2 for a 3-6 6-2 6-2 victory.
Dudley Leigh put in an infrequent appearance at the club to play against Greg Lim, the sixth seed.  Greg thought Dudley might have been lacking in grass court practice, though Dudley did appear a few weekends ago to play a single set of men's doubles during social tennis.  Apparently the match was played in a good spirit and Greg won it 6-2 6-1.
Lajos Szucs had to play the eighth seed Tim Simpson.  In his match against Peter Davies Lajos seemed to be able to put the ball on a sixpence and generally nothing on a grass court phased him.  Apparently the same was true of the match against Tim and, as a result, it looks like Lajos will be joining the seeded players next year.  Lajos won 6-3 6-1.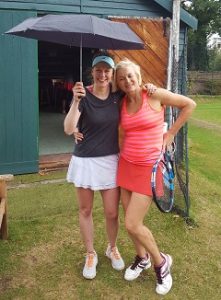 Probably the final match played on Saturday was Rachel Savin against Elena Valarche, the third seed in the ladies' singles.  Apparently Elena can't help herself and just has to come in on every shot.  Rachel kept hitting the ball ball down the centre of the court, possibly a recent of a weakness in her right leg which had been injured earlier on in the season.  She feels she cannot push off against it properly to change the direction of hit.  Clearly this played to Elena's strength and Elena won the first set 6-3.  The second set went a similar way except that it started raining shortly before the score reached 5-3 to Elena, and the pair retired at this score.  Since a resumption looked unlikely Rachel graciously conceded the match.  Hopefully they will schedule a tight return match some time soon when Rachel is fully fit.
Keep your fingers crossed for the weather tomorrow as there are quite a few matches scheduled.