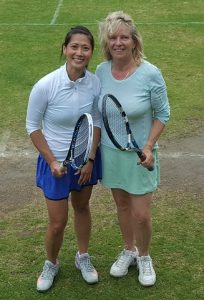 The weather forecast for today looked distinctly bleak, with various Android forecasting apps predicting two hours of heavy rain, but each app predicting it at different times in the afternoon.  The best plan seemed to be for everyone to turn up and see what could be played.  In the event it turned into a lovely sunny afternoon and all the scheduled matches got played.  Porous macadam (for the faint hearted) and grass courts 1 and 3 were used.  Though the muddy patches on the baselines of court 1 could have been a problem there were no reports of anyone slipping.
In the ladies' singles Soo Teng Lee played Ros Norkett.  Soo Teng has a good heavy serve when it went in, but Ros can produce strong groundstrokes and effective volleys when she gets a clean hit at the ball.  In the end Ros was too strong for Soo Teng.  One sequence in which Ros came out on top more than once was when Ros hit a high deep ball to Soo Teng, who returned it high and a little short, enabling Ros to hit a strong groundstroke return out of Soo Teng's reach for a winner.  Ros won the match 6-1 6-2.
In the first men's doubles match Stan Vasilyev & Paul O'Flynn played James McKenzie & Greg Lim.  James and Greg won 6-1 6-4.  James has promised to give details of the way the match went.  You are left to guess whose racket actually suffered at the end of the match, but it shouldn't be difficult if you know the characters concerned.
Having decided that the grass court was a little to soggy for play, Greg, James and Stan decamped onto a hard court. Paul arrived eventually, but realised that he couldn't play on the hard court in his sandals, so hot-footed it back to his car for his hard court shoes. He and Stan won the toss and elected to serve, with Stan getting us under way. The first four games went to Greg and James as Stan and Paul found their respective un-be-sandalled feet. Words were certainly exchanged between them; no doubt at least some of them were tactical, whilst others may have been related to the use of some of the fruitier vocabulary exhaled during the set. Perhaps such words worked, as Stan and Paul won the 5th game. Alas, it was their last in the set, as the third seeds won the set 6-1. Further 'discussions' ensued between chalk-and-cheese temperaments of Paul and Stan, which enabled them to break James in the first game of the second set. Breaks were traded, with the scoreboard creaking towards 4-4. With James serving, he found himself in a mini-0-30-shaped hole. But thanks to a couple of rare first serves and crucial interceptions from Greg, the hole became a hold. Stan served to stay in the match, but a few too many errors saw the game, and the match, taken. The final result was 6-1 6-4. Following handshakes and smiles at the net, Stan decided to do what has come so naturally before. Having apparently played much of the set with a cracked frame in his racquet, he well and truly finished it off (as shown in the photo). Had the match been played on the grass courts, he might have be facing a Heather Watson-sized fine; no doubt the tournament referees will be in touch…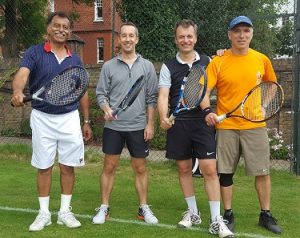 In a second men's doubles match, Philippe Mouly & Eugene Belin took on the top seeds Graeme Pearson & Sultan Gangji.   Apparently Philippe held his serve in the first set and hit some good passing shots, but it was not enough to stop the top seeds taking it 6-2.  In the second set Graeme and Sultan turned up the pressure and won it in straight games 6-0.
In one mixed doubles Stan Vasilyev & Anna Ganev played the second seeds Greg Lim & Marjan Denis.  It was not an easy matc
h for the seeds who won 6-4 6-3.
Another mixed doubles match, providing the entertainment for the evening, involved the mother and son team Vandana & Dhananjay Talwar playing the champions James McKenzie & Lesley South.  It was clear that Vandana's
serve has improved considerably over the last year though she though she could have served better and her net play looked sharp.  Dhananjay looked a little out of practice though he has good movement, a long reach and a good serve.  Lesley hit consistently everything within reach and found some of her trademark winning angles.  There was a lot of good court coverage from James, though on one occasion he also ran to a ball that Lesley had covered and the opponents hit the ball into the space for a winner.  On balance Lesley and James were just a little too consistent for the Talwars and the champions took the match 6-4 6-3.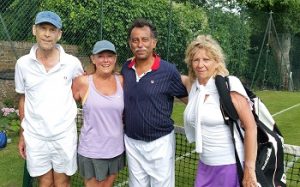 In yet another mixed doubles match Barbara Thomas & Peter Davies faced the fourth seeds Ros Norkett & Sultan Gangji.  The word on the street was that Sultan had turned his ankle a few days earlier in Thursday's men's match against the Cumberland and would only be hobbling around court.  Not to mention the post-match early-morning drinking session in Greg Lim's flat from which Sultan had to walk home.  Although Barbara and Peter had been relying on Sultan doing less moving than normal, once the match started it became clear that he was as mobile as he ever has been, so they had to come up with a plan B in a hurry.
The first set was desperately tight.  Given a clean hit Ros can hit you off the court and her serves are hard and well place.  Sultan's anticipation and placement are usually legendary and he made some great interceptions.  Barbara hit some great shots, Peter served well and both challengers showed good court coverage.  They adopted a strategy of giving Ros as few clean hits as possible and ensuring Sultan was given as little indication as possible of where serves were going.  The first set was desperately tight with breaks and break backs, and led to a tie break at 6 all.  A couple of poor points at the start of the tie break from Sultan and Ros gave momentum to their opponents who raced into a 5-1 lead, ultimately taking it 7-4.  At the start of the second set Sultan and Ros switched sides to give Peter something to think about on his serve.  Sultan and Ros broke but were in turn broken back as the score reached 4 all.  Then Sultan lost his serve to leave Peter serving for the match, but he and Barbara then lost the next three points.  A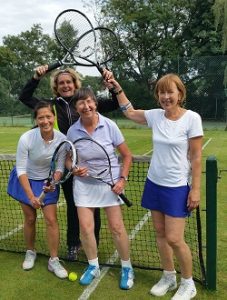 mistake from the opponents and a couple of good serves brought the first of a few deuces and the match was finally settled when Sultan put the ball a couple of  inches out on match point for a surprise 7-57-4 6-4 victory to Barbara and Peter.  It was a match of tight margins in which you could not afford to switch off for even a second.
In the ladies' doubles Anna Ganev & Soo Teng Lee played the fourth seeds Moira Duncan & Lesley South.  Although Anna and Soo Teng returned most balls and hit some good shots the better placement and consistency of the seeds eventually led them to a 6-0 6-1 victory.

In the men's singles Leo Colle played the top seed and champion Graeme Pearson.  Although Leo seemed to be hitting some good shots Graeme was just too strong and won 6-1 6-1.
Thanks to the lucky weather today, the draw is more or less at the stage it should be and we look forward to the remaining rounds in the second week and the Gourmet Dinners Monday through Thursday with great anticipation. Most days are now full, but check the menus here and phone Sultan if you fancy your chances as there is always the occasional drop out.