In contrast to the night before, it felt like a different country on Tuesday evening at West Heath. The sun was shining and it could almost have been described as 'warm'.
Getting the action started was a mixed doubles semi final, between second seeds Marjan Denis and Greg Lim and seed-slayers Barbara Thomas and Peter Davies. Could the unseeded challengers continue their progress through the draw, or would they come unstuck?
[Report from Peter.]  Marjan and Greg both played very well and made few unforced errors.  Marjan hit one or two beautiful low volleys.  Their strategy was to target Barbara as much as possible and although Barbara hit her groundstrokes and volleys well she could not get past the two seeds and was feeling the pressure.  She said she could have been more aggressive and taken the game more to the seeds.  Peter generally served well and ran for everything, but the seeds were generally too strong.  The challengers' only games came from Peter's serving and breaking Greg's serve during a lapse in his concentration.  Marjan and Greg won 6-2 6-1.  They were finalists last year, and will be this year too.  My money is on them to win this year, at least if they can play as they did during this match.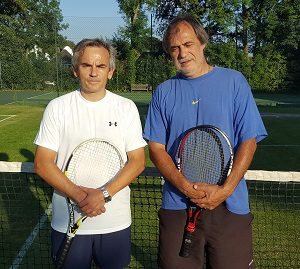 On the adjacent court, the second seed Cedric de la Chaise was taking on new West Heathen Lajos Szucs. Whilst little of the match was observed, it seemed that Lajos' touch was a little off (Susanna said as much), whilst Cedric was returning shots that would otherwise have been winners. Cedric advances to the semi final, with a score of 6-2 6-0, to face either Marcio or Logan, who were due on court afterwards.  One day Peter will get a picture of Cedric smiling!
Over on the far court, a ladies' doubles semi final was taking place. Lucky shoes/pants/shirts or not, Lesley South and Moira Duncan took the first set off the defending champions Ros Norkett and Vandana Talwar, to win it 7-5. Whilst the 'heat rule' was not in place, a 10-minute break was taken nonetheless to tend to the Gourmet dinner (the lesser known 'can't stand the heat rule'). What Ros and Vandana did in the interval is anyone's guess, but they rallied in the second to win it 6-2. The match tiebreak went with the all-important momentum, with the first seeds winning 5-7 6-2 [10-4].
Back on court 1, Graeme Pearson had changed out of his work clothes for his match with James McKenzie. With the sun shining down on court 1, the non-Clubhouse end was a bit of an evolving lottery throughout the match. As the sun swung further round, various parts of the court became more treacherous, whilst others became positively hospitable. The first game was a nervy affair, with James regretting having elected to serve, which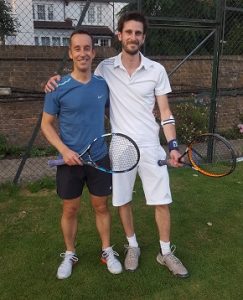 duly went to the first seed. Alas, it wasn't all bad, as the score was pegged back to 3-3. Graeme's tried and tested strategy is typically to get every ball back, which is highly infuriating. However, with the slippy courts a few points were hoovered up by James and his shorter balls. Nevertheless, Graeme continued to win the first set 6-3. At this point the court was becoming exceedingly slippy, with James dancing around like Bambi at times (another Zinger from Moira™). Graeme's shoes seemed better suited to the task. The second got underway, much like all sets do, with some serving, returning and rallies. Somehow James found himself 3-1 ahead, with break points to go 4-1 ahead. Alas Graeme showed his true mettle to hold, and pegged the score back (familiar story) to 4-4. The next few games went with serve to 6-5, with James having to serve to stay in the match. Clearly the pressure got to James, as Graeme 'broke to 15' to take the match 6-3 7-5.
Logan Mair played Marcio Sugui.  [Report from Peter.] For a change Logan had to serve and play as if he meant it, abandoning his normal laid-back style.  Marcio took full advantage of having brilliant topspin strokes.  These have the advantage he can put the ball near to the sidelines closer to the net.  Where possible he used this to manoeuver Logan about the court until there was a chance to hit a winner into the open court.  Marcio took the first set 6-3.  The second set saw Logan stepping up a gear to put more pressure on Marcio, thumping down first serves, though Marcio's game plan was still in effect.  All of this cancelled each other out and the score reached 6 all to force a tie break.  Again, this was pretty even, but Logan just got the upper hand at the end to win it 7-5 to even up the match.
The light was starting to fade, but the match was only suspended when Logan slipped on the dewy grass and they gave up at 3-2 to Marcio.  The match was due for completion Wednesday morning.
And in the ladies doubles, Elena Valarche and Marjan Denis took on Jane Boyle and Barbara Thomas. This match was also suspended due to poor light and a slippy court and is due for completion Wednesday evening.
In charge of the food tonight was Lesley, who served up a range of Persian cuisine. Truly a night for the epicureans among us, it was lapped up by all. Many of us learnt some new words, but there was still a mystery around what kuku actually is…