The wet weather during the weekend and during the day prevented tonight's matches being on the grass. The first match to get going was the first of the men's quarter finals. Fourth seed Philip Reid took on sixth seed Gregory Lim. The first set went to Greg 6-3, with the reporter having missed all of the action. Cue instant summary: it must have been a close one, with either one or two breaks of serve.
The score in the second set ticked over with regularity, not even disturbed by Logan taking the door off the hinges on the hard courts. Singularly failing to return it to its swinging state, he just leant it against the fence. Elena squeezed through later, by pivoting the door on its bottom. Serving at 5-3 Philip missed a set point and double faulted at deuce. First serve missed and a dolly second serve lead to a duff point to concede the break. Greg served at 4-5 to stay in the set. An easy hold, 5-5. Philip steps over a ball, 15-15, but continues nonchalantly. He continues and wins the game to stop the rot and edges 6-5 ahead. Greg serves and falls to 15-40. He brings it back to deuce with tentative play from Philip. Greg hits the deuce ball out wide, has it returned by Reid and belts it back with a scowl. Philip hits a high ball on set point and comes in for a dolly volley, which Greg can only scrape into the net. Philip wins the second set 7-5 to take it to a decider.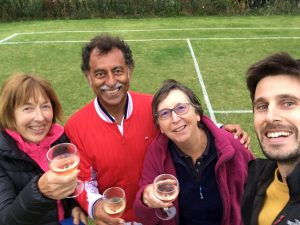 The final set report was disrupted by a high level committee meeting (see photo), but Greg took an early break. This was pegged back in a bit of a slug fest as tempers frayed and nerves became taut (perhaps). Plenty of solid shots, long rallies and disapproving glances towards the spectators later, Greg took the final set, and the match, 6-4. It was a hard fought match, which provided excellent viewing for the appreciative spectators.

As the match finished, Tim choked hard during his mixed doubles with Ana, as they took on Logan and Elena. The first set went semi comfortably to Tim and Ana. The second set inched towards a tiebreak, probably a few breaks exchanged (Tim's serve?) and the match found itself in a second set tiebreak. To and fro it went, but taken by the jubilant Scottish/Russian coalition.
A 10-point match tie break followed with some solid volleys, ground strokes and smashes from all. At three all, with Ana serving, it seemed like the nerves got the better of the West Heath debutante. To and fro yet again up until 7-8 on Logan's serve. 8-8 and Logan did a bit of choking of his own. Tim had a chance for glory to serve for a place in the semi, and duly delivering he sealed the deal to win 6-2 6-7 [10-8]. In a post match analysis, Tim attributed Greg and Philip finishing their match for a slight wobble, but professed himself "very pleased to have overcome a near choking".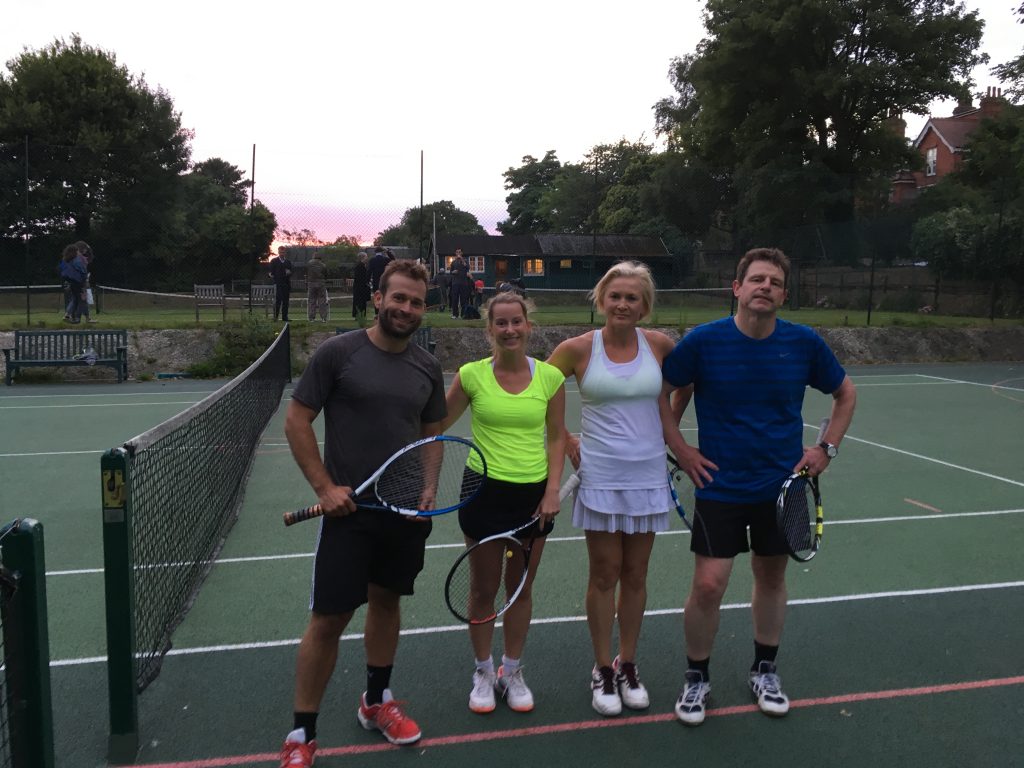 The evening's post-tennis entertainment was provided by Ros, with a guest performance as pudding chef by Jill. Ros served up spring rolls, peri peri chicken wings and pork ribs for starter. This was followed by delicious Teriyaki chicken, rice and bok choi, alongside, a tasty stew of butterbeans, chickpeas and butternut squashes. Jill's pudding was a much-feted creme caramel with fruit salad. Many thanks to our first Gourmet Chefs of the year!