(The cropped versions and all originals of photos used in all 2022 tournament reports are available from here.)
After a day's rest from matters relating to tennis, we were all ready for the climax of the West Heath 2022 Tournament. The weather was fine, not too hot, with no rain forecast until the evening, and even then, there were only a few spots of it!
Men's singles final
This was fought out on grass court 2 between Cedric de la Chaise, the second seed, who has missed two years of the West Heath Tournament during the coronavirus era, and Marcio Sugui, who took full advantage, in Cedric's absence, to take the title twice. Marcio plays for a league team in Harrow, while Cedric plays in the West Heath men's first team.
Greg Lim was the umpire.
Marcio is a leftie, with an awkward slice serve, while Cedric has a good all round game and super mobility, though an injury had prevented him from playing and training for some months until the last few weeks.
Sultan Gangji says that this match was the first played at West Heath with a complement of linesmen covering all lines with appropriate rotation!
The first set started with a service break to Cedric, who held his own game for a 2-0 lead. There then followed a marathon Marcio service game which seemed to last the whole of the first set of the ladies' singles on the parallel court 1. Marcio won this eventually, but it was symptomatic that his serve was always under pressure. The difference seemed to be that Cedric was comfortable varying things and hitting close to the side lines to put Marcio under pressure and force errors. While Marcio seemed to be using an awkward but similar first serve which Cedric could move to return with few errors in the end, and a lot of Marcio's groundstrokes in the first set were down the centre or a few feet away from the side lines. Marcio had another service hold to give Cedric 3-2, but after that, Cedric ran away with the set.
In the second set Marcio played better and took a few more risks. The score reach 2 all, and then Marco held, broke Cedric and held again to lead the set 5-2. During this game there was an odd occurrence. Marcio was carrying 3 balls, plus the one he served with, but it was noticeable that, for some unknown reason, he put both of the spare balls in the same pocket of his shorts, instead of one in each of the left and right pockets, as you would expect. During the play one of a ball came out of this pocket, and Cedric lost the point. Cedric could have asked for a "hindrance" as shedding a ball is distracting, but didn't, although there was a discussion about it afterwards. Clearly the incident wasn't deliberate, and wasn't likely to have made any difference to the outcome of the game. Either way, Marcio was on a roll and took the set 6-2. Cedric appeared to be cramping up (or injured), which was confirmed when he stretched one leg against the back of his chair during the interval between sets.
At the beginning of the third set you would have expected the momentum to be entirely with Marcio, but something changed. Marcio seemed to ease up and make more errors, and Cedric got a fresh wind, which resulted in him breaking Marcio a couple of times for a 3-0 lead. This was too much for Marcio to overcome, and although Marcio held and broke Cedric towards the end of the set, it wasn't enough to stop Cedric winning 6-2 2-6 6-2 to restore his reign of supremacy after the two year break.
Marcio is planning to move back to Brazil before next summer, so this may be the last battle between the two that we see.
Ladies' singles final
This was between Jen Ehr, second seed and ladies' first team captain and Rebecca Vaughan, top seed and 20212 champion and also a first team player. Rebecca is very consistent and makes few error, but doesn't have as much pace on her potential winners as Jen might have, while Jen has a solid all round game with heavy and accurate ground strokes. Jen said she was confident if she could serve well.
In the event, it turned out that way. Rebecca was able to hit consistently anything within reach, but Jen was able to serve and return well to put pressure on Rebecca and to hit winners beyond Rebecca's reach. Though Rebecca won a game when 2 down in the second set, Jen won 6-0 6-1, which is Jen's first West Heath Tournament win at the second attempt at the singles!
Men's doubles final
After a marathon three set men's singles final, this was contested between the fourth seeds, Joseph Rigal & Alex Vallmajor, and the third seeds, Will Maslen & Cedric de la Chaise. Joseph is second team captain, and Alex plays in that team, but Will and Cedric play in the first team.
Joseph has a very heavy serve and groundstrokes, which can sometimes be erratic, but in this match served almost no double faults. Alex has a very consistent and accurate serve and game, but his serve did not have quite enough pace to win cheap points. He put at least one down the line to pass the net player on receiving service. Will and Cedric have both consistency and pace.
The first set was relatively even, with one net break, won by Will and Cedric 6-4. In the second set, Will and Cedric were often able to take the net position against Alex's service, and this resulted in more breaks for Will and Cedric to take the set 6-2 for a 6-4 6-2 victory.
Ladies' doubles final
This took place between the mother and daughter team Margaux & Elena Valarche, third seeds, and Jen Ehr & Katie Baston, top seeds. Katie and Rebecca Vaughan won it last year.
Barbara Thomas did the honours as umpire.
Elena has a an aggressive net game though less dynamic than the others, and Margaux has excellent mobility and is excellent at the net with good all round strokes. Jen and Katie both have heavy serves and are good at the net and Jen has very accurate heavy topspin groundstrokes. And they are an established partnership, battle hardened in many league matches for both Oxford University and West Heath.
The net of all this is that Elena and Margaux had less difficult in holding Elena's serve with Margaux at the net than the other way around. Margaux chased a lot of balls and returned them well, but couldn't beat Jen and Katie enough of the time. Elena stationed herself at the net and hit anything that came within reach, putting away a decent proportion.
But it all wasn't enough to beat Jen and Katie, who won 6-2 6-2.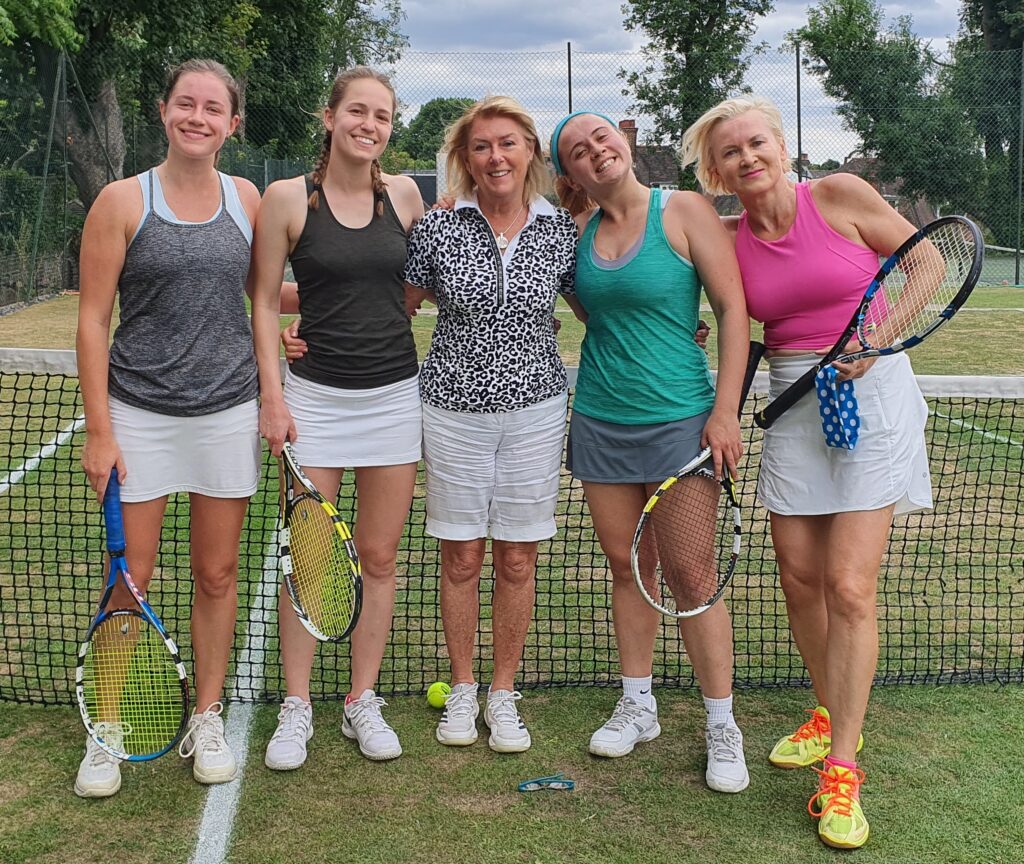 Jen and Katie thus became the only top seeds in any event to actually become champions. Sultan's record to the semis (quarter finals for men's singles) of only one pair of seeds being beaten (and one withdrawal) to that stage looks less good when it comes to the allocation of rank within the seeds themselves. However the top seeds should normally be the previous year's champion, so there isn't much leeway there, and the injury to Stephen Cooke threw out a lot of the careful consideration of seeding.
I will admit now to holding an informal draw in which the early spectators (those who arrived before matches started) were invited to tick the winners of each Finals Day event on a draw slip. Perhaps it was too easy, because the majority of the raw slips contained correct predictions. Katie Baston drew one slip from the hat containing the correct predictions, but it produced Sultan's slip. He turned down the prize on the grounds of being the tournament referee, and Katie drew Jane Boyle next, who received the £5 prize, ending her claimed run of not winning anything!
After the ladies doubles had finished, the traditional extensive Finals Day tea was served

by a special visitor
who also helped out with the presentation of trophies.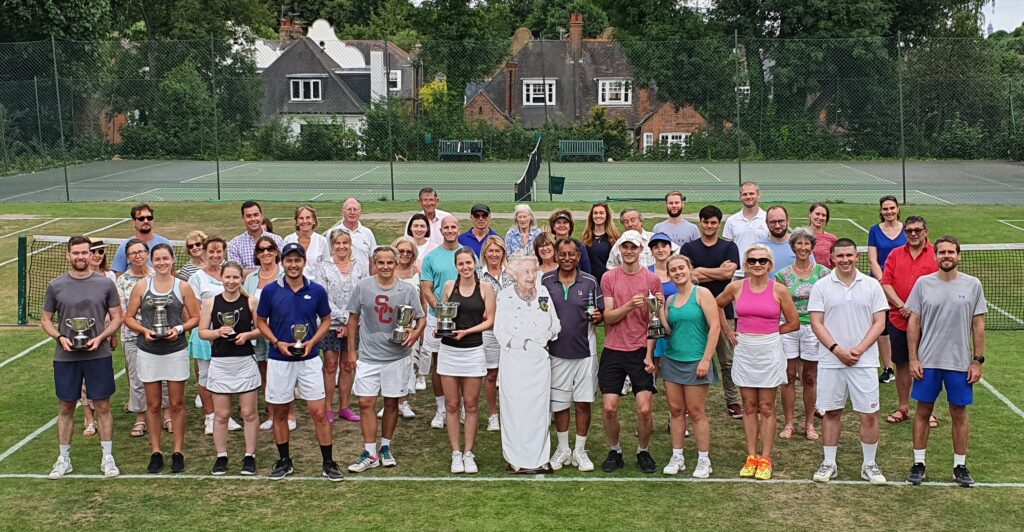 In the evening was the Finals Day barbecue. Thanks to everyone who brought food and drink and to those who manned the barbecue. If anyone has any more pictures of the barbecue, please WhatsApp them to me.
It emerged during the evening discussions, that Margaux Valarche and Jasper Tresidder, the 2022 mixed doubles champions, had known each other from school, as they were in the same year group at school.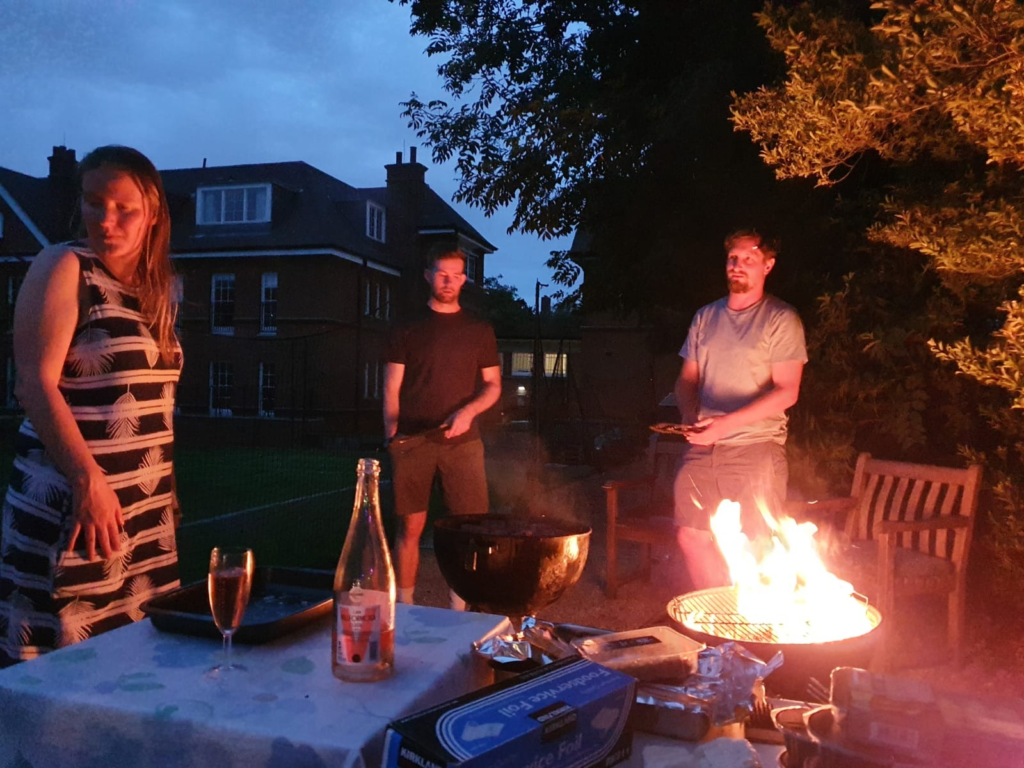 That is all for this year. Thank you to all the tournament organisers, chefs, players and attendees. And thank you for coming to watch the matches and for reading the tournament reports.