The weather today was again cool and overcast, leading to some dining indoors. Lesley South supplied a delicious Sicilian chicken dinner with gelato brioche desert.
Due to Stephen Cooke's injury and withdrawal from the tournament, only three matches had to be played today.
The match on court 1 was the ladies' singles semi-final between Marjan Denis, and Rebecca Vaughan. This was pretty competitive, with a number of deuces not resulting in breaks. Marjan's strategy included moving Rebecca around to create an angle for an effective approach shot, then come in to volley, and hope Rebecca was under too much pressure to hit an accurate pass or lob, and it worked to some extent. Rebecca was more consistent and could win points in a variety of ways.
The match was tighter than the score indicated, but the score was 6-2 6-2.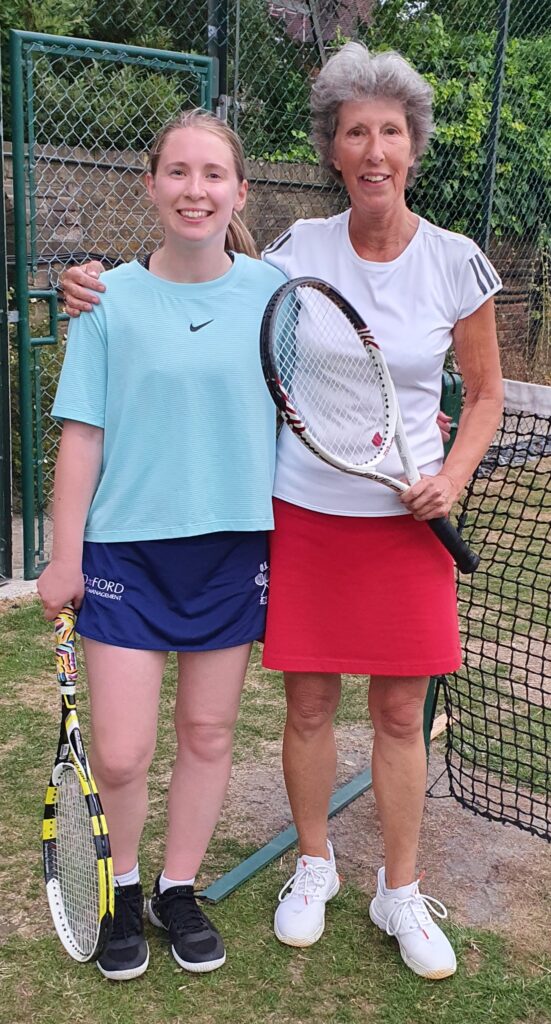 On court 2 the first match was between Joseph Rigal & Alex Vallmajor, fourth seeds, and Sultan Gangji & Greg Lim, top seeds and defending champions. This was the only men's doubles semi final played, as Stephen Cooke's withdrawal gave Cedric de la Chaise and Will Maslen a walkover in the other.
Joseph tends to have a high error rate on his serve and shots, but a compensating ability to hit winners, a couple of which memorably seemed to occur under Sultan's racket. Alex is very mobile with good anticipation – very similar to Stephen Cooke in that regard, but with less (or choosing not to make use of) an obvious killer serve. Sultan whacks flat serves down, inducing some errors and when stationed at the net picks off anything reachable with excellent anticipation, winning a number of points that way. Meanwhile Greg hits pacey, mostly flat strokes and uses his height to dominate at the net – he is very difficult to lob.
In the first set, Joseph lost his first service game, and the pair did not recover from that, losing the first set 6-3 on a net break of serve. The second set was must more fiercely contested, with more breaks, and reach 5 all, at which Joseph held and then the pair broke to take the set 7-5 to set up the Champions Tie Break (first to 10 plus winning by two points). This was fairly even at first, but Alex and Joseph started to get the upper hand when it started to matter, taking it 10-7 to win the match 3-6 7-5 [10-7] to dump the 2021 champions out.
The remaining match was the only mixed semi-final played, as Stephen Cooke's withdrawal led to a walkover to Margaux Valarche & Jasper Tresidder in the other. Posy Frederick & Logan Mair, third seeds, took on Jen Ehr & Sultan Gangji, the second seeds.
Posy and Jen played consistently, serving and returning well, and often having to fill in the gaps behind the man. Both generally were able to keep their returns well away from the opposition net player, though not all the time. Despite his ankle injury from Sunday, Logan moved around the court, poaching in the front of the court whenever he had the opportunity, though not all of these attempts resulted in winners. He also made use of his fast flat serve wherever possible, and it was likely more effective than normal in the increasing gloom. Jen hit at least a couple of passes down the line past Logan when he went too soon for the interception.
The first set was close, though Posy and Logan got a net break to take it 6-4. In the second set, there were some brilliant points where all four players had to anticipate to dynamically back up their partners to ensure coverage of the whole court when one was pulled out of position by a good shot from the opponents – no waiting to see where the ball had been hit then starting to run for it. It is what good doubles have to do from time to time. Posy and Logan looked like they would run away with the set and match after getting to a 5-1 lead. But Sultan held his serve to bring it back to 5-2, then Posy was broken to give 5-3.
At 20:51, with the overcast sky, it was getting very difficult to see, particularly for the older players who might not have been eating their carrots! After a conflab, the decision was to resume in better light the following day.
(Picture will follow on conclusion of the match).