The temperature was a little warmer than the previous 2 nights, but not enough to avoid having to put layers on to eat outside.
Moira Duncan prepared a delicious lamb tagine dinner for the last Gourmet Dinner, but was unable to be present, so Lesley South and Marjan Denis kindly helped out with the culinary work at West Heath (as opposed to the main preparation and cooking at home). Many thanks to all those involved.
The early men's singles semi-final match started at 17:15 on court 1 and was between Greg Lim, fourth seed, and Marcio Sugui, top seed and defending champion. Greg has strong strokes which often gain more pace by being flat (see video for serve), as opposed to having spin, but unless you get the timing precisely right this tends to result in more errors than spin strokes. However, Greg has a good eye and good timing to match. To get to the semi-final, Greg had to defeat the up and coming Joseph Rigal in three sets, of which the first two were particularly tight. Marcio really loves his tennis and had signed up for a league match later on at his other club in Harrow, hence the early start. He is a leftie with a leftie sliced serve (see video) and topspin strokes. He defeated Ed Fitzgerald in the quarter finals 6-3 6-2.
Because Marcio keeps most of his groundstrokes deep, there was less opportunity than in other matches for Greg to get to the net to win cheap points on the volley with his tall frame. and extended reach Greg played some good tennis, and had his chances. Marcio won the first set 6-3.
In the second set, Greg broke Marcio to go up 2-1. It could have been a combination of Greg's pressure and Marcio's desire to close out the match in two sets to get away to play the league match, but Greg was able to take advantage of it. But Greg could not keep his error rate as low as Marcio's in the next two games, so Marcio equalised to 2-2 and the match reached 4-4. Marcio then won a quick service game, putting the both score and play pressure on Greg, who was broken to give Marcio the match and the place in the final 6-3 6-4.
See videos of serves by Greg and Marcio.
Greg flatter serve and groundstroke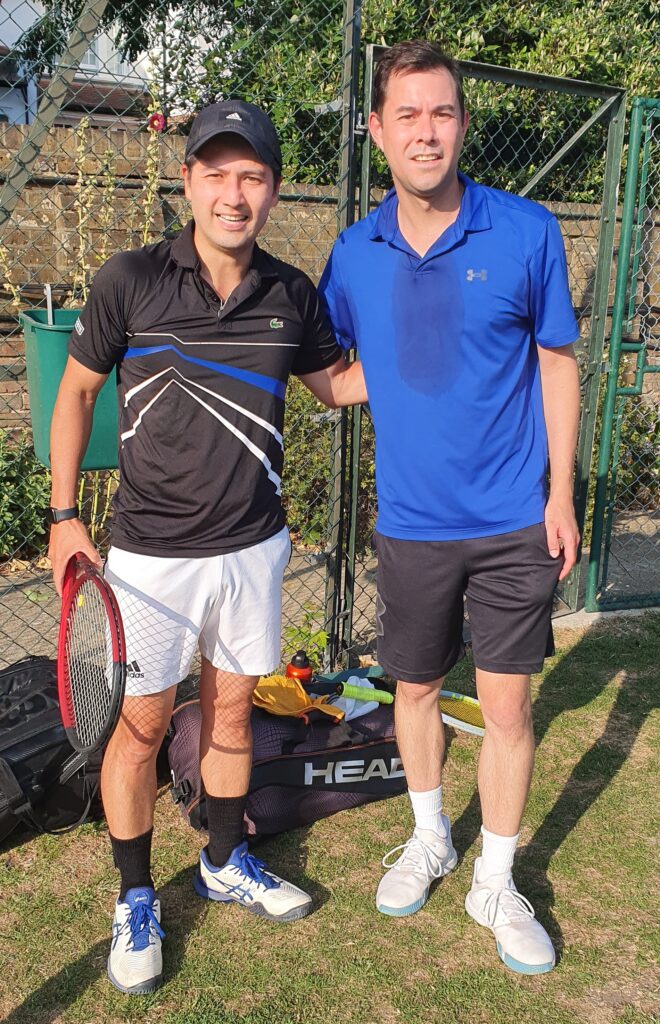 In the other semi final, Logan Mair, the fifth seed, still with a swollen left foot, played Cedric de la Chaise, the second seed, as he did not compete in the delayed tournament in 2021. Logan's left foot is still injured, having turned his ankle playing friendly doubles last Sunday, so he has been trying to compensate by hitting more powerful serves and strokes. Logan qualified for the semi-finals when Stephen Cooke had to withdraw from their quarter final match with a groin strain at 1 set all (having tried to serve it out with 3 match points in hand in the second set tie break, after the injury). Cedric beat Alex Vallmajor in a tight quarter final match culminating in an 8-6 victory in the second set tie break. Cedric has a good all-round game and usually ends up as singles champion!
The first set went all Cedric's way for a 6-1 set as Cedric adopted a policy of moving Logan around, which may or may not have been because of the injury. Logan succeeded in stopping the rot in the second set, reaching 4 all, with points to break Cedric, but couldn't keep the accuracy up and ended up losing it 6-4 and the match 6-1 6-4.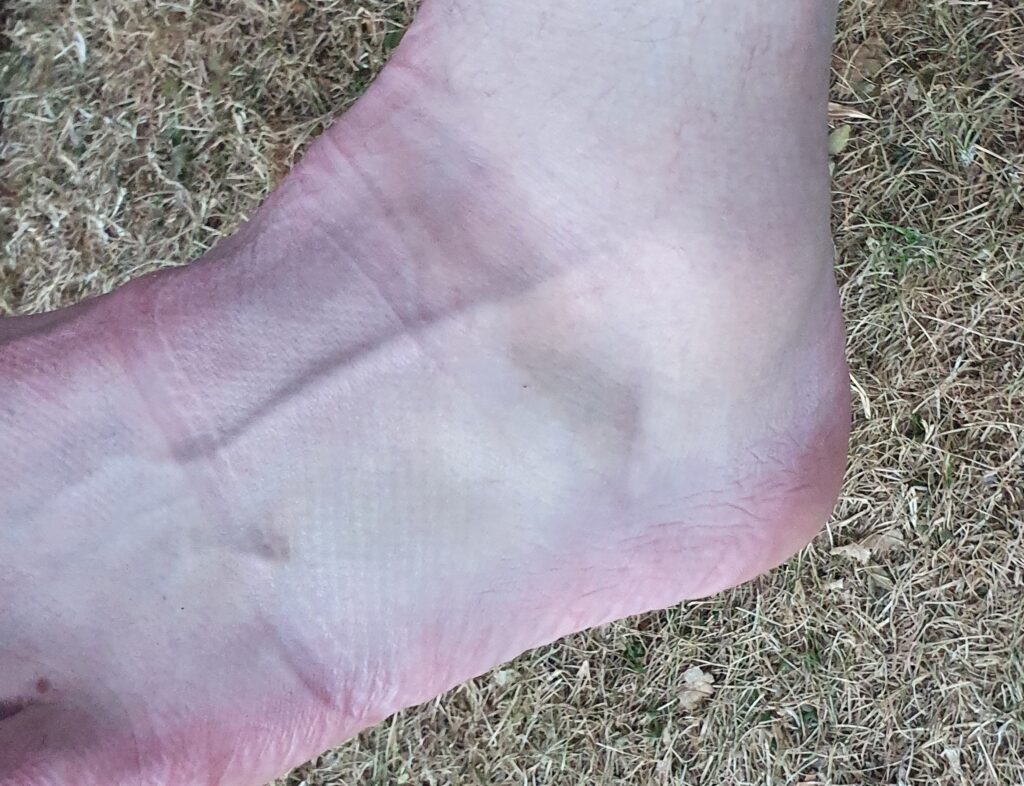 The next item on the schedule of matches on court 1 was to complete the (only) mixed double semi final between Posy Frederick & Logan Mair, the third seeds, and Jen Ehr & Sultan Gangji, the second seeds. This was suspended the day before at 20:51 due to bad light with Posy and Logan leading 6-4 5-3 (see the last match reported for 27 July.) The match resumed with Jen serving, and Jen and Sultan wrapped up this game. Logan was then serving from the grandstand (!) end, and it was not long before Posy and Logan claimed victory 6-4 6-4, clearing the way for the mixed doubles final to be played.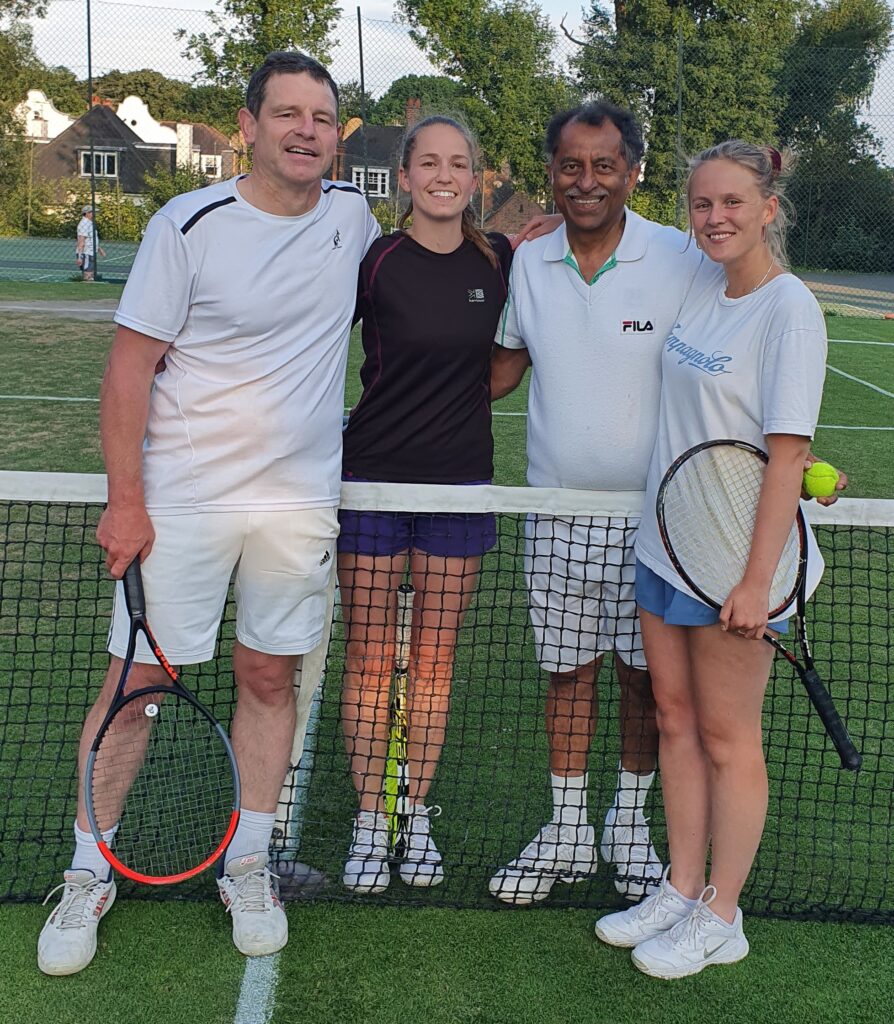 Mixed Doubles Final 2022
This was played between Margaux Valarche & Jasper Tresidder, unseeded, and Posy Frederick & Logan Mair, third seeds. The umpire was Greg Lim.
Margaux played steadily and kept the ball away from Logan at the net, while Jasper's shots were a little more hit and miss, and included trick shots including an underarm serve that was not even noticed by anyone, let alone being ruled out by the tournament referee well after the event. Posy played consistently throughout and was particularly impressive for her court coverage around Logan who poached and got drawn wide, requiring her to move to cover well before the opponents hit the ball. Logan hit some good fast serves and shots, but also missed a few that we all expected him to put away, presumably as a result of his foot injury.
Margaux and Jasper broke within the first few games, to take the score to 4-2. At that point there was a fascinating "cat and mouse" point where all four players placed balls to probe what they saw as the weaknesses in the opponents positioning. Both Margaux and Posy demonstrated excellent anticipation, reactions and court coverage. The score reached 5-3. In the next game Posy did a lot of running to cover for Logan, but was unable to prevent the loss of the first set 6-3.
In the second set, there were a number of points where all four players were involved in extended rallies, including some volley-volley sequences, which required high mobility and anticipation from everyone – a delight for the spectators to watch. Logan tried to impose himself at the net, but, perhaps off balance, some potential winners went wide or straight back to the opponents. Margaux and Jasper generally had the upper hand, making fewer errors and consistently keeping the ball away from the net player. Margaux and Jasper won the second set 6-1 to become the 2022 Mixed Doubles Champions, 6-3 6-1.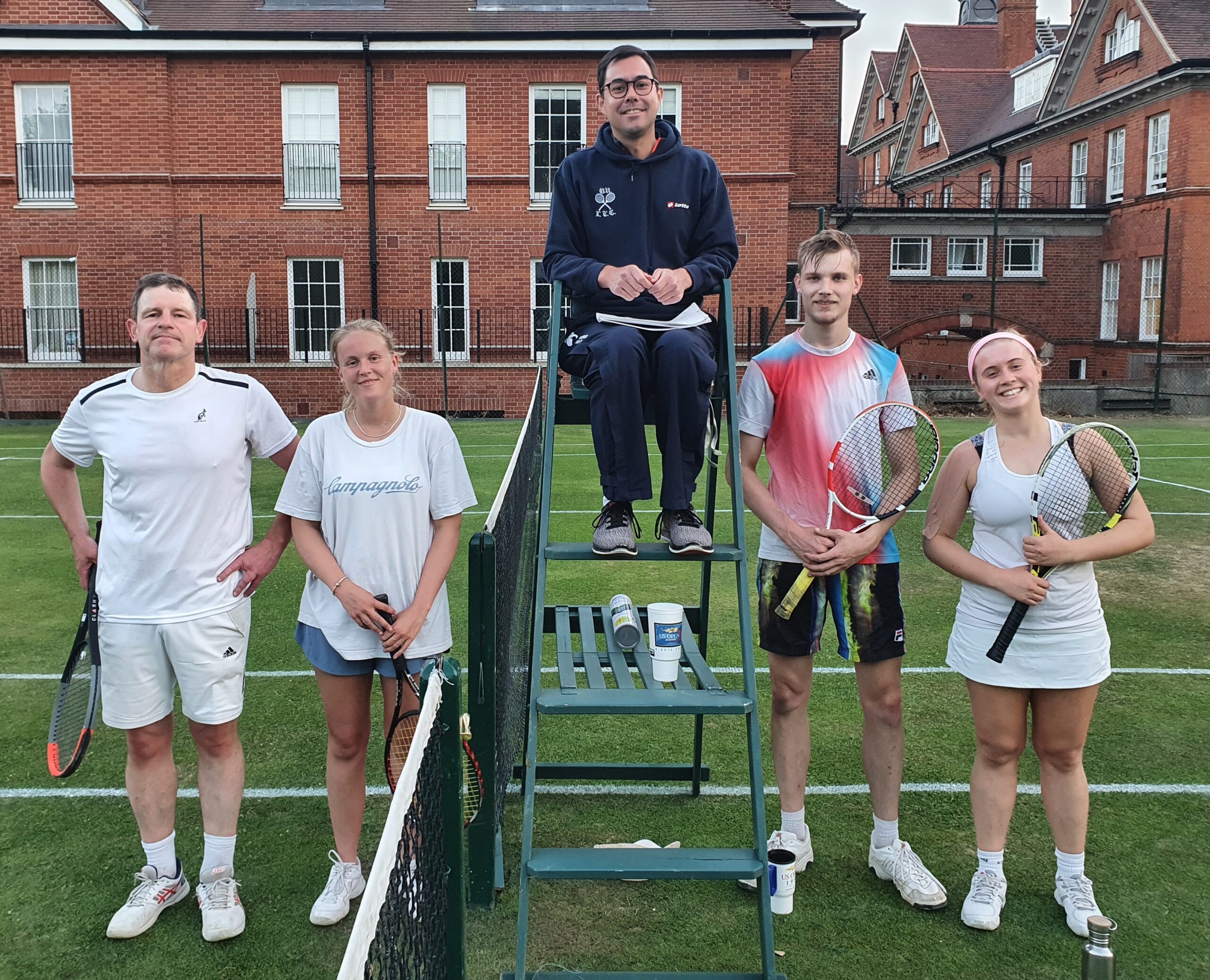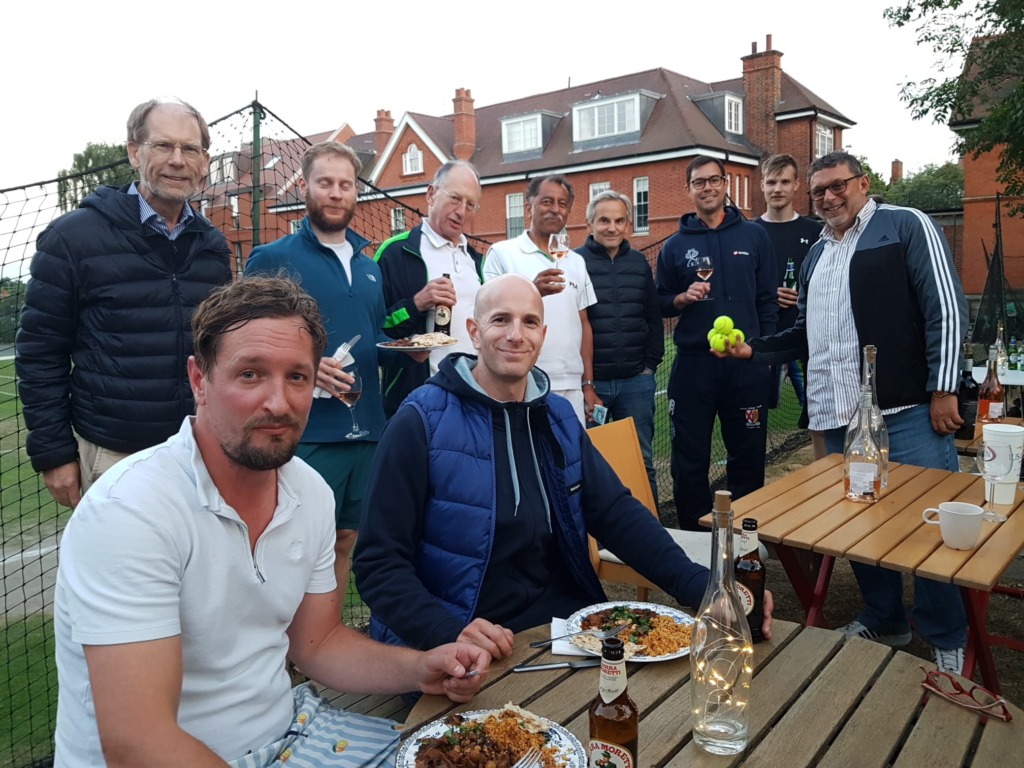 The grass courts are closed on Friday 29 July to give them some chance to recover, and on the morning of Finals Day, Saturday 30 July to prepare them.