Moira Duncan was the Gourmet Chef for this evening, cooking a delicious chicken and spinach curry. This was followed by a mango pudding.
The entertainment kicked off with two men's singles.
Grass court one hosted Ed Fitzgerald vs Greg Lim, the second seed. According to Greg, Ed has never beaten him. Ed says he has beaten him twice, among lots of defeats. Greg wasn't playing particularly well, but Ed was playing out of his skin. Both made a number of unforced errors, but Ed's booming serve, long-armed reach and lethal forehand also provided him with a number of winners. Greg hit fewer winners and seemed to be having particular difficulty in getting his first serve in. It was all very tight, with fine margins and a number of breaks of serve. Ed won the first set 6-3 with a couple of net service breaks. The second set was more even, with breaks traded evenly until 4 all. There was then a slightly peculiar game on Ed's serve which, given that Ed kicked off with a double fault, according to both Sultan and I, did not seem to have enough points in it for Ed to win it, though both players seemed to agree that Ed had, in fact, won it. Greg could not then hold his serve, Ed taking the match 6-3 6-4. Given the way Ed played, his mother should be proud of him! So that was one upset for this evening.
On Centre Court, Eugene Berlin was hoping to get at least a game from Cedric de la Chaise. Though Eugene played some great points this proved difficult. Cedric played a medium-paced game, looking to win on consistency while preserving energy for his subsequent mixed match. Eugene got to 30 points in some games, but couldn't meet his target. Cedric won with a combination of placement, winners off short balls and occasional unforced errors from Eugene.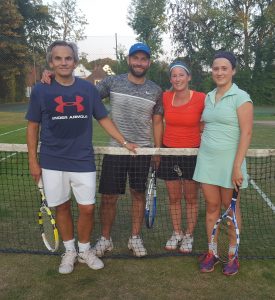 Following the conclusion of the singles on centre court there was a mixed semi-final, the fourth seeds, Carine Valarche & Cedric de la Chaise, played the 2017 champions and top seeds Tim Simpson & Ana. Having asked Cedric to play with her, Carine, given she had missed a lot of the summer tennis season, had been concerned to ensure she pulled her weight in these matches, and had had training sessions for the last few days with Peter Davies (once) and Dhananjay Talwar (twice). Meanwhile Ana was supported by the full contingent of her family, including husband Tom, and 4 month old twins, one of whom gently reminded her from time to time that he was around.
Ana and Tim did not play as well as they did during the 2017 tournament. Ana and Carine struggled to hold their serves as it was tricky to serve into the sun from the far end, particularly on the deuce court. Cedric gave a number of instructions to Carine to "leave" which mainly meant leaving the ball to him, though on one occasion it meant both of them watching a looped topspin shot from the opponents landing at least 3 feet in for an outright winner. However, Carine rightly tended to ignore such shouts from Cedric if she felt the ball was hers and she could deal with it. She got a number of looks from Cedric which seemed to say something like, "OK I know I told you to leave it and you didn't, but I wasn't really expecting you to be able to either hit a winner from it or to hit a shot good enough to set me up to hit the winner on our next shot." Another difference between the pairs was that Carine, though making the occasional mistake, was able to provide some solid volleys on Cedric's serve and some good returns on Tim's serve, enabling Cedric to rush around the court to try to hit winners off as much as possible, mostly consistently. Both sets went a similar way, with Tim and Ana getting to 2-5 down, but losing the last game. Cedric and Carine won the match 6-2 6-2 to earn themselves a place in Thursday's final.
It seems that the other semi-final will not take place, and Greg Lim and Marjan Denis, the second seeds, will play Cedric and Carine in the final on Thursday, as a result of a walk-over.
Oh, and the smooth progress of Philip Reid, the fifth seed, might be interrupted at the semi-final, as he might actually have to play a match instead of progressing by means of a series of byes and walk-overs!