Lesley South prepared a truly Persian Gourmet Dinner for around 40 attendees. Everyone thought it was superb. Very delicious with range of textures and tastes.
The first match of the evening was a ladies' singles semi-final between Julia Abbot and Marjan Denis, the second seed. Julia does not play as much as Marjan, which would be difficult, as she seems to spend most of her time on the tennis court. Nevertheless she is mobile, with a reasonable tactical nous, has a good volley and doesn't make huge numbers of unforced errors. And she acquitted herself well in this match. Marjan won the first set 6-3, but Julia held it together until 5 all in the second, putting some pressure on Marjan, who was expected to win. Although Marjan can get nervous at such points, she was able to take the next couple of games to win the set 7-5 and take the match 6-3 7-5.
The first of the mixed doubles semi-finals then started on centre court between Barbara Thomas and Sultan Gangji (fourth seeds) and Marjan Denis and Greg Lim (top seeds and holders). Marjan and Greg are an experienced partnership, playing many matches together outside West Heath. Barbara and Sultan are less so. Nevertheless, Barbara and Sultan broke the holders more than once, and got into good positions in more than one game, but felt the pressure when the opportunity was there and could not convert. Marjan and Greg won the match 6-3 6-3.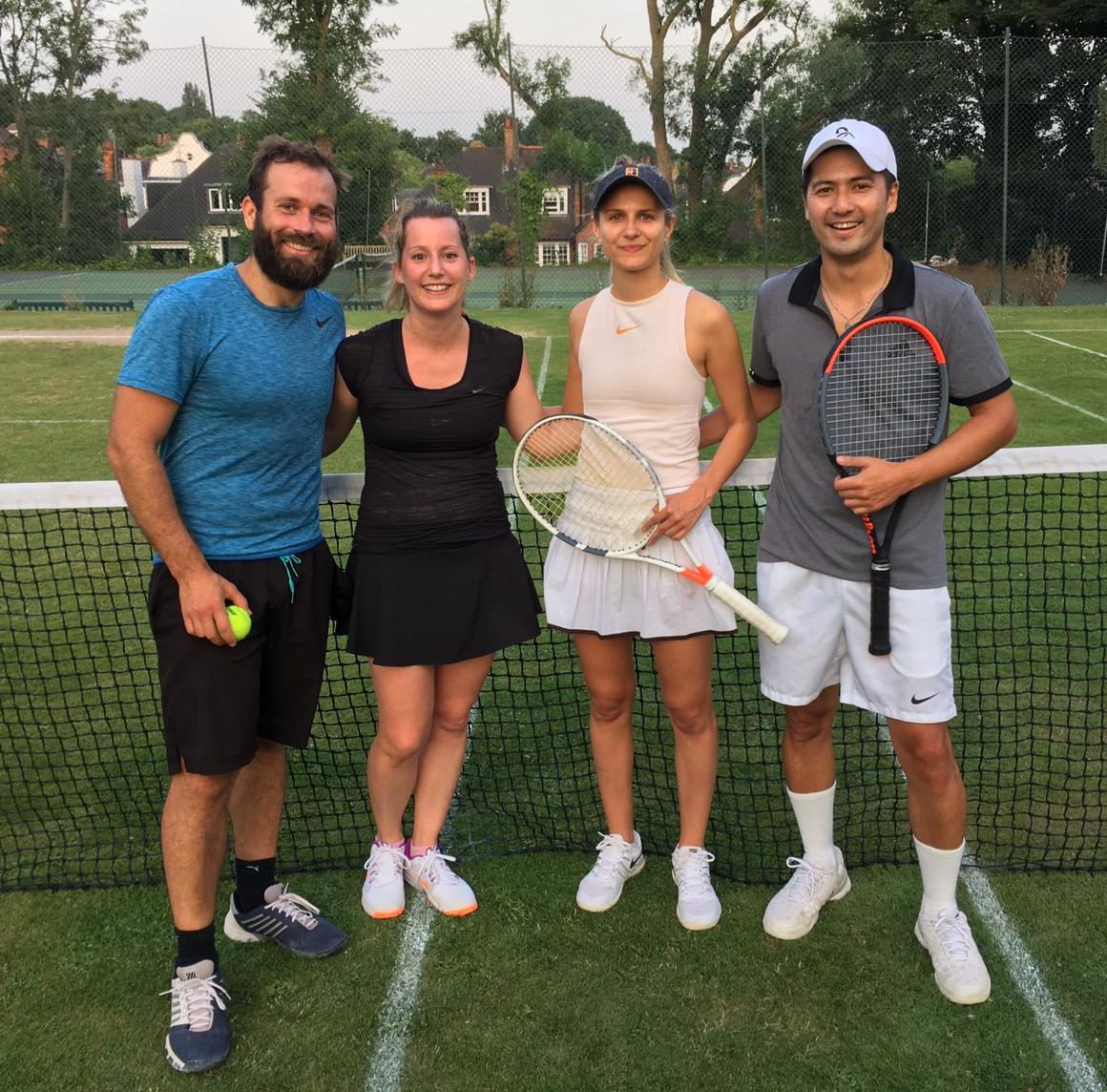 The other mixed semi-final consisted of Ana and Tim Simpson (third seeds) and Andra Marinescu and Marcio Sugui. The match got bumped off court 1 before it started, having to cede the court in favour of the resumption of the last men's quarter final, by order of the tournament referee. This was not a popular decision with the players. They decided to start the match on court 3, drainage system dips and all, rather than wait or go for a hard court. Thus the eager spectators had a menu of three matches to watch. Ana played very well, often passing Andra and Marcio down the line. Tim did his best, but Andra and Marcio set out to make it difficult for the challengers, and mainly succeeded. They took the first set 6-3, and the second 6-2 for a 6-3 6-2 victory.
The most fascinating match of the evening was the resumption of the mens's single quarter finals between Andreas Siebold and Logan Mair. The first set was concluded in increasing gloom on Monday night. At 5 all, the tournament referee insisted they finish the first set instead of giving up for bad light. The players held their serve for 6 all, and Andreas took the tie-break 7-3. And at that point they were allowed to give up.
Andreas is very tall, and has a booming serve to match and is capable of directing it to either corner without giving away which, in advance. Logan pronounced that, at well over 120 mph, and was the heaviest serve he has ever played against. The general feeling was that, with height, comes increased distance from the ground, and increased difficulty in getting down to the low shots. However, Cedric de la Chaise commented that he would prefer to play Logan rather than Andreas in the semis, because, if you lose your serve to Andreas, you may have no chance to break back. Logan claims a 112 mph serve, and has good hands, enabling him to place balls back over the net without time to play a full stroke. The consensus was that, with the one set lead, Andreas would win if he could maintain his serve. Not least because Logan now had to win two sets, whereas Andreas required only one.
Logan had well warmed up on court 3 by the time Andreas arrived. When play resumed, Andreas, perhaps, with just the knock up, less up, made more errors than the previous evening, and Logan capitalised big time to take the set 6-0. In the final set, Andreas started well, breaking Logan's first service game to reach a 3-1 lead and holding his own service games easily with no obvious problems. Logan played to get Andreas' booming serve back into play wherever possible and played to Andreas' backhand with low shots. He also used topspin lobs when Andreas came in, though also executing one excellent cross court pass which dropped just in. It was very close, but Logan managed to execute sufficiently to break back to 4 all. Logan then broke once more to take the set and the match 6-73-7 6-0 6-4. The match was played in a good spirit, and both players were clearly in the zone.