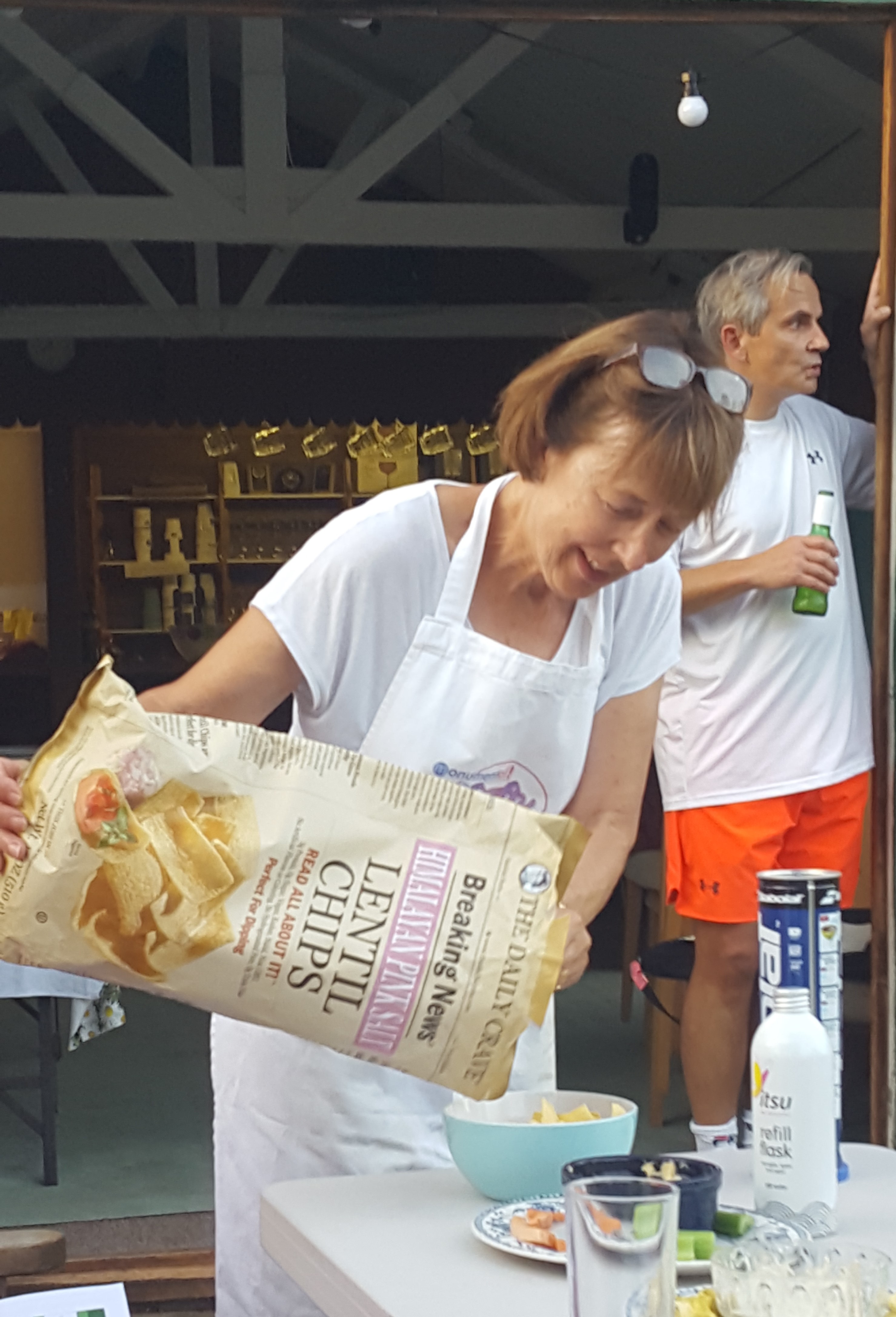 Please put your name on the list in the clubhouse for the Saturday evening BBQ if you will be attending.
Moira Duncan provided a delicious lamb tagine for around 30 people, plus fruit and cream for dessert, and plenty of starters, including a truly giant bag of lentil crisps!
On court 1, one of the mens' doubles semi finals consisted of Stephen Cooke and Tom Tapper (fourth seeds) against Cedric de la Chaise and Logan Mair (top seeds). In 2018, Cedric and Lajos Szucs were champions, but Lajos has returned to Hungary. Meanwhile, Stephen and Tom were
finalists in the most recent Globe tournament, and have played matches for the West Heath second team this year. So it was second team versus first.
It was a good match to watch, with a lot of fast reflexes required for volleys and other shots from both sides. Tom and Stephen played an aggressive game and were just a little more match tight than the top seeds who made slightly more mistakes. This led to a 6-3 6-4 victory for Stephen and Tom. This was a surprise to a number of the spectators further away from court 1 and who had been following the other mens' doubles semi on centre court.
On the centre court, the other mens' doubles semi final saw Greg Lim and Tim Simpson challenge Sultan Gangji and Richard Keep. This was also a very entertaining match. Tim was everywhere at the net, and Greg mostly played solidly. Despite Richard's swinging left serve, Sultan and Richard were often struggling to hold serve, and often couldn't execute when winners were available to hit. Rachael was providing very partisan spectator support for Sultan, but it wasn't enough to turn the tide. Tim and Greg won 6-4 6-4.
The result of all this is that the seedings in the mens' doubles were completely upset. Instead of the normal final featuring the first and second seeds, it will now consist of the third versus the fourth seeds.
Another seeding issue has come to light in the ladies' doubles. In the 2018 tournament, Lesley South and Sally Tornow beat Jane Boyle and Barbara Thomas (then third seeds) in the first round. This year the draw was much smaller. And Jane and Barbara were second seeds, whereas Lesley and Sally were unseeded – and not as indicated by the 2018 results! This has been drawn to the attention of the seeding committee…..