A tasty moussaka (laced with some additional ingredients such as cinnamon) was provided by Julia Abbot. Jill Elek provided the dessert of Golders Green cherries and creme caramel.
There were seven matches played this evening, including one that was not completed.
At 4:30 pm the first match on court was a ladies' doubles semi final in which Moira Duncan and Julia Abbot played Barbara Thomas and Jane Boyle, the second seeds. Everyone was a little tense to start with, ut the score reached 3 all. At this point Barbara and Jane started to play a little
better, and Moira and Julia a little worse, resulting in Barbara and Jane taking the first set 6-3. In the second set the seeds played better and won it 6-1 for a 6-3 6-1 victory.
Joseph Rigal and Richard Keep, the third seed, went on court for their men's singles quarter final just after the ladies' doubles started. The first game started around 5 pm, was very hard fought and set the tone for the rest of the first set. It lasted 15 minutes. In fact, Bruce Rigal, Joseph's father, set off from Richmond after the match had started, and arrived in plenty of time to watch the conclusion. The first set lasted an hour. Joseph has a heavy serve and ground strokes powerful enough to create winners on serve. Richard did his best to slow the rallies down, relying on superior consistency to win the important points. In the end, Richard took it 6-4. The second set was similarly lengthy, but Richard had more of an edge, taking it 6-1 for a 6-4 6-1 win.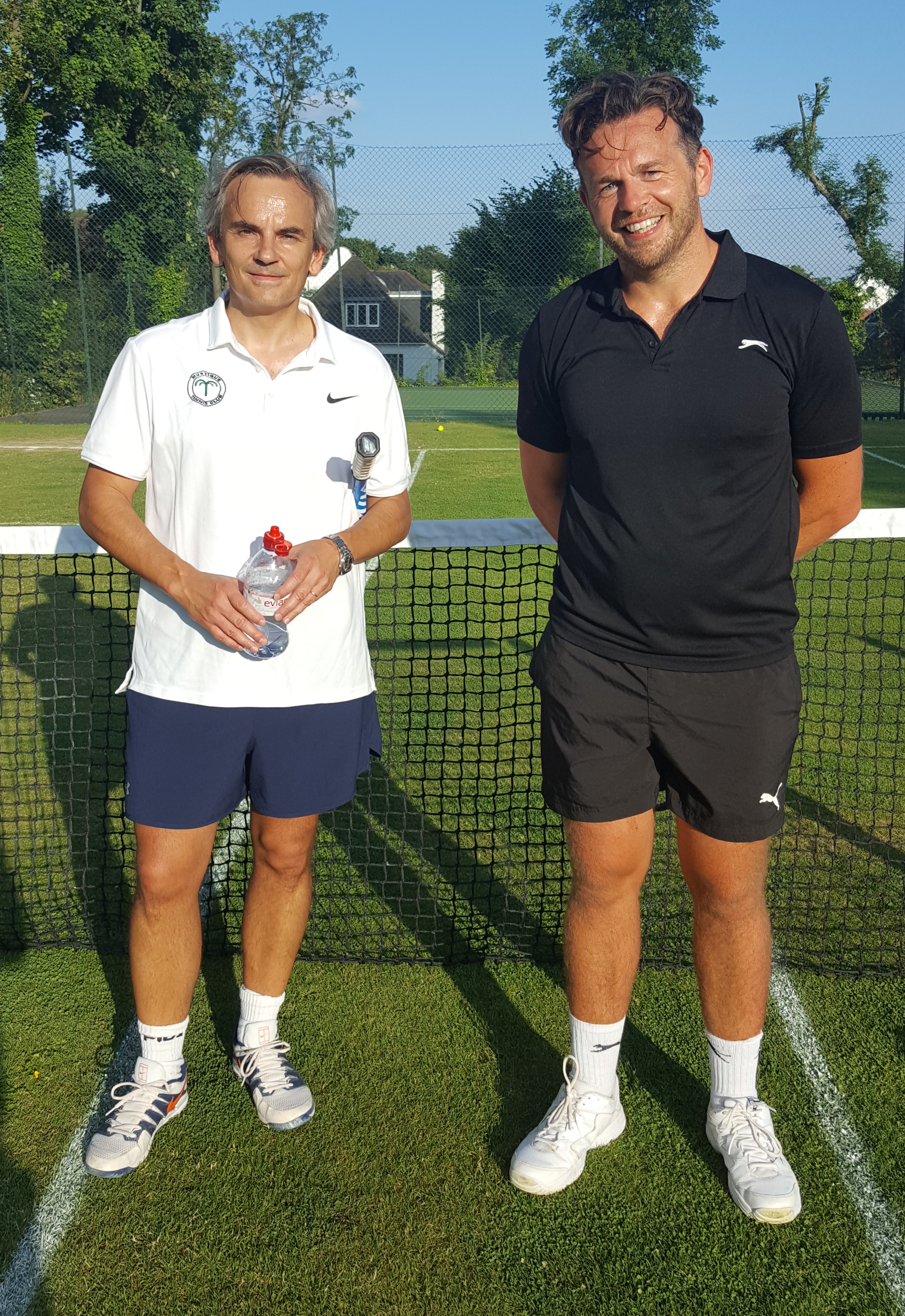 Having beaten Bruce Rigal, Howard Kingston was looking forward to his match with Cedric de la Chaise, the reigning champion. Howard served well, but was often on the defensive, and missed some winners. Cedric wasn't playing particularly well, putting a number of balls out of court, but always had an edge. Further he knew that, if he won, he would be playing a follow on men's single match against Tim Simpson, so was trying to conserve energy. Howard mostly held his serve in the first set, but Cedric was able to take it 6-3. Howard held his serve in the first game of the second set which was otherwise less even. Cedric won it 6-1, winning the match 6-3 6-1.
In his second match on court 1, Cedric de la Chaise had to cope with the booming serves, good volleys and heavy ground strokes of Tim Simpson. Tim won a number of points with his power. He also played a (witnessed) hot dog shot with the ball behind him into the open court to win one point, where Cedric had already given up, assuming his shot was an outright winner. But Cedric always had things under control with consistency and placement, and won the match 6-2 6-2.
After the Joseph Rigal / Richard Keep marathon match finished late on centre court, Greg Lim, the seventh seed, played Marcio Sugui the second seed. Greg has flat strokes with pace generated more with a slap than an extended take back. He played Cedric de la Chaise in the 2017 final, having dispatched Graeme Pearson with a super performance in the semis. Marcio is a leftie with a heavy top spin forehand and a heavy sliced serve hit with pace which aced Greg more than once. Further, Marcio has been playing in open over 40 tournaments and has achieved a world ranking of 900 (?), which is quite and achievement. Marcio did not have this match all his way, as Greg was well able to hit hard flat serves and direct any weak to the court corners to put Marcio under pressure and win the point. But, although able to hit winners by depriving Marcio of time, Greg's unforced error rate was higher than Marcio's, and, inevitably, Marcio broke him several times. Greg broke Marcio on at least one occasion, but it wasn't enough to deprive Marcio of a 6-3 6-3 victory.

Due to the busy match schedule, the men's doubles involving Howard Kingston (warmed up by his match with Cedric de la Chaise) and Eugene Belin vs Sultan Ganghi and Richard Keep (second seeds) elected to play on a bumpy court 3 rather than the a hard court. With the permission of the losers, I can report that Sultan and Richard are claiming a record of winning the first sixteen point of the match for a 4-0 lead. However, Howard and Eugene managed to win one game before the seeds took the first set 6-1. The second set was a similarly rapid affair which the seeds won 6-0 to take the match 6-1 6-0. It was over before most people realised it was a tournament match.
The last action of the day was a thrilling match up between Andreas Siebold, the sixth seed, and Logan Mair, the fourth seed. I don't know how tall Andreas actually is, but it must be over 2m. He has a serve, to match, in excess of 110 mph, with which to ace you either side. But Logan is no slouch either, with a fast service action which had Andreas consistently returning into the net in at least one game. Logan also has this annoying habit of being able to retrieve balls bouncing behind him, as well as good half volley technique and the ability to generate power off not very much. Both players seem to go for the lines, occasionally making it difficult to determine whether the ball was in or out. As frequently occurs on a dusty West Heath grass court baseline, it is often no problem to determine exactly where the ball lands, but determining the precise line boundary is another matter!
After exchange of a few breaks, the set reached 5 all in descending gloom, whereupon the two protagonists asked for a deferral. A hard-hearted tournament referee turned down this appeal, and the set ended with a tie break. Andreas won this, so is one set up for the resumption one evening this week.