For a change, the weather was looking good, with only small showers forecast – not enough to prevent play on the grass courts which were cut shorter and re-lined on Friday specifically for Finals Day.
As usual, a sumptuous tea was prepared by everyone. This time, however, it was not all displayed at once, but instead replenished as people helped themselves. Tea was served in between the singles and the doubles matches, brought forward by the downpour.
Men's Singles Final
This was contested between Logan Mair, the third seed making the singles final for the first time, and Marcio Sugui, the top seed who was also Champion in 2020 and 2021.
The match was ably umpired by Greg Lim, including an amusing incident where he inadvertently called a game for Marcio immediately after Logan had just won a point. Many thanks also to the 6 or 7 people who called the lines for the men's singles and men's doubles finals.
The two competitors have very different styles of play. Logan has a heavy first serve, and the capability of hitting some very powerful groundstrokes. He generally aims to advance to the net to get an opportunity to hit volley winners, but also makes some errors. Logan can also hit a variety of spin serves.
Marcio is a leftie and plays a lot in tournaments and team matches elsewhere. He also coached frequently to obtain his part 4 LTA coaching qualification, though, by marital agreement, he will no longer be coaching. As a result of all this regular play, Marcio is very consistent, and rarely makes unforced errors. He tends to wins points by accurate placement of the ball away from the opponent, rather than expecting the pace alone of his groundstrokes to induce frequent errors from his opponent. Marcio can also throw in some (top slice?) leftie spin serves to confuse opponents, particularly on grass. And he is very fit and fast around the court.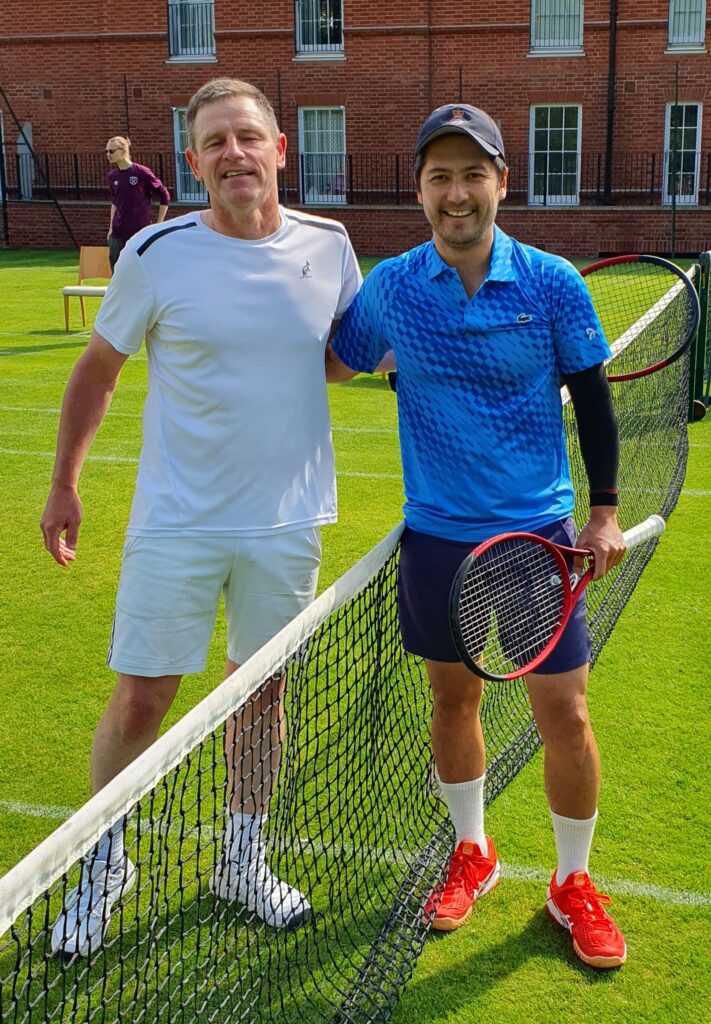 In the first few games it looked like Logan's power game might overwhelm Marcio. But after a while Marcio adapted to Logan's game. While Logan could often set up the situation from which to hit a potential winner, he subsequently did make errors. This, and some excellent placement winners gave Marcio the edge to take the first set 6-2.
In the second set Logan tightened up his game and made fewer errors, but still couldn't stop Marcio from breaking. Marcio was up 5-2 when play on both courts was interrupted by a shower. On the resumption, Logan held his service, but could not stop Marcio from taking the match 6-2 6-3.
Marcio has now claimed the title of Men's Singles Champion three times. But he has never beaten Cedric de la Chaise, who claimed the title a dozen times – compared to Sultan Gangji's nine times. Marcio would very much like to beat Cedric to the title one year.
Ladies Singles Final
This was played between the third seed, Posy Frederick, and the top seed and 2022 Champion, Jen Ehr. The match umpire was Becca Vaughan, who kindly volunteered in the absence of the previously agreed official.
Posy plays a lot of squash as well as tennis, so has very good hand-eye coordination. At tennis, she has a solid game, but not a huge amount of experience playing singles on a grass court. However, she does seem to take advantage of the softer grass surface by either diving for the occasional shot, or at least ending up flat on the grass surface in trying to get to a shot.
Jen has very strong serves and groundstrokes, and plenty of experience on grass, as her mother, Sue Ehr, has been playing at West Heath and in the Tournament since at least 2004.
Posy made few unforced errors, and was able to force high short balls from Jen on a number of occasions, but often wasn't able to put the next ball out of Jen's reach to convert the opportunity into a winner allowing Jen to pass or lob. Jen hit a number of winners, and was generally lethal when she came to the net.
Jen won the first set 6-2, and was 5-2 up in the second set when the shower came. Just as in the men's match above, Posy won one more game on the resumption before Jen claimed the title 6-2 6-3 – an identical score to that in the men's singles.
Not only were the scores identical, but the ladies's and men's singles finished within a couple of seconds of each other. In an invidious position, I opted to photograph the men's final players first, because of the larger centre court crowd for the men's match. The ladies were very gracious about it after I promised faithfully to give them priority in the event that the two doubles matches finished simultaneously.
Men's Doubles Final
This was played between third seeds and twice Men's Doubles Champions (2020 and 2021) Sultan Gangji & Greg Lim, and the top seeds Logan Mair & Stephen Cooke. Logan has won the Men's Doubles title before, with Cedric de la Chaise as partner.
The umpire was Joseph Rigal, and the team of linespersons called the lines.
Sultan and Greg are an experienced doubles partnership. Stephen is nursing a tennis elbow injury, and has withdrawn from the singles and mixed to play with Logan in the doubles. Logan already had the Mixed title from Thursday's game, and was keen to add to it. Logan & Stephen were the clear favourites to win, putting pressure on Sultan & Greg.
Greg lost his first service game, which put more pressure on Sultan & Greg, and giving Logan & Stephen the leeway to play solidly throughout the set to win it 6-2.
In the second set, Greg & Sultan switched sides to make something different happen, which seemed to do the trick for a while, as the score reached 2 all. Greg was then 40-0 on his own serve. However Sultan & Greg ended up losing this game but broke themselves for 3 all. Sultan was then 40-0 up on his serve, but again the pair failed to convert, losing the game. In the last game, a particularly windy gust resulted in Greg missing a smash, which helped Logan & Stephen win the set 6-3 for a 6-2 6-3 victory. This was the third final to have a final score of 6-2 6-3.
Even if Sultan & Greg had one one of those 40-0 games, Logan & Stephen would probably still have taken a more fiercely contested set, but at least would have had something to think about.
Logan thus wins two titles in 2023, with the other Champion slots going to Marcio Sugui and Stephen Cooke.
Ladies Doubles Final
The Ladies Doubles Final was contested between Becca Vaughan & Bianca Gillam, the second seeds, and the top seeds Jen Ehr & Posy Frederick.
Barbara Thomas was the umpire.
Bianca plays solidly and Becca runs for everything. Posy also runs and, as in the singles, ending up performing one or two Beckeresque (as opposed to Becca-esque) lunges and dives on grass, for those of us who remember what that means. Jen hit her usual pacy serves and groundstrokes.
Despite the exertions of Jen & Posy in contesting the previous Ladies Singles Final, they were very much the stronger pair in the first set, taking it 6-1. The second set was only a little more even, with Jen and Posy taking it 6-2 for a 6-1 6-2 victory.
The result of this and the other finals is that Jen and Posy both won two events, with no one other woman winning anything.
Prizegiving
Thanks were expressed by Sultan and Moira to everyone involved with the tournament.
Alex Vallmajor's father, Manuel, from Monaco, was asked by Sultan to present the prizes.
Final thoughts
This is the 24th West Heath Tournament on which I have reported, and, while memory may dim, it has been one of the best, despite the weather. The standard and entertainment value of the tennis has been high, and everyone has pulled out all the stops to get matches played when rain threatened to derail the schedule. The food and drink have been excellent, and the organisation has gone pretty smoothly.
Not only that, but Sultan's seeding of all the winners as top seed was impeccably performed.
The photos used in the 2023 Tournament reports are available here.
Additional, late, match reports and photos have all now been added
See you all at the West Heath Tournament next year, and most of you well before that.
Peter D