Thanks go to Rachael and Lara for the always delicious, and now traditional, fish pie and Pavlova.
Tonight's (26th July) Gourmet Dinner will be Thai cuisine, created by professional chef Lesley South, as follows:-
Anne Sophie will provide "coconut cake" pudding.
The order of play for today will be weather dependent, and the initial schedule is:-
The incomplete men's singles match between David Hirst and Joseph Rigal, the 8th seed, resumed on hard court 4. On Monday night, dusk had forced a postponement after Joseph had won the first set 6-4.
This was a hard fought hum dinger. Unfortunately, with all three grass courts in use from 6 pm, it was not possible for the spectators to watch it closely. There were quite a few breaks in the match, with both players, and particularly David, taking risks to hit winners to gain the upper hand.
After his loss of the first set, David bust a gut in the second set, and gained the upper hand, to take it 6-3, preparing the way for a final set show down.
David started to run away with the finals set, reaching to reach a 5-2 lead. David crucially then accumulated four match points in total. In the most exciting of these, David hit the net cord and the ball rolled along it before deciding to bounce back on David's side to deny him. Unfortunately for David, Joseph won all of David's match points and levelled the final set at 5 all.
Unfortunately for David, this provided some momentum for Joseph, and David had little opportunity to regroup before finding himself 0-40 down in the next game. He pulled back two break points but Joseph took the game and was then able to serve out the match. 6-4 3-6 7-5.
David's partner, Elena Pavlidou, went to console David. Commiserations to David, but, having come so close, he will surely be back fighting even harder next year, with more consistency to call on. Watch this space!
On grass court 1, the third seed, Elena Valarche was challenging the top seed and 2022 champion Jen Ehr (strictly now Jen Ananda-Rajan). Elena's strategy was the same as usual – come in an occupy the net position and force an opponent to either pass or lob her. Meanwhile, for whatever reason, Jen's first service speed did not seem quite as high as in some of the aces she had served the previous day. Jen is also amply capable of hitting hard to the baseline and coming in on a short return.
In the first set Elena's strategy yielded some points, but not games. In the second set she had a little more success, with one or two of Jen's passing shots straying into the tramlines. Jen won the match 6-0 6-2.
You can see why Jen might favour the jump smash!
On grass court 2, there was a ladies' doubles semi final between the old guard players and third seeds, Marjan Denis & Lesley South, and the new, second seeds, Becca Vaughan & Bianca Gillam. Lesley's speciality is the short or angled shot, especially when she plays it close to the net. Given the opportunity, she can drop the ball over the net or create an angle which opponents generally cannot get, to the obvious delight and applause of the crowd at the time. Marjan provided power baseline groundstroke support to elicit the weak shots from the opponents for Lesley to put away. It is not clear that first team players Becca & Bianca have come across enough players with shots quite like Lesley, and they lost a number of points by giving her the opportunity to make them.
So much so, that the score reached 5 all then 6 all in the first set, bringing on a tie break. However, Becca & Bianca walked away with the tie break, without losing a point, to take the first set 7-6⁷⁻¹. In the second set, matters proceeded similarly, though Becca & Bianca were a little more wary of feeding Lesley when she was at the net. They won the second set 6-3 for a 7-6⁷⁻¹ 6-3 victory to Becca & Bianca.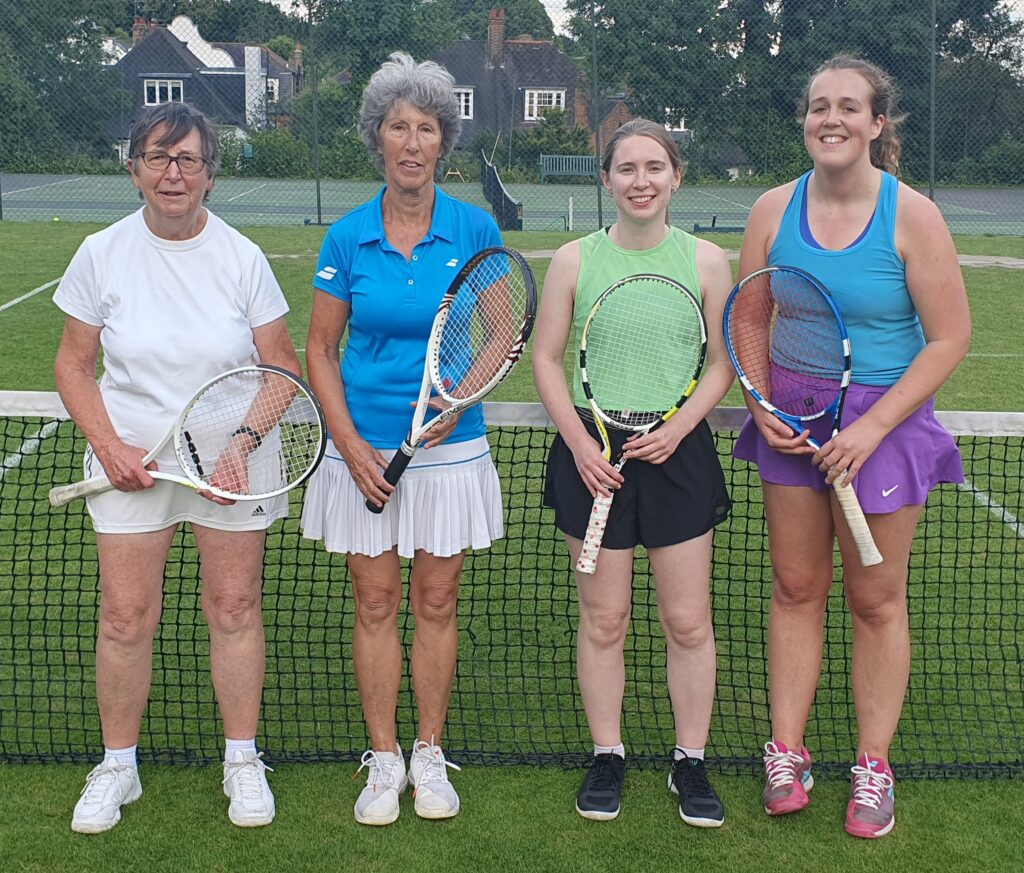 On grass court 3 was a men's doubles round of 16 match in which Paul O'Flynn & Jasper Tresidder challenged the top seeds Logan Mair & Stephen Cooke. Stephen has had tennis elbow, and had to withdraw from the singles and mixed, but could not let Logan down in the men's doubles. Stephen does tend to get injured during the tournament – he says he is not used to playing that number of matches with the tournament matches on top of the regular team tennis etc. Fortunately, Stephen's elbow is much improved.
Paul & Jasper have some great serves and shots which are often winners, but they have to go in, which they don't always do. Logan & Stephen retain a high degree of consistency with heavy shots in a long rally, so that scenario tends to strongly favour them, especially since it is more difficult for the opponents to hit heavy shots when under pressure.
The result of all this was that, though Paul & Jasper hit winners and played some fabulous points, there weren't enough of them to threaten the service game dominance of Logan & Stephen, who won the match 6-2 6-2.
I particularly like this photo, in which Stephen undoubtedly wins the prize for the best smile!
The second match on grass court 1 was a fascinating men's singles quarter final match between 6th seed Richard Keep, and fourth seed Greg Lim. On paper you would fancy Greg to win, though singles is not his favourite event. Richard is a leftie who is at least as tall as Greg, but doesn't play as much as Greg, often due to performance work commitments. Greg has accuracy and pace in all shots. Richard has good ground strokes and a particularly booming leftie serve with a very clean action. He exploits his height to make it very difficult for an opponent to return serve.
In the first set, Greg had a distinct advantage, with a higher level of consistency, and took it 6-2. But Richard's consistency and accuracy improved as the match progressed, resulting in a tighter match. Richard took the second set 6-4 to set up a deciding final set, in which he was able to maintain the edge to win 2-6 6-4 6-4.
On the centre grass court there was a mixed semi final between Joseph Rigal & Becca Vaughan, and top seeds Logan Mair & Posy Frederick. The seeds played consistently throughout. Joseph put down some heavy serves and groundstrokes, but did not play quite so consistently, possibly due to his mental and/or physical exertions during the last two sets of his resumed men's singles match above. Becca played a solid game, and chased everything until it had bounced twice. She particularly has great forehand topspin shots from the deuce court to keep the ball away from an encroaching net player such as Logan. But it was noticeable she played most shots from the ad court back to Logan when he was also in the ad court, when a down the inner tramline lob over Posy at the net would have put more pressure on the opponents and possibly set up an interception by Joseph at the net.
Logon & Posy took the first set 6-2. The second set was tighter, but the seeds still took it, for a 6-2 6-4 victory.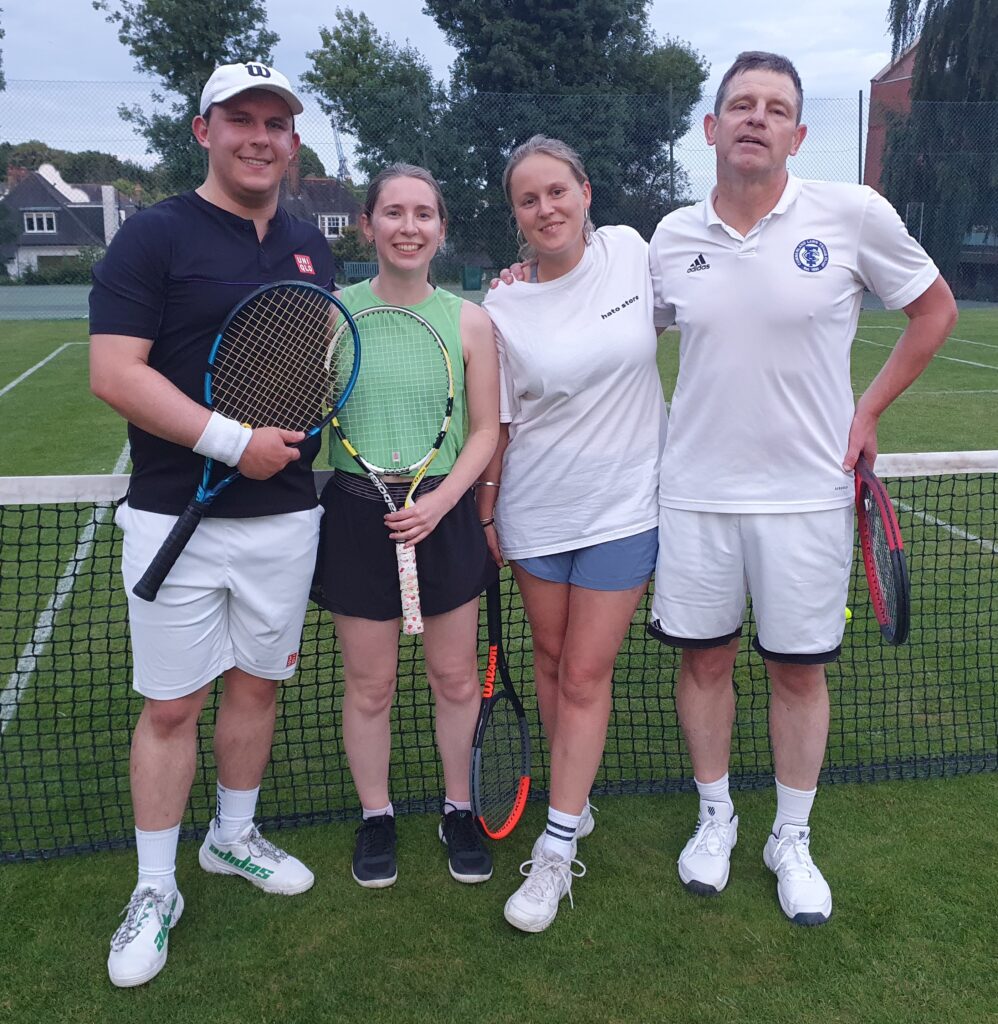 On grass court 3 the second match was another mixed semi final, between 4th seeds Alex Vallmajor & Bianca Gillam, and second seeds Sultan Gangji & Jen Ehr. Alex must have been well recovered from his nearly two hour men's singles match against Marcio Sugui the previous night.
I didn't see the match, but hope to get a report later. However, the match was a bit of an upset because Alex & Bianca overturned the seedings to take it 6-3 6-2, to set up their place in the Mixed Final on Thursday.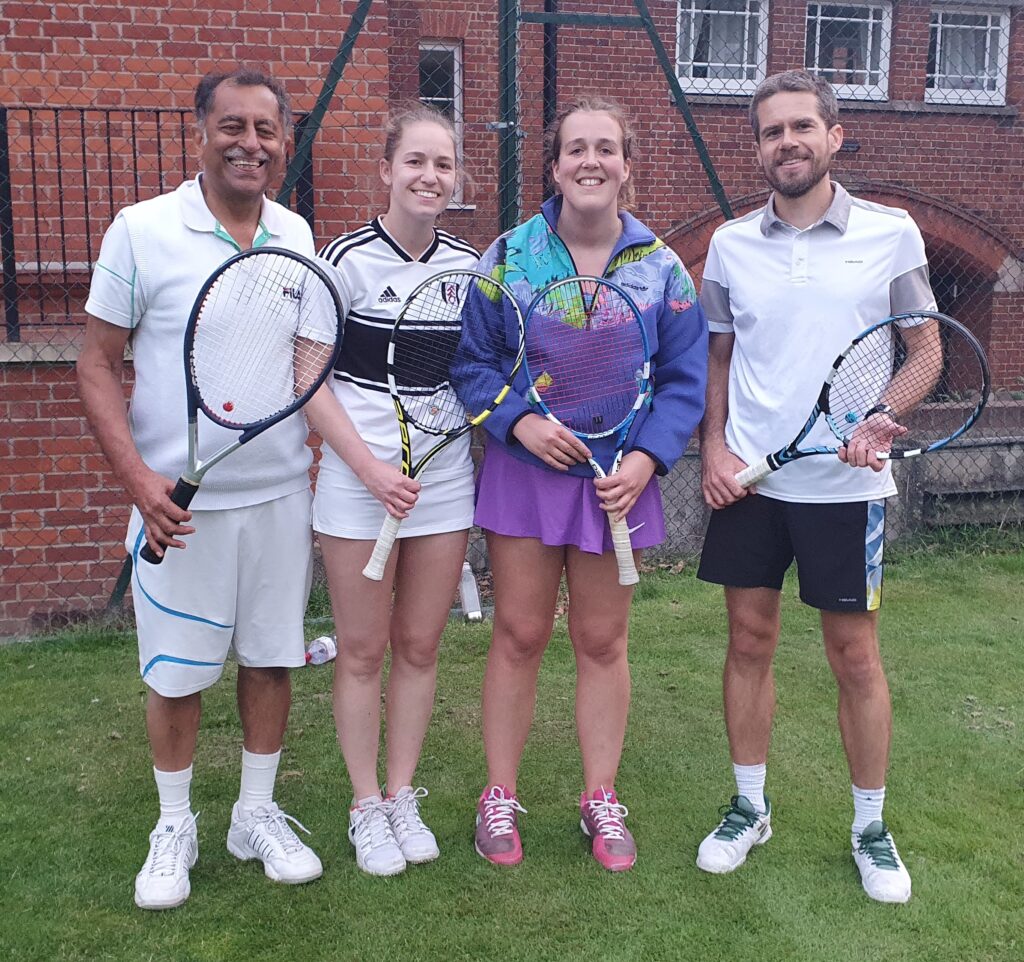 That is it for Tuesday's matches. Let us hope the weather forecast improves for Wednesday evening.