The first match of the day was slated for the grass courts, but after some drizzle, the consensus was to move to the hard courts. The men's doubles quarter final between Tim Simpson / Tom Tapper and Ed Fitzgerald / James McKenzie started with a blistering display of serving from Ed with a comfortable hold. A break of Tom's serve and subsequent holds saw the scoreboard edge to 3-1. The scoreboard ticked relentlessly to 6-1, with James and Ed taking the first set. The set was characterised by few errors from James and Ed who managed to hit almost everything back and some audacious lobs by James into the far corner over the onrushing heads of Tim and Tom who often adopted attacking positions at the net. Ed, as ever, decided that power was the answer. And it was. The second set began much the same way, until what James regarded to be the pivotal moment: a broken string at 4-1. Having to play with a different racket, less of the shots were coming off and the scoreline slipped from 5-2 (James serving) to 5-4 with Ed having a chance to serve for the match. At deuce, Tim was all over an easy volley but couldn't control his follow through. He hit the net and conceded the point despite playing an un-gettable ball-to-court-to-tree combination. Given the opportunity at match point, Ed held his nerve for a solid victory, winning 6-1 6-4. The post-match photo was clearly forgotten about, so a rush job will have to do. But please note, the people are not to scale and the outfits are not coordinated whatsoever.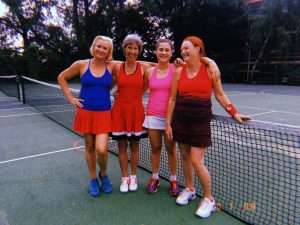 Julia Abbot & Carine Valarche played Carine's mum Elena Valarche & Marjan Denis, the top seeds, in an early ladies' doubles semi-final. Elena claimed that she and Marjan played steady tennis. Carine said that the score didn't properly reflect the chances the chances the unseeded pair had. Certainly the games Carine and Jula got were all on their opponents serve.
Although he had witnessed the match, when asked it, Antoine Valarche just volunteered that, when Marjan plays Elena at singles, he felt she should be going for more drop shots. Perhaps this was a wise comment to make in the presence of both wife and elder daughter. Marjan and Elena won 6-1 6-2.
The girls would like you to note how colour-coordinated their outfits are!