Saturday 15th July 2023
Following a slow start, when no matches were played on the first Thursday and Friday, the weather wasn't too friendly on Saturday 15th July. In particular it was very windy. But four brave souls did venture out on to the court.
The first match of the tournament was a mixed doubles played between Barry Adamson & Susan Grossman and the couple of Dominic Green & Karina Wilsher in one of the three round of 32 matches. Due to damp grass, the match took place on a hard court.
The wind prevented a lot of hard hitting, which is Barry's speciality – no sooner did you line up a shot than the wind put the ball in the wrong place. Honours were even until 5 all in the first set, when Barry & Susan got broken to cede the set 7-5 to Dominic & Karina. In the second set, Dominic & Karina started to get more of a feel for the conditions, and the opponents, and Barry & Susan could not prevent a loss of the second set with no games. Thus Dominic & Karina won the match 7-5 6-0, and face the second seeds, Jen Ehr & Sultan Gangji, in the next, round of 16 match.
During his otherwise excellent visit to the USA, Aaron Watkins strained his back. Presumably, not wishing to let down his partners in the men's or mixed double, nor let down the WH men's second team for the match on Monday, Aaron gave Peter Davies a walkover in the men's singles. Let us hope this allows a full recovery.
Sunday 16 July 2023
As the wind dropped somewhat from the day before, and there were no more than a few spots of rain, quite a few matches were played today.
In an early afternoon mixed, Sally Tornow & Richard Nightingale took on Jane Boyle & Aaron Watkins. Richard played consistently and Sally hit some net winners, but Jane & Aaron were able to break serve and win the majority of the points to take the match 6-2 6-3.
Only one men's doubles match was played today, between Eugene Belin & Minsuk Jun, and Mark Webb & Peter Davies. Eugene & Minsuk are a new partnership. Minsuk and his wife "Diana" (Dahyun) Nam only joined at the beginning of this season, after some time on the wait list – something West Heath LTC had never had to implement in over 100 years of existence until the 2020 coronavirus lockdowns started! We welcome them.
Eugene plays consistent doubles, while Minsuk plays less doubles and can hit hard, though not so consistently as Eugene. Mark has a strong baseline game, but was suffering somewhat from a late night with his brother the previous evening. According to Barry Adamson, Peter's strength is the ability to analyse court positions and identify the optimum place to hit the ball to best disrupt opponents.
A few breaks were exchanged before the score reached 5 all, but then Minsuk was broken and Mark & Peter held to win the first set 7-5. During the second set, Mark & Peter were able to hold serve more frequently, and closed out the match at 7-5 6-2.
Six men's singles matches were also played on the Sunday, giving a good boost to the round of 16 matches which have to be played by Tuesday, though there are still a couple of round of 32 matches outstanding.
David Cohen took on Joseph Rigal, the 8th seed. As yet there is no report on this match, but Joseph won it 6-0 6-1.
Earlier, J P Doumeng took on David Hirst in still blustery conditions. David commented he was struggling to line up to hit winners in the wind, and most of the match was a struggle to make sure shots went in, rather than lose points with errors. Apparently there was one notable rally where JP hit the ball with considerable pace, to be returned by David with interest for a winner. David won the match 6-3 6-2.
Jeff Fine is a wily and experienced competitor. On court 1, he and Alex Taylor had a close first set, but Alex broke one more time than Jeff to take it 6-4. Jeff ascribed the second set to "anno domini" and the fact that Alex plays for the men's second team. When I pointed out that Jeff had played for the men's second team for many years, captaining it for quite a while too, Jeff explained that a few decades had passed since then. Alex won the match 6-4 6-0.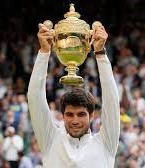 Later on court 1, Jack Arnold took on Alex Vallmajor, who is Spanish. Both play for the men's second team. Alex believes he was inspired later on in the match by the cheers from the clubhouse, indicating the Wimbledon triumph of his fellow countryman, Carlos Alcaraz.
Alex plays a consistent game. Jack's style of serving consists of first serves and second serves. If the first serve goes in then he has a good start in the point. If not, then the second serve is likely to be an ace or lead to a double fault.
In the first set, Jack's second second serves were generally going in, and there was only one net break in favour of Alex, who took the set 6-4. But in the second set the second service accuracy and luck deserted Jack, possibly because of the exertions of the tight first set. And, as mentioned above, by that time, Alex knew about the Alcaraz win. Alex took the match 6-4 6-0. Incidentally, that makes the second Alex of the day to win his singles match 6-4 6-0!!
Yet another singles on court 1 was between Nic Sweeting and Logan Mair. Nic's report is below – but where is the picture? The context of Nic's remarks about Logan's tennis kits is that, at the recent West Heath AGM, Logan was strongly pushing that all tennis matches at West Heath should be played in tennis whites, as at the Cumberland. But Logan actually turned out for his match with Nic dressed in black tennis kit and black tennis shoes, before Nic's intervention.
"Sunday evening saw the hotly anticipated encounter between Logan Mair (3rd seed) and Nic Sweeting (unseeded) in the swaying grasses of number one court. Sweeting gained an early advantage by wearing all white, pushing Mair to change his own shirt. 
Roared on by his fellow second teamers in the grandstand, the unfancied Sweeting won his first service game to love. Mair then did the same. Next the players exchanged breaks of serve before Mair pulled away with some brisk serving to take the set 6-3.
The second set saw Mair's superior groundstrokes power him into a five-love lead, despite some signs of deftness from Sweeting in getting to a couple of dropshots, and setting up some himself. Using a slice serve into the wind to good effect on the mossy surface, Sweeting was able to win a consolation game."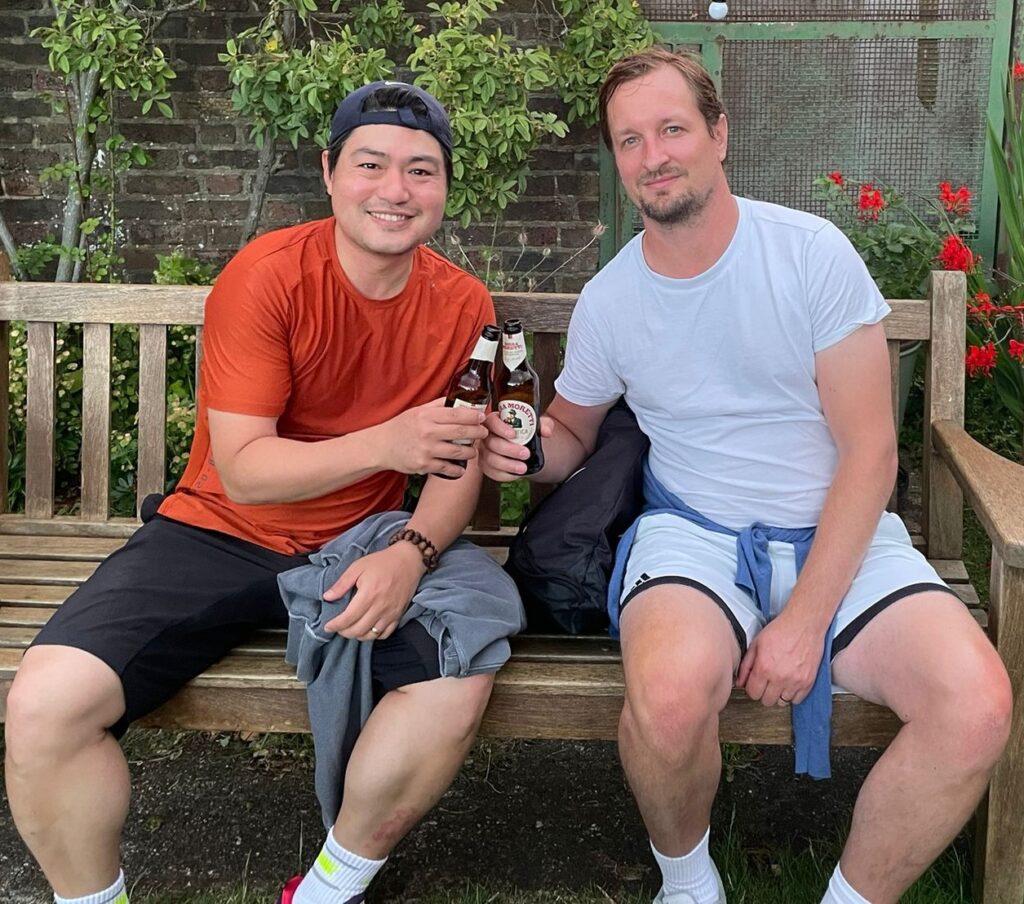 In the preliminary round of 64 men's singles scheduled for 7 pm between Dan Dalton and Minsuk Jun, Dan hit 2 aces in the first game and relied on his serve to win games. Minsuk did not play as well as Dan in the first set, losing it 6-2. However, he must have been more into the match in the second set, taking a 4-0 lead before Dan broke back to take it to 5 all. Dan then broke Minsuk to take the match 6-2 7-5, just in time to avoid getting soaked. They shared 2 pots of glorious beer under a golden rainbow – or was it the other way around?
Also in the men's singles, Olly Turner was given a walkover by Paul Rubie.
On court 2, Julia Abbot & Peter Davies played the couple Elena Pavlidou & David Hirst. David plays in the men's second team and can hit hard and hit winners off suitable height mid court balls if he has time to line them up. Elena does not hit the ball hard, but can put away anything within reach at the net, and rarely makes an unforced error, though she does not get to every ball in the same way that David can. David would generally chase lobs and anything at the back, leaving Elena at the net, but also come in to put away mid court high balls where there was enough time.
Julia struggled a little with some of David's heavy serves, but otherwise played consistently. Peter and Julia tried to play tactically, keeping the ball away from David as far as possible, while also not giving Elena anything to hit at the net. The strategy did not work so well in the first set, not helped by Peter losing his first service game. Though Julia and Peter had chances, they set up Elena and David too many times for winners, which the couple rarely missed.
In the second set the strategy worked better as breaks were traded and the score reached 5 all. But at this point Julia and Peter hit a few loose balls, while Elena and David made no mistake in breaking serve and serving out the match.
On court 2, there was a late mixed doubles match between Phillip & Martha Reid and Joseph Rigal & Becca Vaughan. Becca was possibly intimidated initially by one of the opponents seemingly being nearly twice her height (at least in the picture). Joseph supplied the information for the following match report:-
Although the opponents struggled with Philip's big serve and hits, there were a few breaks in the first set which ended up favouring Joseph and Becca who took the set 6-4. In set two, Martha was broken twice to put Joseph and Becca up 5-2, but Martha and Philip broke back on Becca's serve to make it 5-3. On Philip's big service game, there was some heroic defensive scrambling from Becca in one particular point to nullify Philip's big hits. This set up her and Joseph for the first break of Philip's serve, to win 6-4, 6-3.