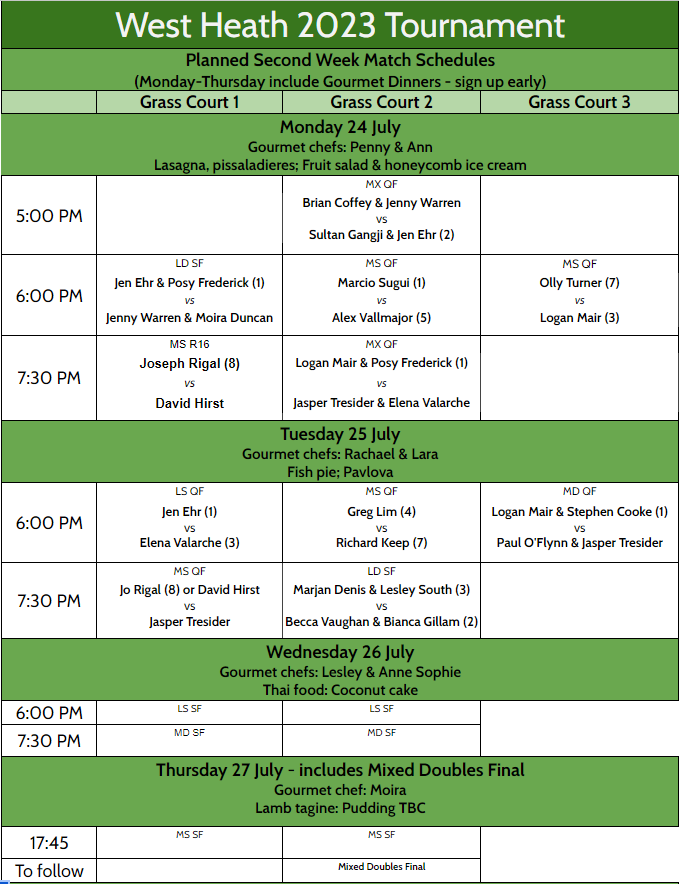 Although the grass courts were mainly too damp throughout to enable competitive tournament tennis, the rain held off sufficiently to allow play on the hard courts. Both of these were pressed into play where necessary, and ten crucial matches were played, plus one walkover. By the end of the day the grass had dried sufficiently to allow one ladies match to be played on it.
Thank you to everyone who bust a gut to play outstanding matches, which means the tournament is more or less back on schedule for the final five days of play.
Play started at the crack of dawn at 7 am when Jack Arnold & David Hirst played Alex Vallmajor & Alan Calleja, the fourth seeds. A brief match report from David follows:-
"Our power game ultimately lost out to the consistency and excellent net play of our opponents, and we lost 6-4, 6-1"
Then around 8:30 am, partners David Hirst & Elena Pavlidou played Jasper Tresidder & Elena Valarche. Jasper & Elena won 6-1 6-3. The match report from Jasper is to follow.
A morning mixed was also played between Nic Sweeting & Liz Hill and the top seeds Logan Mair & Posy Frederick. The match report from Nic Sweeting follows:-
"A highlight of the mixed doubles saw Liz and Nic (unseeded) take on the top seeds Logan and Posy. The match took place on hard court 5 due to waterlogged grass. Following his exit from last year's singles, Nic had received valuable advice from finalist Marcio on his grip (namely to change it) and had trained intensively on his serve, so opted to serve towards the Finchley Road.
The service practice seemed to be paying off with some fine serves skidding into the chain link fence putting Nic and Liz up in the opener, but Logan and Posy fought back from game point down to break. The wet court slowed the balls and there followed some slanted winners from Nic when he advanced on short balls to drive them between his opponents or, unchivalrous at the net, at Posy. Posy took Logan to task following a near collision for his ambiguous cries of 'Okay, okay', unsure whether her partner meant 'it's okay, it's mine' or 'you're okay to hit that'. But despite Liz and Nic winning a couple of points each game and making few unforced errors, Posy's accurate winners into the tramlines, imperious net play and angled volleys from Logan, proved decisive as they took the first set 6-0.
In the second set, Logan and Posy's communication and serving improved still further. Liz kept firing back returns while Nic, receiving inside the baseline, began risking unforced errors in an attempt to beat the person at the net. Rallies became longer with some eye-catching reflex shots, and in his fourth and final service game Nic managed to hold to avoid the double bagel. The thrilling encounter ended 6-0, 6-1 to the top seeds, with onlookers sagely agreeing it looked closer."
The first of the post-noon matches on hard court 4 was a mixed between Bruce Rigal & Moira Duncan and the fourth seeds Alex Vallmajor & Bianca Gillam. The following match report is from Moira's verbal report.
Alex is very fast around the court and so consistent that he hardly appears to miss. Bianca is also very consistent and highly effective at the net.
The match was played in quite blustery conditions, though the wind seemed to settle down a little for subsequent matches.
Before either Bruce or Moira had managed to hold their serve, Alex & Bianca had raced into a 4 love lead, but then Bruce held to take the only game in that set for his side. In the second set, Bruce & Moira took advantage of a couple of double faults in the first game to break Bianca, and managed to pick up another game somewhere else. Thus Alex & Bianca won 6-1 6-2.
The next match on hard court 4 was a men's doubles quarter final between Peter Davies & Mark Webb, and the third seeds Sultan Gangji & Greg Lim, who both play in the Mens I team, of which Sultan has now been captain for 49 years and surely must stay on for another season at least, to get to his half century!!!
Greg not only has almost perfect timing, but is also a demon at the net and is something like 6 foot 2, so it is difficult to keep the ball away from him or to lob him. Mark has some pacy deep forehand groundstrokes, and Peter directed a number of serves well and returned reasonably, but Peter & Mark were just far more error prone than the far more experienced pair at the other end, and it was impossible to keep the ball away from Greg at the net all the time.
Greg served the first game, which started auspiciously for Peter & Mark with a couple of break points. But Sultan & Greg weren't going to let the break happen if they could avoid it, and clawed the game back to deuce, and then took the game. There wasn't much joy for Peter & Mark until the second set, when they put together enough points for their one game of the match. Sultan & Greg won the match 6-0 6-1.
In parallel, on hard court 5, Andrei Cristescu played Geoff Isaacs (no relation to Penny) in a very tight match. Both are very consistent, and at 5 all in the first set, it looked like the rallies and set would last indefinitely. At some point, Geoff tried to inject some risk and return into the rallies. According to Andrei, Geoff played some great drop shots, which gave Andrei something different to look at. Whatever, it was, it seemed to do the trick, as Geoff went on to break Andrei and take the set.
The second set was similarly close and extended, but Geoff again got the upper hand eventually to win it 6-4 for a 7-5 6-4 win, after nearly two hours of tennis.
At the completion of the match another problem became crystal clear. Alex Vallmajor had hung around after the previous mixed, so that he could play the next round against the winner of Andrei and Geoff. Geoff said he could not play a further match as his grandchildren (and their great grandfather, his father) were in attendance, and deemed himself to have scratched at match point. But Andrei wasn't in a position to play the next round either, so that would not have worked. Geoff was deemed to have won then withdrawn, to give Alex a walkover into the quarter finals, which resulted in him feeling somewhat dejected that no one wanted to play him!
However, we are all looking forward to his match against Marcio Sugui at 6 pm on centre court on Monday (24 July).
The next match on court 4 was a singles between Matias Piazza and seventh seed Olly Turner. Both are pretty consistent on a hard court, and Matias often put himself in a position to hit a winner. But Olly plays for the second team and can summon up an extra measure of pace when required.
The first four games were played with no risks taken, as if no one wanted to lose the point and the score reach 2 all. But Olly decided that he needed to make something happen, so started to go for it more, injecting more pace, which shortened the points and resulted in more errors from both. But Olly had the upper hand, and started to hit more winners, taking the set 6-2. This continued into the second set which Olly won 6-1 for a 6-2 6-1 victory. The consensus among some of the spectators was that Matias needs to play more games against players of a higher standard than himself to reach the next level.
On hard court 5, the tall Gabriele Abatti had to play the tournament top seed Marcio Sugui. Before joining West Heath at the start of this season, Gabriele has had six years off tennis, during which he had done some boxing, including Oxford vs Cambridge varsity matches. The consensus is that he has steadily grown in consistency since joining, and that there is more to come. Marcio is a leftie, whose eventual objective is to invest in his own tennis academy in Brazil(?).
From the distance of the grass court, it looked to be a very competitive match. But Marcio took it 6-0 6-1. Gabriele commented that he had put the ball maybe 20 cm out on a number of critical points, which made it very difficult to keep up with Marcio.
A mixed quarter final match followed between Joseph Rigal & Rebecca (Becca) Vaughan and the third seeds Greg Lim & Marjan Denis. The men are both strong hitters, though Greg intercepts better at the net, and is a little more consistent. Marjan has a good all round game, but Becca is more accurate. From the beginning it looked as if the outcome of the match might depend on whether Becca could keep the ball away from Greg when he was at the net.
The first set was pretty even up to 5 all, with Becca and Marjan each broken once. But then Becca was broken again, to give the seeds the first set 7-5. In the second set the challengers Joseph & Becca upped their game, and took it 6-3. The momentum was thus with Joseph & Becca going into the match tie break. During a nervy start for both sides, Joseph & Becca reached 7-2 before Greg & Marjan won a string of points to pull it back somewhat. Joseph still ended up on serve at 9-6 up with two points to serve to close it out. On the first, Marjan returned well and the seeds won the point. But on the second, after a good return from Greg, Joseph (I think) hit a ball to Marjan that looked marginally out. Greg called "leave" to Marjan, but it was too late, and she could not take her racket away from the shot, which ended up in the side netting. Joseph & Becca thus won 5-7 6-3 [10-7] in a very tight match.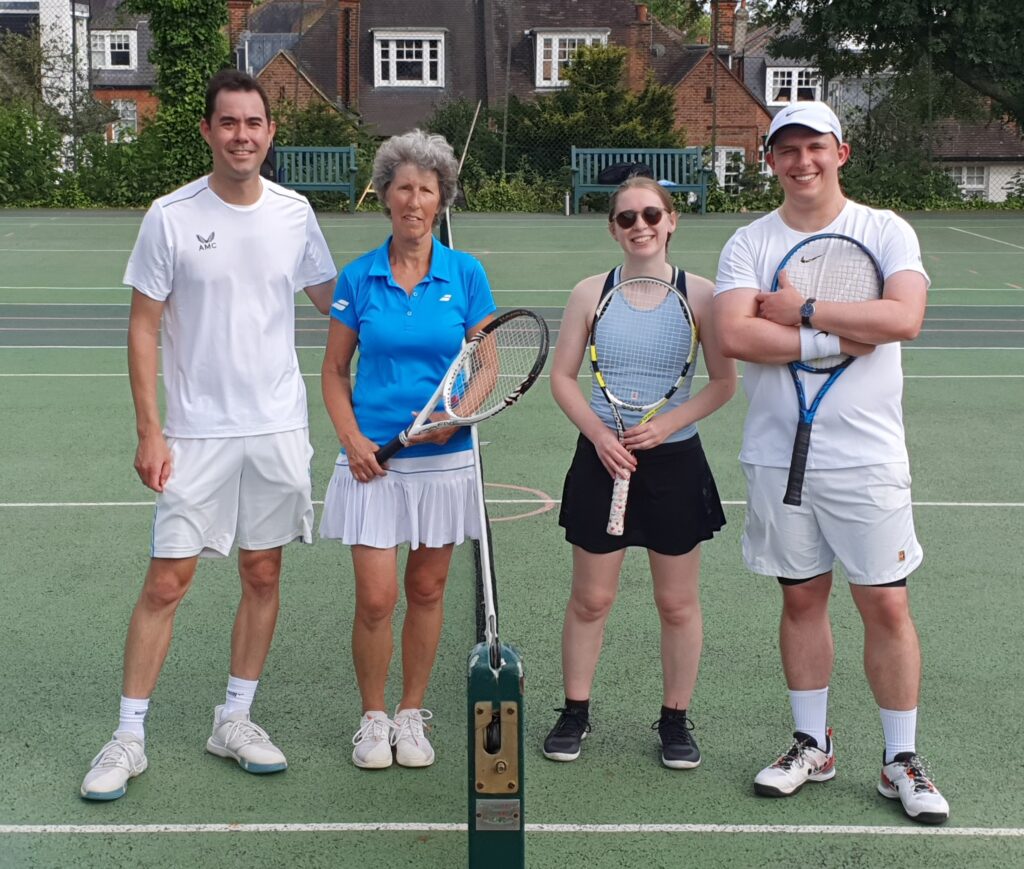 Greg Lim had already played two matches (men's and mixed doubles) in the day, but was now required to step up to a men's singles match against Alex Taylor. Both have decent games, but Greg plays for the Mens I team while Alex plays for the Mens II. However, Alex has some very useful shots.
Alex view was that Greg's strategy had been to pummel his forehand, especially on the serve, and Greg seemed to agree with this. In general it worked, as Greg won the match 6-2 6-3.
The last match of the day was a ladies' doubles, and was actually played on grass, which had just about dried out by then. Julia Abbot & Liz Hill were playing the second seeds Becca Vaughan & Bianca Gillam. In the first set, Julia and Liz managed to hold serve once and broke Bianca, but did not manage a break in the second set. Becca & Bianca won 6-2 6-1.
Phew! I think that is all the match reports from yesterday! See most of you this evening.