Firstly many thanks to Penny, Ann and Sabine for the delicious gourmet dinner. Many people were observed going back for seconds of the lasagne despite large first servings.
Tonight's gourmet chefs are Rachael and Lara, presenting the traditional fish pie and pavlova.
On Wednesday, Lesley will be preparing an authentic oriental Thai meal …
.. and Anne Sophie will follow up with coconut cake.
Here is the order of play for Tuesday evening:-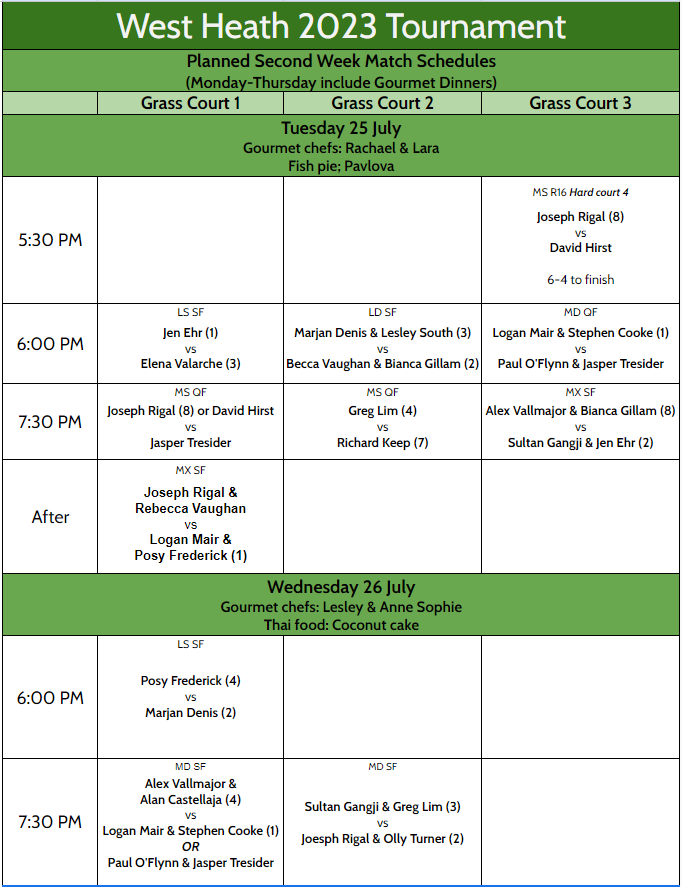 Five and a half matches were played on Monday evening, including two on the nearly, but not quite, dry, grass court 3.
Two matches went on the hard courts 4 and 5 around 6 pm. More later of the match on court 5.
Hard court 4 kicked off with a mixed doubles quarter final. Brian Coffey & Jenny Warren took on the second seeds Sultan Gangji & Jen Ehr. Brian came out with a number of good deep forehands, though some of them went long. Jenny played very consistently from both the baseline and net and didn't make many unforced errors. Meanwhile Jen threw down some very heavy serves (some of which Brian could not get back) and hit pacy groundstrokes, while Sultan was poaching heavily at the net where possible.
Brian & Jenny got the edge on a number of points, with Brian forcing errors from Sultan, and Jenny putting away some angled shots, though not all of them went in. But Sultan and Jen were able to get to the other shots and return them with interest, as well as hitting winners and forcing errors themselves. When there was a decision to be made on their side of the net, then it wasn't Sultan calling the play either! In the first set Sultan & Jen soon got 3-1 up, and took it 6-2, also taking the second set 6-2 for a 6-2 6-2 win.
The next match on hard court 4 was a ladies doubles semifinal for which Jenny and Jen stayed on court. Jenny Warren & Moira Duncan took on the top seeds Jen Ehr & Posy Frederick. Jenny & Moira generally tried to position themselves on the service line and return almost everything that Jen and Posy threw at them, retrieving a number of wider, higher and shorter balls. They also made very few unforced errors, though Jen & Posy made even fewer. Most points were probably 10 shots or more. Jen & Posy were rarely forced into errors and were highly mobile, hard hitting, and generally looking for the spaces to hit winners. Towards the end of the match they started to exploit the space in between Jenny & Moira to good effect a few times.
Despite the number of shots played, Jen & Posy won a large enough majority of the points that there weren't any games in the match for Jenny & Moira. But the points tennis was closer than the score indicated. Jen & Posy were made to work for it.
Meanwhile, on hard court 5 in parallel with the above, there was the much anticipated men's singles quarter final between 5th seed Alex Vallmajor and top seed Marcio Sugui. These two are friends and hitting partners. Marcio, a leftie, was concerned about playing Alex because the two of them have some very close games. And not only does Alex hit with leftie Marcio, but he also plays regularly with another couple of lefties, so is well used to them, unlike most players (whether left or right handed!)
They started proceedings with a leisurely knock up, at the same time as the knock up and match on court 4, much to the annoyance of one of the tournament referees when she found out! Once play started, at first Marcio was trying to hit out, and a few breaks were exchanged. But the match turned into a masterclass, from both, of how to hit deep topspin forehands and slice backhands, with pace, but with very few errors. Occasionally someone might throw in a topspin backhand. Occasionally there was a shorter ball bringing someone in to the net, but it often morphed into a baseline exchange again.
It looked like Marcio was the better able of the two to move the ball around court without error in the first set, as he took it 6-2.
But Alex dug in for the second set, while Marcio was less adventurous, and Alex got the upper hand there, to take it 6-2. By this time it was around 8:10 pm, and, on the track record so far, it looked like the match might not finish before the gloom got too profound and play had to stop.
In theory you are supposed to play a third set in the singles events, but tournament referee Sultan offered three alternatives:-
Match tie break – first to 10 points etc.
Start the third set at 2 all, and play a normal tie break set from there
Play a normal tie break set starting at the usual zero zero games
Marcio wanted a quick match tie break, but Alex thought he would do better with a normal full set, so they started on one of those.
Marcio decide to hit out once more, as otherwise the match might never finish. Although Alex got one game, Marcio soon broke and established a run of games to enable him to take the match 6-2 2-6 6-1, but only just in the nick of time before it really got too dark to play. Perhaps Alex needs to eat more carrots? So from being one of two matches first on, this match was also last off. Shame it wasn't played on grass!
Meanwhile, since Alex and Marcio were camping on hard court 5 and hard court 4 was busy with other matches, 7th seed Olly Turner and 3rd seed Logan Mair agreed to use a very slightly damp grass court 3 for their men's singles quarter final match.
Both play a pretty decent singles game, but Logan is regarded as the stronger.
Olly hit a number of winners and forced errors from Logan, but Logan was the more consistent. Unlike in the previous round, Logan's heavy first serve, whee he just whacks the ball, mainly went in. There were one or two slips on the damp grass, but nothing too worrying.
In the first set, Logan broke twice, but Olly broke back once, to allow Logan the set 6-4. In the second set there was only one break, and Logan took the match 6-4 6-3.
Following on from the men's singles, a mixed doubles match was then played on grass court 3. Jasper Tresidder & Elena Valarche played the top seeds Logan Mair & Posy Frederick.
There was only one break in each set. In the first set Elena was broken, and in the second set Jasper was broken, which led to a 6-3 6-4 victory for Logan and Posy.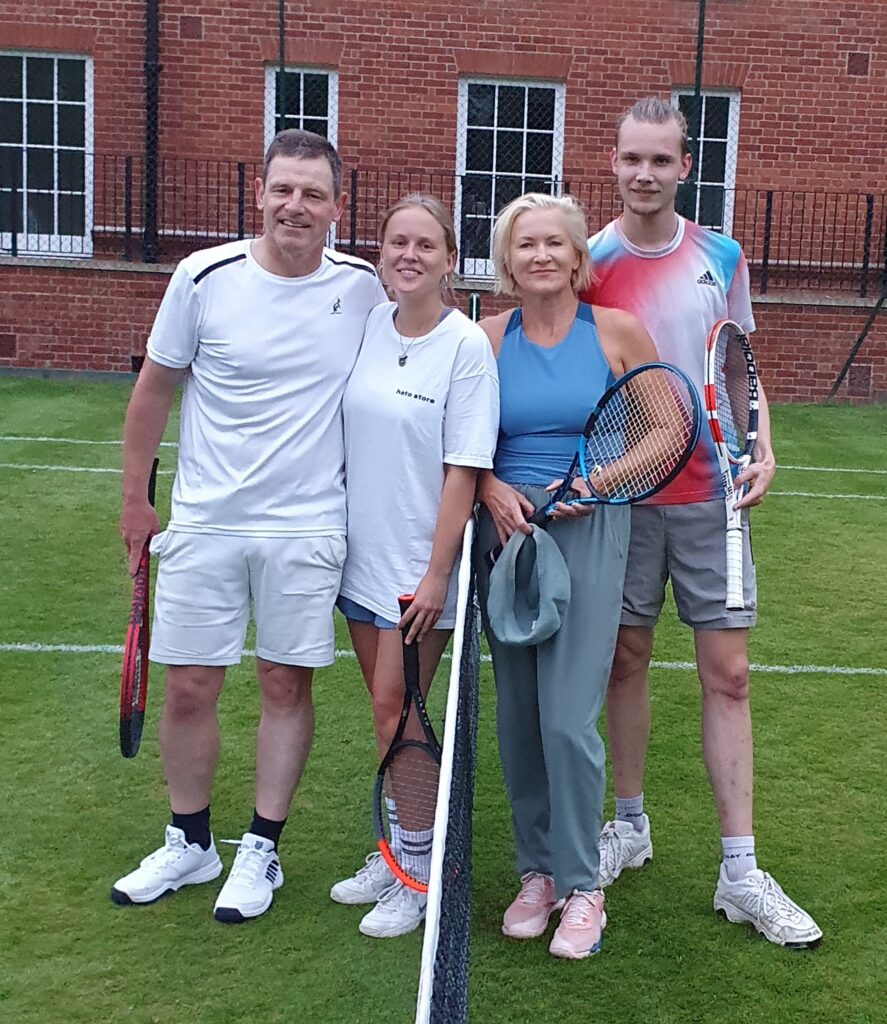 Following the second match on hard court 4, a men's singles round of 16 match started between David Hirst, and the 8th seed, Joseph Rigal. This was nothing like the careful singles still going on on hard court 5, because both David and Joseph like to welly the ball. They are both fully prepared to smack the ball with no spin to get extra pace, and to take a chance (hopefully more than 50%) that it is more likely to become a winner than to lose the point with an error. The first set was very close. In the eventuality, Joseph made fewer errors than David and took the first set 6-4.
But by the end of the set around 8:45 pm, the gloom was deepening as dusk approached (9 pm) and it was clear that any continuation was just going to be an eyesight lottery to scramble the opening games in the second set when it finally would resume the following day. So common sense won out, and the second set was rescheduled until Tuesday at 5:30 pm on the same hard court.