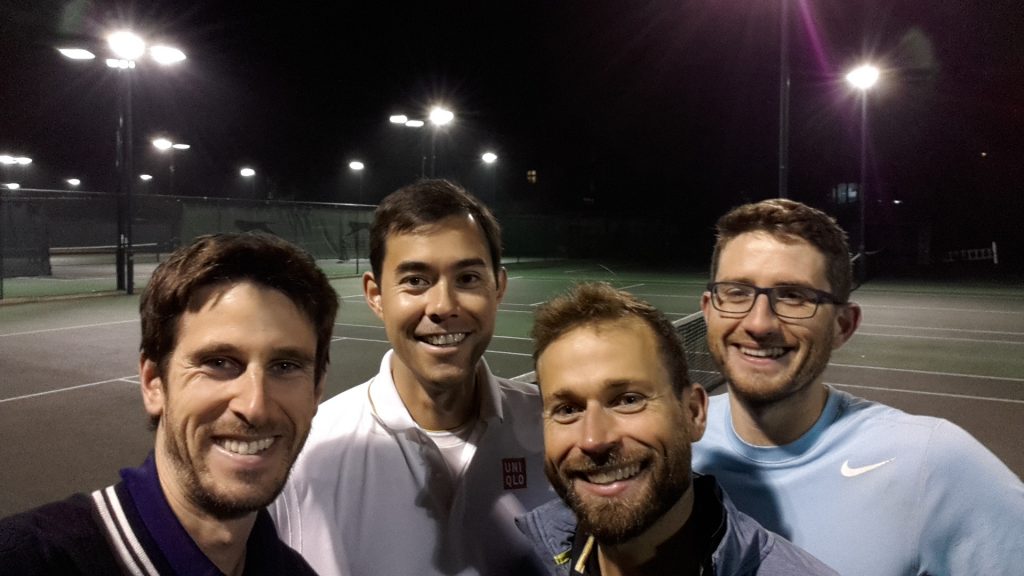 The men's Middlesex Winter League got off to a flying start against Totteridge's fourth team on Tuesday 25th October. The awesome foursome on court were Tim, Sam and Greg and James. The four traveled to Totteridge with a week of clay court tennis behind them; some benefitted from the practice, whilst others found that their shoulders made noises that weren't there before.
Either way, the West Heath pairings got off to comfortable starts after gradually adjusting to the Totteridge tarmac. Messrs Luscious and Leftover started with a 6-0 6-0 double bagel, which was matched by Messrs Leftie and Languid. With the travelling contingent of fans staying for a while to shake a few pompoms, there was an appreciable rise in standards from both pairings (and even a successful interception at the net from James).
The second rotation of pairings was a little less comfortable for Greg and James, with a few more deuces than they would have cared for. However, they still managed to win all the games and in doing so recorded a quadruple bagel. Sam and Tim struggled perhaps a little more with adjusting to the dropping temperatures. They ended the evening well, in spite of a mini-blip at the beginning; nonetheless they triumphed 6-3 6-0 in the end. That wrapped up a 16-0 victory for the Heathens.
Thanks must be extended to our opponents, who were most graceful in the absence of any charitable play. The evening's refreshments and chit chat were excellent and enjoyable. The nether reaches of northern Middlesex were highly hospitable; our next fixture takes us slightly further nether-wards to Ravenscroft in 5 weeks.