Gourmet dinners
Don't forget to sign up to one or more gourmet dinners for next week on the list in the clubhouse, or reply to the email.:
Monday 9 Aug – Fish Pie (Rachael & Lara)
Tuesday 10 Aug – Mediterranean Chicken (Brian)
Wednesday 11 Aug – Sri Lankan (Lesley)
Thursday 12 Aug – Lamb tagine (Moira & Marjan)
Today's matches
There were five matches played today, with only a very light shower or two around teatime to make the grass a little slippery.
The first match to be played was on grass between Pavel Markiewicz and Jeff Fine. Pavel has a strong, if sometimes inconsistent, serve, and some good topspin groundstrokes, but this was his first competitive singles match on grass, and didn't take any of the drop shot opportunities Jeff presented to him. By contrast, Jeff is a seasoned and wily competitor with good sliced shots very suited to grass, and particularly short balls. Supported by his mum, Pavel held his own to 3 all. But while Jeff made making some errors, he was able to get most things back with good enough placement to stop Pavel from hitting outright groundstroke winners. Jeff took the first set 6-3. In the second set there were some extremely hard fought points, and quite a few deuces, but Jeff had more tactics at his command, and made it tell to take the second set 6-2 and the match 6-3. Pavel should take heart, however – with more experience of singles on grass, he has plenty of potential to get to a significantly stronger grass court game.
The second of the men's singles to kick off was between Walter Reid (father of Philip Reid) and Jonathan Bell. Walter is tall, which comes with a long wingspan to help him on the volleys and to track down wide balls, and a tactical sense to go with shots which rely more on placement than pace. Jonathan has a stronger serve and groundstrokes, but couldn't necessarily generate his own pace to hit winners. The points were thus more tactical than normal, won either as a result of errors, or of placement out of someone's reach. Jonathan generally had the upper hand, but was made to work very hard for it by Walter, and there were quite a few deuces. But Jonathan prevailed by sticking at it, winning 6-1 6-0.
The third men's singles match played was between Matt Wasser and Steve Yoo, on the far hard court, out of sight of the spectators. This match seemed to last twice as long as the other 6 pm matches starting around the same time, with the hard court surface responsible for only some of this discrepancy. Matt, perhaps played more consistently, the way the match panned out. On paper Steve has the better strokes, though more of had a battle with his emotions and nerves.
The match was pretty tight. A number of games went to deuce. There were more breaks than service holds, and Steve eventually got his emotions under control, and got the better of each set for a 6-3 7-5 victory.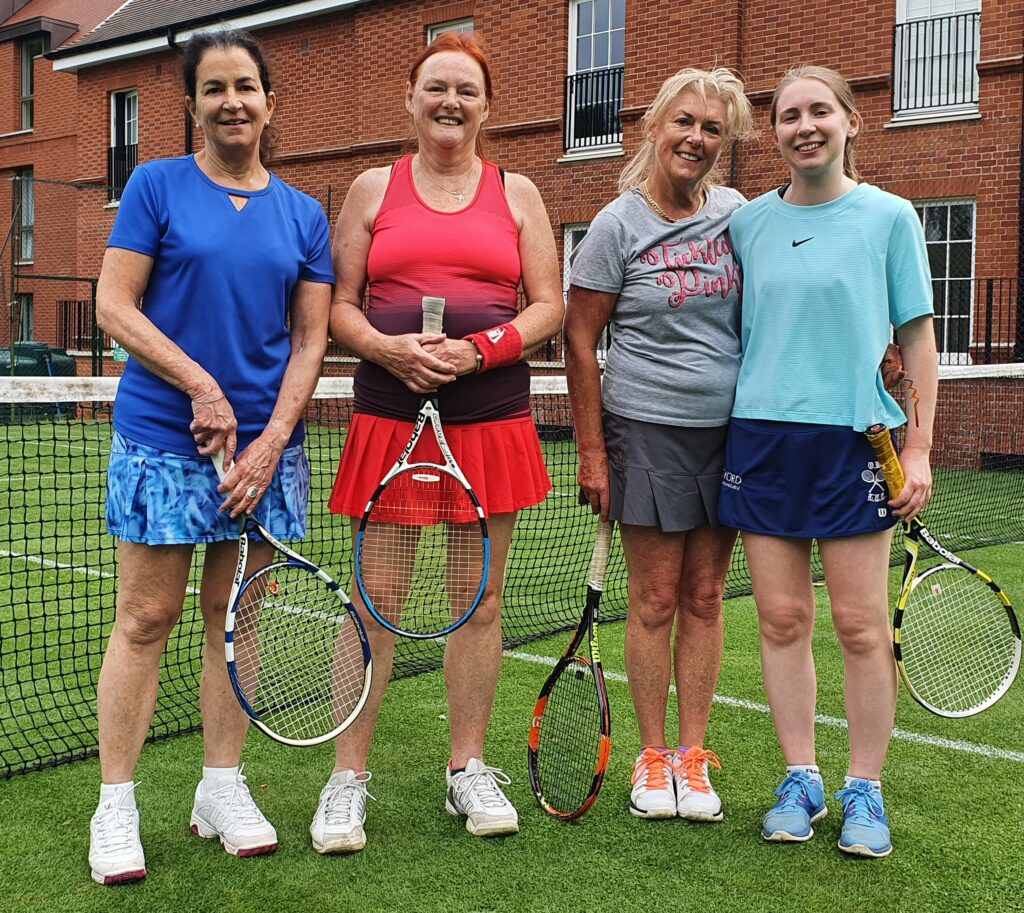 On grass court three, in the first of the ladies' doubles, Julia Abbot & Carmen Martinez took on Barbara Thomas & Rebecca Vaughan, the third seeds. Although Julia and Carmen played consistently, and moved well, they didn't have the firepower of the seeds, nor the absolutely determination of Barbara to get to every ball. There were more deuces and tight games than the score indicated, but the seeds were in control of the game score from the beginning, as they won 6-0 6-1.
The last of the matches to kick off and the second ladies' doubles was between Emmanuela Starman & Eloise Wedgwood and fourth seeds, Moira Duncan & Lesley South. Emmanuela and Eloise had some decent ground strokes, and Eloise did some good volley at the net. They were both full of running, but weren't sufficiently coordinated with each other to stop them both from going for the same balls. This happened a number of times, and led to a concern that someone might get hurt in a collision between them. Meanwhile, Lesley and Moira are an experienced doubles pair. Lesley has some tricky angles and soft shots, and the tactical nous to know when to use them, while Moira has an excellent attacking forehand.
While Emmanuela and Eloise were able to win a number of points, the seeds had the upper hand and won the match 6-1 6-1.