Gourmet Dinners
On Monday night, Rachael Gangji cooked a well received fish pie, and Lara Hunter prepared a tasty trifle and strawberry meringue to round off the meal.
Tonight's (Tuesday night's) chef is Brian Coffey, cooking mediterranean chicken.
The match schedule for the remainder of the Gourmet Dinners is HERE.
Today's matches
Today was a matter of some luck as to whether the hard courts would be playable in between showers, some of them very heavy. There was no chance of playing on the grass, though it is convenient to position chairs to watch the matches on the hard courts!
During the day, Brian Coffey, the bionic man with two artificial hips and two artificial knees, and also the chef for the Tuesday Gourmet Dinner, played the eighth seed, Joseph Rigal. Although Brian has been playing quite a bit recently, Joseph has been improving a lot, and is both more consistent and just as hard hitting as ever. Joseph won 6-1 6-1.
On the less public hard court 5, Maxi Lampert took on the sixth seed, Ed Fitzgerald. Ed has a huge height advantage on the serve, and some pacy groundstrokes, but isn't necessarily ultra consistent under pressure. Maxi played well. But Ed was always going to be able to find a way to break his service. Ed took the first set 6-3. The second set seemed to be a lot tighter, and Maxi hit a number of winners, but Ed was able to take it 6-4 and win the match 6-3 6-4.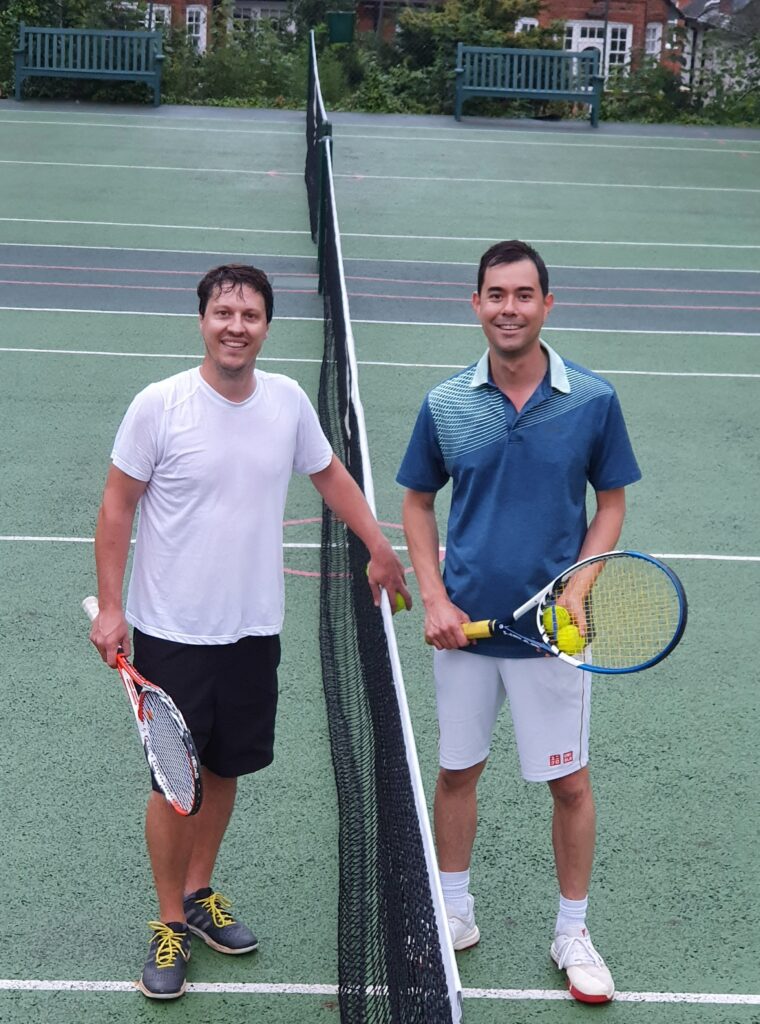 The main entertainment of the evening was the first clash of seeds on court 4 between the seventh seed, James Low, and the second seed Greg Lim. This match contained a lot of high quality tennis where one player had to manoeuvre for advantage and often take some risk to win the point – it generally wasn't going to be given away on an unforced error on the slower hard courts.
Although the court surface started off wet, the players didn't seem unduly phased by this, and were willing to chase balls all over the court. Apparently James has been playing quite a bit of singles recently, and he was pretty accurate in his placement, while also seeming to choose good moments to drop the ball short for Greg to chase, which often allowed James to hit a passing shot down the line into the corner. James also has the accuracy to punish any short balls which Greg gave him. Greg played very consistently, and always had the possibility of a big injection of pace with a flat stroke to hit a winner, provided he had time to get his feet lined up on the shot, and his footwork was very good while rallying. Greg also has a fast enough serve, which must have had enough disguise, to hit one or two aces against James, but not regularly.
In the first set, Greg's error rate, though low, under pressure was higher than normal, and James put on the pressure when he could, to take the set 6-4.
In the second set the games seemed to be even more hard fought. Greg was always looking for the opportunity to hit a flat winner down the lines or crosscourt, into the corners, but James normally retrieved these well. Greg also hit quite a few accurate, deep balls which touched the inside of the baseline, and would normally have been winners, but James generally was able to return these with accuracy. However, Greg made fewer errors than before, and, despite an early hold, James found himself losing the set 6-1.
At one set all, James thought they might then get away with playing a deciding Champions Tie Break. But Marjan Denis, joint tournament referee, laid down the law that singles matches had to be decided by the best of three tie-break sets.
In the deciding set, James took an early 2-0 lead, and came within a point of making it 3-0. However, Greg saw himself staring into the barrel, became pretty determined at this point, and stepped up the pace of his shots to either force more errors from James, or to create more opportunities for Greg to hit winners. A number of games still went to deuce, but Greg had enough of an edge to take the third set 6-2 and the match 4-6 6-1 6-2. Congratulations to both players for a very high quality, entertaining match played in an excellent spirit.